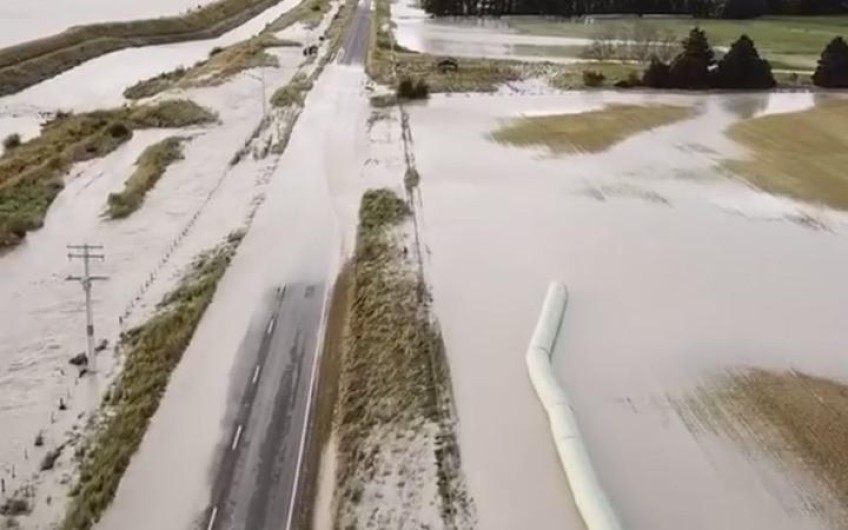 Wild weather: Thunderstorms batter Wellington, Timaru remains in state of emergency
Dec 08, 2019
---
Both bridges across the Rangitata River in Canterbury will remain closed tonight, meaning there's still no road connection from Timaru north to Christchurch.
Civil Defence in Timaru gave an update this afternoon and said efforts are being made to get the bridge at Arundel open on a limited basis.
It is prioritising the upper Rangitata bridge crossing as it will see water levels drop to a manageable level hours before the downstream bridge at State Highway 1.
Timaru Emergency Operations Centre Controller Justin Bagust said the district roading contractors were now assembling heavy machinery at the southern approach to the road to be ready as soon as the water levels subside.
Farming communities in South Canterbury affected by the recent flooding in the area are being offered financial help.
The Agriculture Minister said up to $50,000 will be made available to the South Canterbury Rural Support Trust.
Damien O'Connor said two weeks of solid rain is putting tremendous pressure on farmers - affecting milking and pickups, damaging pastures, fencing, stock water and irrigation systems.
He said Ministry for Primary Industries field staff have been providing help but the full extent of damage and loss isn't yet known.
Meanwhile, severe thunderstorm warnings have been issued for large parts of the country, including Wellington and Kāpiti, this afternoon.
Meteorologist Andy Best said the top of the South Island, the Wellington region and the Kāpiti region up to Taranaki can expect more bad weather.
"More lightning strikes, thunderstorms and associated downpours. So when I'm talking about downpours we could see around 10 millimetres an hour but in anything to do with thunderstorms themselves we could get up to 20 to 30 millimetres an hour," Mr Best said.
Wellington has already been hit by thunderstorms and heavy rain overnight, causing flooding and road closures this morning.
Heavy rain yesterday and overnight has forced parts of highways across the country to be shut.
The flood-hit Timaru district remains in a state of emergency this morning after heavy downpours caused flooding.
Road travel north from the district became impossible yesterday when the only two bridges over the Rangitata River, on State Highway 1 and Route 72, were closed because of water covering the approach roads.
State Highway 1 over the Rangitata River bridge between Timaru and Ashburton will stay closed, as will the alternative route over the bridge at Arundel in Upper Rangitata.
The Transport Agency's system manager, Pete Connors, said it was not safe to begin repairs until the floodwaters receded, but crews and machinery were ready to start as soon as they could.
The river looked to have peaked late last night, but inland rain is still being washed down from the high country.
The Timaru Emergency Operations Centre said they would be inspected this morning and the state of emergency would remain until they were reopened.
The Timaru District Coucil expects the bridges to remain intact during the flood because there is not much debris coming down the river.
Inspections of the bridges can only be carried out by helicopter later today because council staff can't get near them due to the high river.
Council spokesperson Stephen Doran said the bridges were strongly built and the only problem could be rocks moved by the water scouring the abutments supporting approach roads.
He said the fibre optic cables carried by the closed nearby rail bridge are also damaged and internet services south of Timaru could be intermittent as a result.
Phone and internet connections have been affected by the weather in the region, but some are now back up and running.
On the West Coast, MetService said more thunderstorms could be expected, with the line of weather expected to move north today.
Torrential rain has damaged numerous sections of State Highway 6 south of Hokitika in the region.
The highway remains closed between Haast and Harihari.
A 200-metre slip on State Highway 6 in south Westland has cut power to 44 dairy farmers at Whataroa and prevented milk tankers from getting through.
Civil Defence said a four-wheel-drive track had been cut north of Harihari but only emergency service vehicles, milk tankers and local residents were allowed to use it.
The road from Haast to Makarora will open at 10am, but only one lane.
The Transport Agency said the worst damaged parts - between Franz Josef and Fox Glacier - were unlikely to be reopened for days.
Mayor of Westland Bruce Smith said there was no sign yet of the heavy rain letting up.
He said he was heading into a Civil Defence briefing, and they were expecting problems with surface flooding this morning.
Further north, Mayor of Grey District Tania Gibson said they had escaped the worst of the weather and there were no reports of damage in that area of the coast.
Westpower said power was still down between Fox Glacier and Paringa, and could be out for a day or two.
Wellington: Thunderstorms, flooded roads, and evacuations
In the capital, a cluster of thunderstorms and heavy rain pummelled the city overnight, causing flooding and road closures this morning.
The Plimmerton roundabout on State Highway One is now reported to be open after earlier flooding this morning saw it shut.
State Highway 58 was shut due to flooding, a landslide at Whitby Inlet and a crash. The slip has now been cleared and the road has reopened between Postgate Drive and Spinnaker Drive. The road remains closed between Pauatahanui and the Haywards interchange.
There is also a strong wind warning for Remutaka Hill Road.
Northbound lanes on State Highway 2 at Silverstream have reopened after a slip caused a blockage. NZTA said a backlog of vehicles on the road were now beginning to ease.
Fire and Emergency said the worst of the flooding in the greater Wellington region was between Upper Hutt and Silverstream and in Tawa, Porirua and Plimmerton.
It said it had around 30 calls between 7am and 9am today, most of them to do with blocked drains and swollen streams.
George Street in Stokes Valley was under about 1.5 metres of water this morning after the overnight rain storm.
Bounlay Saengdeuanpheng was cleaning his driveway this afternoon, as mud and fallen leaves coated neighbouring properties.
He said the water started to rise from about 5.30am, and threatened to enter his home.
He moved his car due to fears it would be flooded, and said it was the worst he had seen in 21 years living in Stokes Valley.
A shipping container has also been washed downstream in a flooded Pauatahanui stream and come to rest in a front garden.
Many roads throughout the region have reported surface flooding.
Emergency services were called to Hebden Crescent, Lower Hutt, shortly after 7am, when a dozen people had to be evacuated from a campground.
A heavy rain warning is in place for Tararua, Kapiti-Horowhenua, Wairarapa and Wellington regions as well as a severe thunderstorm watch.
The watch also extends into the northern South Island, including Nelson and Marlborough, with heavy downpours of rain expected.
MetService said Tararua Range could expect between 100mm to 140mm to accumulate, with a peak of 20mm to 30mm per hour in possible thunderstorms across regions.
It also warned that rain may cause streams and rivers to rise rapidly, and said motorists should be cautious due to potential surface flooding and slips.
MetService said there was also a risk that some thunderstorms may be severe in Waitomo, Taumarunui, Taranaki, Wanganui, Taihape, Manawatū, Horowhenua, Kapiti Coast, Wellington, the ranges of Wairarapa, Nelson and Marlborough.
A lengthy thunderstorm woke people in Wellington early this morning, and MetService forecaster Andy Best said the storm brought a heavy dump of rain.
Mr Best said thunderstorms were likely again in the capital this afternoon before easing tomorrow when a cold front moves up the country.
He said some parts of the Hutt Valley recorded above 50mm of rain overnight.
More than 100,000 lightning strikes have been recorded over the country in the 24 hours to 7am today.


---