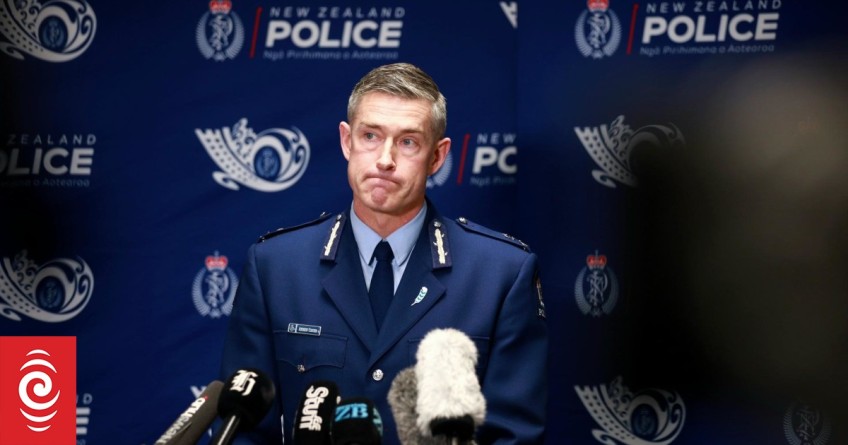 Auckland shooter was on home detention
Jul 20, 2023
---
The gunman believed to be responsible for a deadly shooting in Auckland CBD this morning was on home detention with a history of family violence, Police Commissioner Andrew Coster says.
Coster spoke to media following the incident, and although the formal identification process had yet to take place, police believed the man was a 24-year-old who worked at the construction site at the centre of the incident.
Three people are dead, including the gunman, after shots were fired at the construction site on lower Queen Street.
Prime Minister Chris Hipkins said police had neutralised the threat and there was no national level security risk.
There was no identified political or ideological motive behind the shooting, he said. It was not being considered an act of terror.
The offender was armed with a pump-action shotgun, and moved through the building site discharging the firearm as he went, Hipkins said.
When he got to the upper levels of the building the man "contained himself in an elevator, shots were fired, and he was located a short time later", he said.
Coster started by extending his condolences and sympathies to the families and colleagues of those who were killed.
"Their lives have been irrevocably affected by this tragic situation and our thoughts are with them.
"I've had an update from the investigation team (which) is working at pace to understand why and how this terrible event occurred today in the Auckland CBD. At 7.22am, police received multiple emergency calls with reports of a person discharging a firearm from inside the third floor of a building under construction at the bottom of Queen Street.
"Police were on scene at the site within minutes. We are continuing to piece together the entire sequence of events, but what we know is as follows.
"The offender made his way up through the building site, discharging his firearm on multiple occasions. Police entered the building within 10 minutes. Staff from various groups, right across Tamaki Makarau, responded and members of the public inside the building were evacuated wherever possible. We know that several workers found refuge hiding inside the building during the event.
"At around 8am, our Armed Offenders Squad, supported by Special Tactics group, located the offender inside a lift shaft where he has barricaded himself and attempted to engage him, having secured the floors above and below. The offender fired at police, injuring an officer.
"Shots were exchanged, and the offender was later found deceased. Tragically, police found two members of the public deceased on the lower levels of the building site."
Coster said the injured officer was taken to hospital in a critical condition but has since stabilised.
"The four members of the public have injuries, ranging from moderate to serious. At least one of these people self-represented to Auckland City Hospital with moderate injuries.
"While the situation is still developing, we know that there may be more victims as they make themselves known to police and these injury statuses may change. The building has now been cleared and the lockdown lifted."
Coster said a scene guard remains at the site while investigations continue.
"This was an incredibly alarming incident for workers who were just starting their day. We have contained the situation and are not seeking anybody else. We have not formally identified the offender, however, we believe he is a 24-year-old. We understand he has worked at the construction site and believe the reason for his presence at the site this morning was connected with that work.
"We know that those who live and work in the vicinity may be feeling vulnerable. However, we can provide reassurance that there is no reason for ongoing concern about this situation. There is an increased police presence in the area, and we reassure the public that they can continue to come into the central city. The immediate vicinity remains cordoned while our team takes the scene examination."
Communications continued with local and central government - as well as FIFA tournament organisers.
"We've been part of the planning for the FIFA Women's World Cup for some time and as such, we are well placed to manage the impacts of the event.
"We're satisfied there is no ongoing risk to the public and no reason why the tournament should not proceed. The matches are safe to attend."
Coster said the incident had been shocking and traumatic for those people who went to work and found themselves in the middle of an armed emergency.
"Thankfully, many people were able to escape the building, but I know for those who hid or remained trapped, this was a terrifying experience.
"I want to acknowledge the bravery of our staff who walked towards danger to keep the public safe. I am very proud of their actions today."
St John ambulance manager Stuart Cockburn said initially, five ambulances were sent to the scene.
"We responded initially (with) five ambulances, four of our rapid response critical care paramedics and four managers to the scene. We obviously went to a safe forward point and awaited the scene to be made safe by police.
"We've assessed and treated 10 patients, seven of those have been transported to hospital, mostly moderate to minor injuries, two with more serious injuries and we've assessed and not transported three other patients."
St John also deployed major incident support unit and a command unit.
Cockburn said not all 10 injured were gunshot-related, but he understood seven of them were.
"I am incredibly proud of our response. Nobody comes to work expecting an incident like this to unfold. They've done an amazing job, I am very proud of them. We have now stood them down and we are debriefing them. Incredibly proud of our response.
"It's traumatic but our staff are trained to deal with major incidents. They switch into operational mode. The important thing is we now support them after the incident and ongoing from today."
Offender was on home detention
Coster confirmed the 24-year-old male they believe to be the gunman was on home detention. He had an exemption to be at the work site so there was no indication of a bail breach. Coster understood the motivation for the shooting was connected to that work but could not elaborate.
"The individual is known primarily for family violence history," Coster said.
"There is nothing to suggest that he has presented a higher level risk than was presented by that history."
Coster confirmed the man did not have a firearms licence so he should "not have possessed" the weapon. Police had conducted a search of his residence in the past and no firearm was ever located.
It would not be known if the gunman was killed by police or took his own life until the investigation was completed, Coster said. He confirmed the injured police officer was shot in an exchange of gunfire while the gunman was in the lift shaft.
"That officer is expected to undergo surgery today."
Coster again spoke of how proud he was of his staff.
"This is probably the worst kind of situation you'll face when you know there is someone intent on causing harm who is still active.
"Their willingness to go in there and sort it out the way they did is outstanding."


---