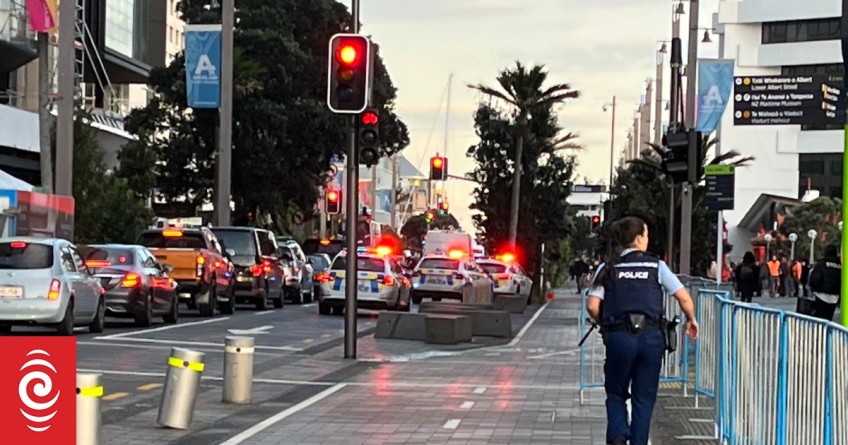 Three dead after morning shooting in Auckland CBD
Jul 20, 2023
---
Three people have been killed in a shooting in the Auckland CBD this morning, including the gunman.
Six other people have been injured, including police, and are in Auckland Hospital.
Police say the situation is now contained and the shooter is dead, taking the death tally to three.
They were alerted to the incident when someone discharged a firearm inside a construction site at about 7.20am.
The gunman moved through the construction site discharging his firearm, police say.
When he reached the upper levels he hid inside an elevator shaft.
Police attempted to engage with him, but the gunman fired further shots, before he was found dead a short time later, they say.
Speaking at a media stand-up just after 10am, Prime Minister Chris Hipkins says there is no wider security threat to members of the public.
He says at 7.23am, a witness called police to report a man with a gun shooting in central Auckland at a building on lower Queen Street.
"At 7.34am, police arrived on the scene and the Armed Offenders Squad arrived four minutes later. It is with deep sorrow that I can confirm that two people have been killed," Hipkins said.
"At this stage, I am aware that six others have been injured, including police. They've been taken to Auckland Hospital," he said.
"Police have also confirmed that the shooter is also dead.
"The assessment from officials is that there is no national security risk. There is no change to New Zealand's national threat level.
"This is the information that we are able to share so far. The offender was armed with a pump action shotgun. He moved through the building site, discharging the firearm as he went. Upon reaching the upper levels of the building, the man contained himself in an elevator, shots were fired and he was located a short time later.
"I want to thank the brave men and women of the New Zealand Police who ran into the gunfire, straight into harms way, in order to save the lives of others. These kinds of situations move fast and the actions of those who risk their lives to save others are nothing short of heroic.
"I also want to acknowledge the ambulance first responders who were there quickly on the scene this morning."
Hipkins said it was still an ongoing police operation and there was limited further information he could provide.
Today's FIFA World Cup events will proceed as planned in the city.


---