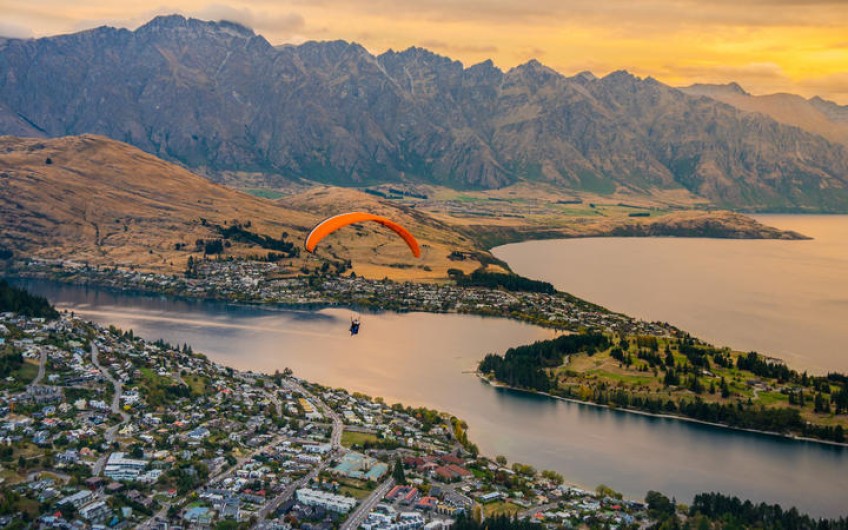 Tourism job cuts a 'horror story' for Queenstown - mayor
Apr 24, 2020
---
The mayor of Queenstown Lakes has described plans to cut hundreds of tourism jobs as a horror show.
One of the country's largest tourist operators, Ngāi Tahu Tourism, has announced plans to close its businesses for the foreseeable future with 300 jobs on the line.
Tourism businesses around the country have been hemorrhaging staff and income since the borders closed and lockdown started last month.
Tourism leaders say more high profile operators are likely to follow suit and go into hibernation.
Each year, Ngāi Tahu Tourism hosts more than one million guests across its iconic businesses.
Now jobs at Shotover Jet, Franz Josef Glacier Hot Pools, Hollyford Track, Rotorua's Agrodome and Rainbow Springs could be among the casualties.
Queenstown Lakes mayor Jim Boult said many of the jobs on the cutting block were in his district.
"This is another major number of redundancies, people without a job to add to the many thousands we have already. I've been keeping a rough total of the numbers that operators have told me that have been made redundant. I'm well over 5000 now. This is a horror story," Boult said.
He used to own Shotover Jet.
"Given that it was my own blood, sweat and tears that caused Shotover Jet to be an iconic part of tourism New Zealand. I feel that very heavily personally as well," Boult said.
Tourism Industry Aotearoa chief executive Chris Roberts said the job losses were piling up around the country.
"We could see tens of thousands of jobs go in the tourism sector, even more than a hundred thousand jobs could potentially disappear. It really brings home, how big this impact is that even one of our most iconic, one of our biggest tourism businesses in the country can't carry on without any customers," Roberts said.
Ngāi Tahu Tourism and its businesses have claimed more than $1.5 million in wage subsidies to support more than 200 workers.
In a statement, Ngāi Tahu said: "The impacts of Covid-19 and the related moves made to protect New Zealanders' health have taken a significant toll on the tourism industry, from which Ngāi Tahu Tourism has not been immune.
"Our tourism businesses, alongside the rest of the industry, no longer have any revenue, and even when the industry does eventually reestablish, it is expected to take a long time to recover."
Roberts said Ngāi Tahu Tourism would join an increasing list of high profile operators entering hibernation.
"So we have seen the likes of Hobbiton, Te Puia in Rotorua, and now Ngāi Tahu Tourism make the sensible business decision to close their doors, to minimise their costs, and hopefully be in a position to reemerge when the opportunity arises," Roberts said.
Another major Queenstown tourist operator said it was also reviewing its staffing, but no permanent staff had been made redundant yet.
Real Journeys said they were planning for them due to the impact of Covid-19, but wouldn't action them until after the wage subsidy scheme ended.
Tourism Export Council NZ chief executive Lynda Keene said it was a sad day for tourism.
"I do hope that this isn't going to be the start and that there will be a further domino effect," she said.
"The industry has seen many challenges over the decades. This is the biggest one, there's no doubt about that. But I also hope that the government will hold the faith with their future decision making."
Businesses needed more clarity about whether the wage subsidy scheme would be extended or what other support would be put in its stead, she said.
Ngāi Tahu has confirmed a final decision on cuts will be made in May after a full consultation process.
Tourism Minister Kelvin Davis said operators were being forced to make tough decisions as the effects of Covid-19 take hold.
"Everyone in the Tourism sector is really feeling the effects of COVID-19, from organisations like Ngāi Tahu Tourism to "Mum and Dad" tourism operators across the country," Mr Davis said.
"Tough decisions are being made, and none are being taken lightly.
"In the end, companies like Ngāi Tahu Tourism have to assess their own situations and make the best decisions possible for their own future - and sadly in this case, that means job losses."
The government's wage subsidy scheme and tax measures would help some businesses get through, he said.
Work was underway to help with recovery and consider the future of tourism, Mr Davis said.

---