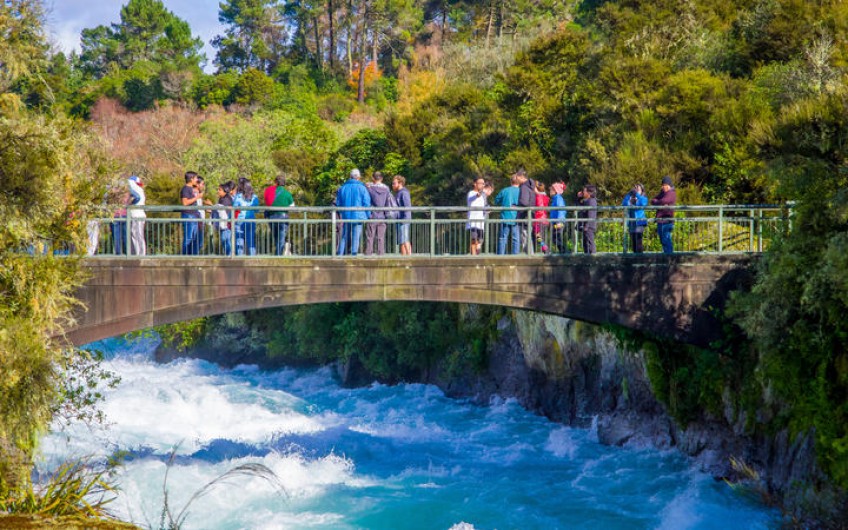 Tourism industry in talks on rebuilding from Covid impact
Nov 17, 2020
---
The tourism industry is facing a multi-billion dollar loss of revenue after borders closed and international travel screeched to a halt.
Earlier this year, New Zealand experienced its first day of no overseas visitors in decades when hundreds of flights would usually arrive and depart daily.
Industry leaders are meeting in Wellington today to discuss how to rebuild their industry after the pandemic's devastating blow.
Rafting New Zealand has lost roughly half of its usual visitor numbers after international tourism dried up earlier this year.
Its managing director, Luke Boddington, said that was not the full picture when it came to revenue loss, despite also offering school trips.
"The school trade is getting rafted for a heavily discounted rate. It's good for employing the guides, keeping the numbers coming through, a bit of cash turnover especially during the winter," Boddington said.
"But really it's that tourist trade that you need to actually get the margins on which can then get the reserves over the summer so that then you can get through the following winter."
Last year, Rafting NZ received support from the Provincial Growth Fund to offer two river guide training courses, working to fill a skills shortage in the industry.
Boddington said it had taken locals off Work and Income, teaching them skills, and gave his business additional cash flow during the quieter months.
Supporting similar programmes could offer a lifeline to other communities and businesses, he said.
"The government could be looking at programmes whereby some of these operators could come in and actually do programmes which potentially are giving them some skills, which they can go off and potentially work in tourism once it comes back," Boddington said.
"But [it] also gives them these soft skills which enables them to then - with some confidence, some work ethic, the ability to communicate - actually go and potentially get work or training elsewhere."
He wanted to hear the government's specific plans to keep tourism afloat until international visitors return.
"The tourism industry has a huge amount of value to add and at the moment it would be underutilised and it is an opportunity which could benefit New Zealand as well as help tourism operators to get through this uncertain period," Boddington said.
"I believe the tourism industry's got a lot more to offer than just giving people a smile on their face."
Ahi Kaa owner operator Katie Tamanui-Thomas said the flow of domestic visitors have been a saviour for both Gisborne and her motel, with some help from the government's scheme to offer emergency housing in commercial accommodation.
"I think we've got about six motels that basically have closed as a motel and now have WINZ clients and they totally deal in WINZ so when you take those number of beds out of the market then it starts to put pressure on the other motels that are operating," Tamanui-Thomas said.
"If you come to Gisborne Monday, Tuesday, Wednesday, Thursday, there's not a bed in town so you make a booking before you come to Gisborne, otherwise you're sleeping in your car or travelling to the next city."
But she was unsure what summer would look like.
"Once upon a time, people booked way ahead. But nowadays they just book as they come through the door and so you can't get a good idea of how the summer is going to be," Tamanui-Thomas said.
"People are getting out and about and looking in their own backyard. I think we're going to have a huge summer cos they've got nowhere else to go."
She wanted the government to introduce taxes on overseas travel agents (OTAs).
"They need to be taxed. They take 15 percent of any booking that they make for us and they have a huge impact on our business ... the government takes 15 percent GST and then when you add another 15 percent that you have to pay out to booking.com OTAs, that's 30 percent that you're losing before you even sell a room."
Last year, Tourism Industry Aotearoa chief executive Chris Roberts was facing vastly different challenges.
"We were dealing with issues like overtourism and how do we deal with the success of our tourism industry, and some of the issues that that success led to," Roberts said.
"Now of course we've seen the biggest crisis we've ever faced in the tourism industry, and it's been a battle for survival in 2020. But we're trying to turn our minds at the summit to what the future will bring and how we rebuild tourism and ensure that we have a successful tourism industry in the future," he said.
"We have no doubt that we can rebuild the value that tourism provides to New Zealand. But it may take many years, up to five years to get back to where we were in 2019."
The industry has lost between 40,000 to 50,000 jobs, but some may be revived if there is a successful domestic summer.
Roberts remained confident tourism could bounce back.
"The immediate impact is certainly significant. We've gone from an industry worth $41 billion or $42 billion a year. We'll be doing well to reach $30 billion and that will be on the back of domestic," he said.
"It's a huge hit to the economy, not just the tourism businesses, and so it's really important for New Zealand as a whole that as soon as it can be done safely, we rebuild that tourism industry and restore the value that it was providing."
He was looking forward to rigorous debate at today's conference with sustainability, the state of the industry and its future up for discussion.
Newly appointed Minister of Tourism Stuart Nash will open the Tourism Summit Aotearoa at Te Papa this morning.


---