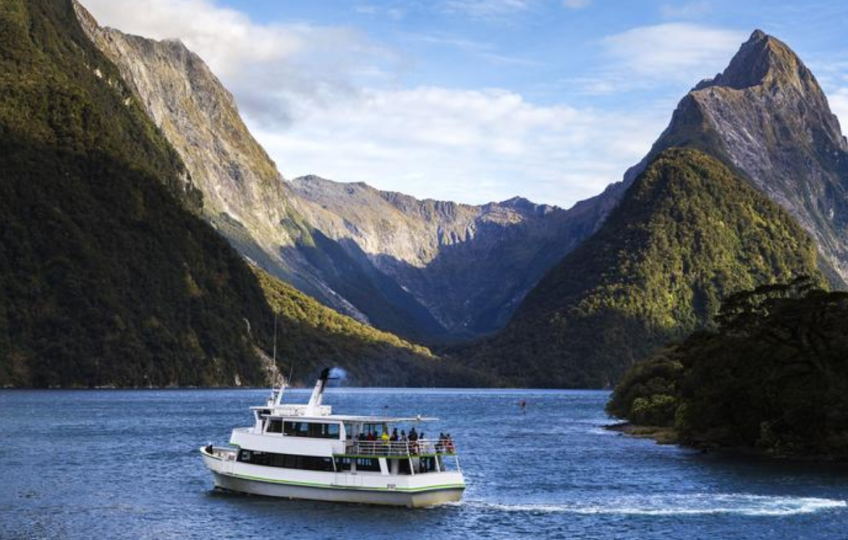 Loss of overseas visitors leaves tourism operators trying to fill multi-billion dollar hole
Dec 22, 2020
---
Tourism operators are preparing for their first summer without international visitors in decades as borders remain closed.
New Zealanders have been invaluable for keeping the industry afloat with the latest MBIE figures showing New Zealanders spent more than $351 million in October compared to last October - the biggest increase since coming out of lockdown.
But that can't make up for the loss of international visitors which has left a multi-billion dollar economic hole.
Up the road from Franz Josef Glacier on the West Coast, Okarito Kayaks, which takes its name from the lagoon it operates on and local town, had its busiest winter ever
Co-owner Barry Hughes hoped that support would continue this summer.
"Being busier in winter - although it's been great for our morale - doesn't have the same financial impact as being busy in summer. We will be perhaps a little bit busier with New Zealanders this summer, but not enough to replace the 80 percent loss of international revenue that we'd have over that time which is very heavily focused towards summers," Hughes said.
Glacier country operators remained optimistic about summer, particularly January, where they would hopefully be able to start working on a buffer when fewer visitors start arriving, he said.
"I think the real crunch will come as we go into next winter when people's savings, people's cash flow will really be at a critical point, and that will really be the crunch time for our business this year.
"But we hope by that point that people see that light at the end of the tunnel and have the means to keep going to reach it."
Active Adventures chief executive Wendy van Lieshout is gearing up for a very different summer - usually close to 100 percent of their inbound visitors are from the United States. Her company also operates overseas tours which will start to ramp up in the new year where Covid-19 restrictions allow it.
"Everyone would be highly stressed with 150 trips concurrently running both in the South Island and North Island. We would have more than 40 guides on the road. They would all be getting completely geared up. The fleet of buses would be going full noise. Everything would just be all hands to the pump."
Instead her tours business is operating about 10 percent of its normal trips it would run over summer with accommodation bookings dropping as low as 4 percent.
Earlier this month, Cabinet agreed in principle to create a trans-Tasman bubble in the first quarter of 2021.
Wendy van Lieshout hoped that would happen sooner rather than later.
"You take what you can get in this environment so we've been ready to go for the Australian market for quite some time and we've already been starting to do some campaigning to build our brand over there. So yes, we are absolutely counting on hopefully what will be an influx from the Australian market."
Scenic Hotel Group operates 17 hotels across the country including ones on the West Coast, Bay of Islands and Auckland Airport.
Its managing director Brendan Taylor said 2020 has been a rough year with Covid-19 hitting hard and then November flooding taking their successful Napier hotel out of action likely until March.
While he was optimistic about the upcoming summer, Taylor said it was hard to tell how busy they'd be as most bookings were made only a week in advance or when people turned up.
"And that trends been going since we came out of lockdown so it's a trend that we just have to be reactionary and just cope the best we can with because it's all short notice and suddenly we can go from an empty hotel to a half full or a full hotel overnight."
In the Thames-Coromandel district, Whiti Farm Park invites people to get up close with more than 40 farmyard and more exotic species from chickens to chinchillas.
Its owner Ronnie James is preparing for a strong summer as their main market in New Zealanders.
"We've got high hopes. Even on a day to day basis since the beginning of the month, things are going really well. The weather's been good. People are starting go on holiday earlier I think this year."
Totally Tourism operates an array of helicopter, cruising, guiding and rafting companies around Queenstown, Milford Sound, Aoraki Mt Cook and the West Coast.
Its director Mark Quickfall said business should pick up post Christmas, but for how long was anyone's guess.
"Most people in tourism are cautious but hoping it holds on from the Christmas/New Year spike ... but a lot of the concern that it's just going to drop back to what we've got now. So really a bit of an unknown."
Tourism Industry Aotearoa chief executive Chris Roberts said some regions would feel the loss of international visitors more keenly than others.
"It's a very mixed picture across the country. Queenstown certainly will be far quieter than normal and our cities as well. New Zealanders will be emptying out from the cities and going to the beaches and lakes as they traditionally do, and there will be no international visitors around in our urban areas," Roberts said.
Overall it was shaping up to be the biggest domestic summer ever, he said.
"But it's a short period. We're talking here from Christmas through to possibly Waitangi Day. Those who are able to will be taking a holiday break during that period. What the industry has been worried about for some time is what happens after that, after we go back to school and back to work, and how we survive in late summer without the border's open," Roberts said.
Opening a trans-Tasman bubble by February would be a lifeline for operators when New Zealanders headed home, he said.


---