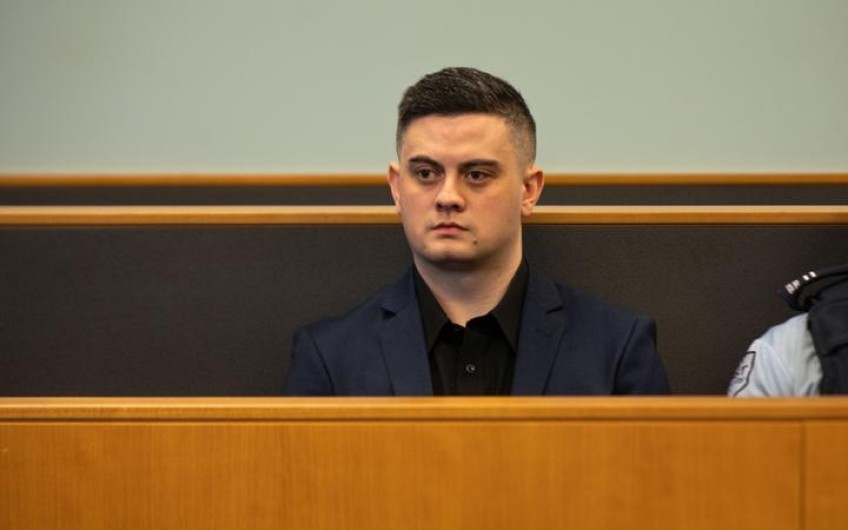 Grace Millane's killer named as Jesse Kempson after Supreme Court appeal denied
Dec 22, 2020
---
Warning: This story and related coverage of the trial contain graphic details that may be distressing for some readers
The man who murdered the British backpacker Grace Millane can now be named.
He is 28-year-old Jesse Shane Kempson.
Kempson's name has been kept secret by the courts for more than two years, but suppression lapsed when the Supreme Court denied his last-ditch appeal.
It can now be revealed Kempson has been convicted of a raft of sexual violation offences, relating to two women who went to the police after he was arrested in December 2018 over Millane's disappearance.
After he was found guilty of murdering Millane in a highly-publicised trial in late 2019, Kempson faced two further judge-alone trials in the High Court at Auckland in October and November this year.
In the first, he was found guilty of eight charges for the sustained physical, sexual, emotional and financial abuse of an ex-girlfriend, and jailed for seven-and-a-half years.
In the second, he was found guilty of raping another woman he had met on Tinder, and jailed for three-and-a-half years.
Kempson is appealing his conviction and sentence in both cases.
He is already serving a life sentence with a minimum non-parole period of 17 years for Millane's murder.
Last week the Court of Appeal dismissed his bid to overturn his conviction and sentence in that case.
He has indicated he will go to the Supreme Court to challenge that decision.
The ex-girlfriend
At the trial in October, Kempson's ex-girlfriend - who cannot be identified - described in graphic detail the escalating physical, sexual, emotional and financial abuse she suffered during their relationship.
He slapped and pushed her during arguments, drained her savings account of more than $10,000, and once held a knife to her throat before forcing her to perform sexual acts against her will.
The woman left the relationship after seven months and obtained a protection order against him.
In a DVD interview played in court, the woman told police the violence began almost as soon as the relationship had started.
"The first time he hit me we were having an argument and he just slapped me across the face. I've been in an abusive relationship before so I vowed to myself that I would never get back into one.
"So this was just like, I'm in it now. This is scary. I can't escape. I've just put a lease down on this place, moved in, how the **** am I supposed to get away."
The violence escalated.
"We had these two big butcher knives and whenever he got angry, like I said the Jekyll and Hyde, something inside of him snapped.
"He would go straight to the kitchen, get one of those knives and hold it to my throat."
The woman said she felt like she was walking on eggshells around Kempson and broke down describing his anger during their relationship.
"I could never understand why he got so angry towards me. I just loved him and I just wanted him to love me like I loved him."
The woman told the court she had a fighting spirit and fought back at the start, but eventually lost the will to resist the violence.
She said the man tried to kill her one night in 2017 - chasing her around the house before holding her in a choke hold and forcing her to perform sexual acts on him.
"I just looked at him and I said, 'Please don't make me do this, please don't make me do this'.
"I was crying and he said to me, 'If you don't do this I will kill you and I will kill your family and you know I will'."
In court, the woman said her heart dropped when she saw the first blurred images of Kempson on the news, after his arrest over Millane's disappearance.
She was later accused at trial of fabricating her story in a heightened state of emotion - an allegation she categorically denied.
"I told nothing but the truth, the whole interview. I've told nothing but the truth this whole way through," she said.
"I was Grace's voice and I will be Grace's voice."
The woman said she felt guilty about Millane's death.
"I didn't want to bring up my past again, but I also wanted the truth to be out about who Jesse is and the pattern of behaviour and how this whole thing could have been avoided."
Kempson was found guilty of eight charges - two of sexual violation by unlawful sexual connection, three of male assaults female, two of assault with a weapon and one of threatening to kill.
At his sentencing, the court heard a pre-sentence report found Kempson showed no remorse, continued to deny the offending and had made no effort to apologise to the woman.
Justice Brewer said Kempson was considered to be at a high risk of reoffending and there were no mitigating features in the case.
Aggravating features included breach of trust, the woman's vulnerability, the woman's trauma and the particular cruelty of the man's crimes.
"Your relationship was also marked by your manipulation of [the woman]. You exercised control over her by giving and withholding affection, sudden anger and violence and by telling lies," Justice Brewer said.
Kempson has filed an appeal against his conviction and sentence in the Court of Appeal.
The date
Kempson raped the second woman in an Epsom motel in early 2018, after meeting her on a date at the Viaduct.
During his trial in November, she said they chatted about their lives, occasionally kissing one another, but she did not think it would go any further than the first date.
The woman told the court the man "flipped" when he realised she was texting two male friends as he drove her to another bar in Mt Eden.
"When I messaged both of my friends [Kempson] got really angry about it," she said.
"The fact that they were both boys seemed to make him more frustrated and it just came out of nowhere."
The woman said they eventually left the Mt Eden bar and Kempson drove around for a while saying he was looking for a bottle store.
She said she was confused when he pulled up at a motel but she went inside anyway thinking she would sort out a ride home once she was inside.
The complainant cried giving evidence, as she described Kempson getting angry when she explicitly refused to go any further than kissing on the bed.
"He came and sat down next to me and started kissing me again. Then he started putting his hands on my legs and pushing my dress further up.
"He was pushing my dress up and then I think he went to touch me and I said I didn't want to do anything that night; 'No not tonight, not now, I don't want to do that today'."
The woman said the man raised his voice before quickly calming down. But he refused to drive her home; saying he had consumed too much alcohol that night.
She said she got into bed fully clothed and positioned away from the man but he put his arm around her, kissed her then raped her.
After being found guilty, the man lashed out at Justice Venning, raising his voice to say, "You're so full of shit mate. You have no reason to convict me. You're full of shit".
In her victim impact statement, read to the court by a support counsellor at Kempson's sentencing, the woman said she was not the same person any more, but could now walk away from the assault knowing the man did not have any power over her.
"When I began this process with the police, I was told by many people that I would feel a sense of relief by telling my story in court, but for me, I am yet to feel that weight being lifted. I don't know if I ever will but I walk away from this feeling as though I have done the right thing for myself.
"I am now a different person than I was two years ago. I am not scared. I am strong. I am not alone. I am loved. I am not held back. I am supported. I have so much to look forward to in my life and I will not look back. I will never say your name. You don't have any power over me anymore."
When Kempson was sentenced to three-and-a-half years in jail, Justice Venning said it clear Kempson did not accept the offending and had no insight into or remorse for his crime.
Justice Venning also cited a cultural report about Kempson that was submitted to the court by his lawyer.
While it was difficult to see any link between Kempson's disconnection from his culture and his offending - the report did offer insights into his troubled upbringing, the judge said.
"Your parents separated when you were three years old, your father was at times violent towards you ... your mother rejected you - that may go some way towards explaining your attitude towards women."
Kempson is also appealing his conviction and sentence in this case.
His last victim - Grace Millane
Originally from Essex, Grace Millane had been travelling in New Zealand on her OE when she disappeared from Auckland's CBD on the eve of her 22nd birthday, in December 2018.
Her family were quick to raise the alarm after birthday messages went unanswered and her father David Millane flew to New Zealand to join the search efforts a few days later.
The police were quick to identify the defendant as the last known person to have contact with her thanks to a wealth of CCTV cameras in the city that captured the pair's movements.
Millane had met the man on a Tinder date and spent an evening bar hopping through the city centre with him before going back to his apartment.
CCTV footage of the pair entering the City Life Hotel, the man's arm draped over her shoulder, at 9.40pm, was the last time she was seen alive.
The man strangled Millane to death in his apartment that night.
He took several explicit photos of the young women's body, searched for pornography on his phone and looked up ways to dispose of a body.
The next morning, Kempson went out and bought a suitcase and cleaning products. He contorted Millane's body into a suitcase and left it in his room as he went on another Tinder date.
He hired a car, put the suitcase with Millane's body in the boot, bought a shovel and buried her in a shallow grave in the Waitākere Ranges.
Whether Millane consented to being strangled, and at what point she may have withdrawn consent, was the central issue at trial.
It was the Crown's case the man strangled Millane while the defence argued her death was accidental after the pair engaged in consensual choking during sex.
Both prosecution and defence camps called expert witnesses to attest to the time and force required to kill someone by strangulation.
The jury heard both sides agreed it would take at least 90 seconds, as a conservative estimate, and the person being strangled would lose consciousness at some point during this period.
The jury returned a guilty verdict; meaning it found the man recklessly murdered Ms Millane by continuing to strangle her after she passed out.
Millane's parents David and Gillian sat through the evidence at trial and paid tribute to their daughter outside court after the jury's verdict.
"Grace was taken away from us in the most brutal fashion a year ago and our lives and family have been ripped apart. This will be with us for the rest of our lives.
"Grace was a beautiful, talented, loving daughter. Grace was our sunshine and she will be missed forever."
Kempson was sentenced in February to life imprisonment with a minimum non-parole period of 17 years. He lost his appeal against his conviction and sentence in the Court of Appeal, but he has indicated he will take his case to the Supreme Court.
David Millane was diagnosed with cancer after returning to England following the High Court trial.
He died last month.


---