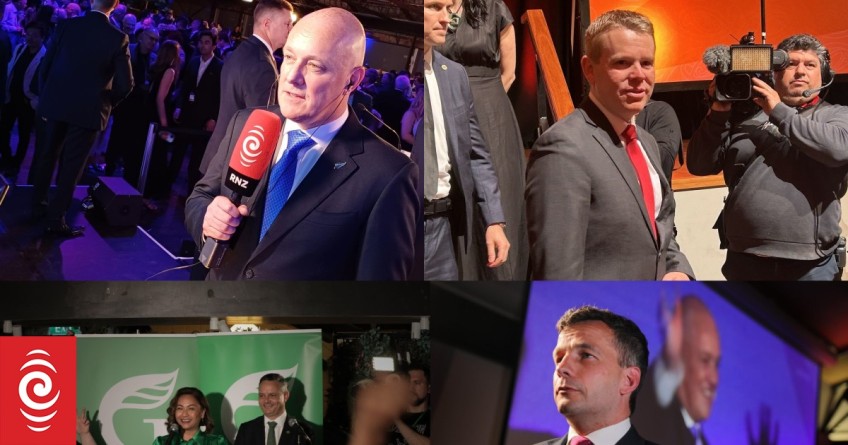 Election 2023: Everything you need to know today
Oct 15, 2023
---
New Zealanders have voted for change, giving the National Party a clear mandate to lead the next government with 50 seats in Parliament.
Voters have splashed blue across the country, and red seats in the North Island and South Island have flipped to National, the Greens and Te Pāti Māori.
According to the Electoral Commission, so far 2,254,441 votes have been counted - just under 80 percent of the total.
ACT took nearly 9 percent of the vote. Leader David Seymour said it was a historic vote for real change.
By 8pm on Saturday, the writing was on the wall for the Labour Party, facing the prospect of losing stronghold red seats.
Two hours later, an emotional Labour leader Chris Hipkins conceded.
He told party faithful in Lower Hutt that being prime minister was the honour of his life.
National Party leader Christopher Luxon said being elected prime minister was a great honour and he was humbled and energised by the support.
He said he would work constructively and quickly with ACT to form a coalition.
Luxon has not indicated over the campaign trail who would get which responsibility nor the kinds of deals he could possibly make with ACT and New Zealand First.
But Luxon's deputy Nicola Willis has staked her role as finance minister on the tax plan.
Last month, ACT floated the possibility of a new kind of governing arrangement if National refuses to cooperate during post-election negotiations. Seymour said he might resort to a confidence-only deal, which would require the larger party to seek ACT's backing for all government spending - or "supply" - decisions on a case-by-case basis.
National and ACT gains
The National Party has nearly 39 percent of the vote so far, taking over in 45 electorates (up on 23 in 2020), with five projected list seats. The party released its party list rankings in August.
ACT has nearly nine percent of the vote, winning two seats so far and projected to get nine list seats.
You can see the full list of successful candidates from all the parties here.
Labour losses and wins
The Labour Party took just nearly 27 percent of the vote, with 17 electorate seats and 17 list seats. It released its party list rankings in July.
Labour was out-manoeuvred by Te Pāti Māori in the Hauraki-Waikato electorate. Nanaia Mahuta has conceded the seat to the country's youngest MP, Hana-Rāwhiti Maipi-Clarke, who is 21.
Maipi-Clarke, who finished more than 1000 votes ahead Mahuta, is poised to become the youngest MP in 170 years.
Auckland's Mt Albert electorate was a neck-and-neck race before final results confirmed it will remain red.
As results started to roll in, National Party candidate Melissa Lee was slightly ahead for the first time since standing in the 2009 by-election. But Labour candidate Helen White eventually won out.
Mt Albert has long been considered a safe Labour seat, home to former prime ministers including Helen Clark and Jacinda Ardern.
Minor parties
The Green Party looks set to win three electorate seats, with Chlöe Swarbrick holding onto Auckland, and Wellington Central candidate Tamatha Paul and Rongotai's Julie Anne Genter leading their races.
The Greens have secured nearly 11 percent of the nationwide party votes.
Co-leader Marama Davidson said it was the first time the party had held an electorate seat for more than one term.
The party is projected to have 11 list seats.
New Zealand First is back in Parliament with 6 percent of the vote, and is projected to receive eight list seats.
Te Pāti Māori secured 2.6 percent of the vote, and took four electorate seats.
Fringe parties
The Opportunities Party has not done enough to get into Parliament, polling just over 2 percent nationwide.
Leader Raf Manji said he was taking time to consider what he would do next, after losing out to National in the Christchurch-based seat of Ilam.
They were followed by newly formed NZ Loyal - led by Liz Gunn - on 1.2 percent.
What will National do first?
Two weeks ago, National unveiled what it would do in its first 100 days in government, and among the priorities was:
introducing legislation to remove Auckland's Regional Fuel Tax
restoring the 90-day employment trial periods for all businesses
cancel Auckland's Light Rail project
withdraw central government from the Let's Get Wellington Moving programme
begin work on establishing a National Infrastructure Agency
repeal Three Waters legislation
stop work on the Lake Onslow scheme
ban cellphones in schools
appoint an expert group to redesign the English and maths curricula for primary school students
begin disestablishing the Te Pūkenga polytech
amend the Overseas Investment Act 2005 to make it easier for Build-to-Rent housing to be developed in New Zealand
introduce a fast-track consenting regime for housing
commission an independent review into Kāinga Ora's financial situation, procurement, and asset management
improve hospital emergency department health workforce security
introduce legislation to disestablish the Māori Health Authority
introduce legislation to extend free breast cancer screening for those aged up to 74 years
An employment trial period is a period of up to 90 days when an employer is allowed to dismiss the employee without the employee being able to raise a personal grievance for unjustified dismissal.
At the moment, only businesses with fewer than 20 employees can use trial periods for new employees.
Auckland's Regional Fuel Tax (RFT) scheme began on 1 July 2018, at a rate of 10 cents per litre (plus GST), on petrol, diesel and their bio-variants.
Auckland Mayor Wayne Brown has said scrapping the RFT without a plan to replace the revenue could leave close to a $2 billion gap in the council's budget.
Also on National's 100-day plan is banning gang patches, making gang membership an aggravating factor at sentencing, stopping gang meetings in public and giving police powers to search for firearms.
It will stop taxpayer funding for section 27 cultural reports; these give insight into a defendant's personal history, such as their relationships, culture, education and employment which may have negatively impacted them.
The party is also set to sign a memorandum of understanding with Waikato University to progress a third medical school. Last month, RNZ revealed the head of Waikato University referred to the setting up of the country's third medical school as "a present" to a future National government.
What's left?
The Port Waikato by-election will be held on 25 November.
There are half a million special votes still to count. National and ACT might lose a seat from those. Or, they might gain a seat.
Official results for the 2023 general election will be finalised on 3 November.
Once the official count is done, the chief electoral officer returns the writ, which marks the end of the election process and shows the names of the successful candidates.
There hasn't been any indications of candidates wanting to request a vote recount for their electorate yet.


---