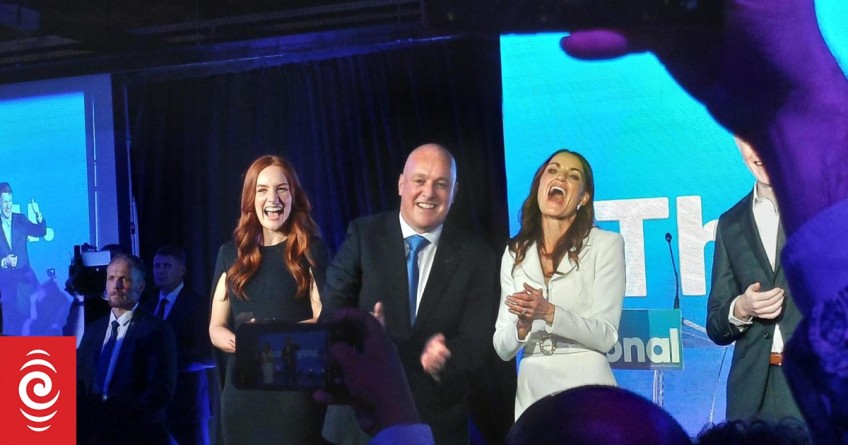 National, ACT poised to form government
Oct 15, 2023
---
Christopher Luxon and the National Party are on course to form a government with the ACT Party, with National winning almost 40 percent of the party vote in today's general election.
National romped far ahead in the party vote in Saturday's general election and were above 40 percent much of the night, but were falling just below at about 39 percent of the vote with 95 percent of results in the preliminary count as of nearly midnight.
That may mean the party needs New Zealand First to hit the numbers, but with special votes yet to be counted and a number of close electorate races, the final picture is not quite clear.
Labour was sitting at about 26.5 percent of the party vote, and Prime Minister Chris Hipkins conceded there was no chance he could form a government and that Labour was heading out after six years and two terms in office.
The Green Party was at about 10 percent, ACT at 9 percent, New Zealand First at 6.4 percent and Te Pāti Māori at 2.5 percent with 94 percent of results counted.
It's a stunning reversal from 2020's election, where Labour hit 50 percent of the vote as Jacinda Ardern's government won a second term and National cratered with 25.6 percent.
One Labour supporter told RNZ that "Labour expected a slap on the wrist. This is a punch in the face."
'A new government and a new direction' - Luxon
Greeting cheering supporters in Auckland, National leader Christopher Luxon said the results were a mandate for change.
"You have reached for hope and you have voted for change," Luxon told supporters. "On the numbers tonight, National will be in a position to lead the next government."
"My pledge to you is that our government will deliver for every New Zealander, because we will rebuild the economy and deliver tax relief.
"We will bring down the cost of living, we will restore law and order, we will deliver better health care and we will educate our children so that they can grow up to live the lives that they dreamed of.
"That's what you voted for and that's what we will deliver."
A joyous crowd chanted "back on track" as Luxon spoke.
National won multiple electorate seats from Labour in preliminary results, and Luxon said "It looks like National on Monday will be welcoming many, many new candidates into our caucus".
"If you work hard in the best country on earth, you should be able to get ahead."
"Tomorrow morning New Zealanders are going to wake up not only to a new day but to the promise of a new government and a new direction."
'I gave it my all, but that was not enough' - Hipkins
Earlier Saturday night, Labour leader Chris Hipkins conceded that the party had no path to return to power, saying that "The result tonight is not one that any of us wanted".
Hipkins replaced Jacinda Ardern in January, but he joined other prime ministers like Mike Moore, Jenny Shipley and Bill English in failing to win election in their own right after taking over from another leader mid-term.
"I gave it my all to turn the tide of history, but alas, that was not enough."
Hipkins struck a defiant note in his speech and promised Labour would remain strong in opposition.
"When the tide comes in big it almost invariably goes out big as well... but Labour is still here, it is not going anywhere, and we will get up again as we have done many times before.
"We put people first, we refused to leave people behind, because that is what we do, that is what the Labour Party does."
Many electorate seats were still too close to call, with only a few hundred votes separating candidates.
NZ First back in Parliament
Some polls showed New Zealand First going as high as 8 percent but the party was hovering around the 6 percent mark, just over the 5 percent threshold to return to Parliament.
It's not certain whether Winston Peters will end up with the much-discussed "kingmaker" role again as National and ACT combined were just reaching the 62 seats needed to form a government.
Peters was jubilant addressing supporters.
"We have done the impossible. This party has entered its fourth decade, and I've entered my sixth," said Peters, who was first elected to Parliament in 1979.
He suggested there were a lot of National's promises that were not affordable and he would work to rein them in, given the chance.
"If we can help, going forward, we will."
ACT ready to join in to form government
ACT was hovering around 9 percent of the vote, short of some polling that showed them going a fair bit higher, but its leader David Seymour cheered results at their event as the party hoped to form a government with National.
"To so many people who have put their trust in ACT tonight, this country has voted for change and a record number have voted for real change," Seymour told supporters.
"I long said that getting elected is not an achievement, it's an opportunity to do good. We will work tirelessly and will not cease from the effort required to make sure that this country delivers the promise it has made to so many people."
National Party pollster David Farrar said based on early results this would be the biggest swing in New Zealand two-party history since 1938.
"Here we are seeing the government dropping 24 percent, that's unheard of. Normally a bad result for a government is you've got 5 percent [drop], over 10 percent's normally a disaster."
A National supporter told RNZ people were just sick of the Labour government, and the 2020 election was just "because of the Covid thing, and now we've got rid of the Covid thing we're down to basics".
Hutt South MP Ginny Andersen said there's "a sense of grumpiness" among voters who are struggling with the cost of living and Labour is bearing the brunt of that.
"We have to accept what the public say."
Greens look to win multiple electorates
The Green party also delivered a solid result, polling higher than 2020 and possibly in line to win three electorate seats.
"This is unheard of, this is what you did, you did that everybody… with hearts and values with a vision that uplifted people," co-leader Marama Davidson told supporters.
Co-leader James Shaw said it looked like the involvement of the Greens in government was ending. It had been a privilege to serve alongside Labour for six years, he said.
Youngest MP elected; minor parties fall short
Meanwhile, Te Pāti Māori candidate Hana-Rawhiti Maipi Clarke defeated Foreign Minister Nanaia Mahuta in the Hauraki-Waikato electorate, ousting the longest serving female MP and at just age 21 becoming the youngest MP in Aotearoa in 170 years.
The seven Māori electorates were not quite certain as of Saturday night, with Te Pāti Māori locked in close battles with Labour in several spots.
Many electorates held big shifts and several prominent MPs were likely to lose their seats.
National's Melissa Lee was in a close race for Jacinda Ardern's former seat in Mount Albert, while ACT deputy leader Brooke van Velden has defeated National MP Simon O'Connor in the Tāmaki electorate, giving the party a second electorate seat.
The Opportunities Party leader Raf Manji hoped to win an electorate seat in Ilam in Christchurch but fell well short, while the party was hovering around 2 percent of the vote.
While a wide variety of minor parties associated with the "freedom" movement ran such as Freedoms NZ, NewZeal, DemocracyNZ and New Zealand Loyal, most fell well under 1 percent of the vote.
Election voting issues reported
However there were some problems reported with voting. Booths across the nation ran out of ballots, some closed early, and the online system collapsed.
A voter in Wellington Central said today's voting was the worst voting experiences she has ever had.
"Probably the worst experience ever expected almost all the years I've voted," she said.
Te Pāti Māori said they will establish a Māori electoral commission if re-elected, after what it calls the shambolic handling of the election.
Former Labour Party leader David Cunliffe said his first thought for activists and colleagues in Labour who will be having the "one of the worst nights of their lives".
"We used to talk about the red wall of West Auckland from Mt Roskill, Mt Albert, Te Atatu, New Lynn, to have those four seats with National in the lead - I think two will probably come back on specials - but that has never happened before in New Zealand political history."
Main image (RNZ/Russell Palmer): National leader Christopher Luxon and family celebrate on Election Night.
Read more: National newbie Miles Anderson wins Waitaki


---