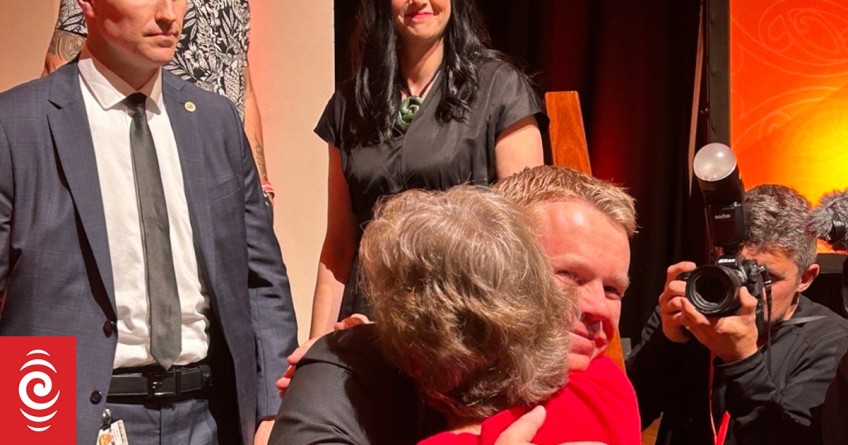 Emotional Hipkins concedes defeat
Oct 14, 2023
---
Labour leader Chris Hipkins has conceded that his party can not form the next government, but National may still need NZ First to govern.
With about 85 percent of the vote counted, National's support has dropped back to 39.67 percent - giving them a projected 50 seats.
Labour has crept up to 26.45 percent - 34 seats.
The Greens are on 10.6 - 13 seats - ACT is on 9 percent - 12 seats - and NZ First is on 6.4 percent - eight seats.
Addressing supporters in Lower Hutt tonight, Mr Hipkins says becoming prime minister was the honour of his life, but he knew it would not be an easy battle.
"I'm proud of the progressive programme we put forward in this campaign, one that supports everyone not just the better off."
He says in the coming days he will ensure there is a smooth transition to the next government, it will be in a caretaker role before assuming the important job of being the opposition and contesting the cuts that are planned.
Labour now has an important role in opposition, Mr Hipkins says.
"I can promise that we will keep fighting for working people because that is our history, and our future.
"When the tide comes in big it almost invariably goes out big as well...but Labour is still here, it is not going anywhere, and we will get up again as we have done many times before.
"Thank you New Zealand for the honour and the opportunity you have given us."
He also thanks all Labour volunteers and the Labour team.
His voice then breaks as he acknowledges his family, while people stand and cheer in support.
"Finally, to my family, for everything you have done for me."


---