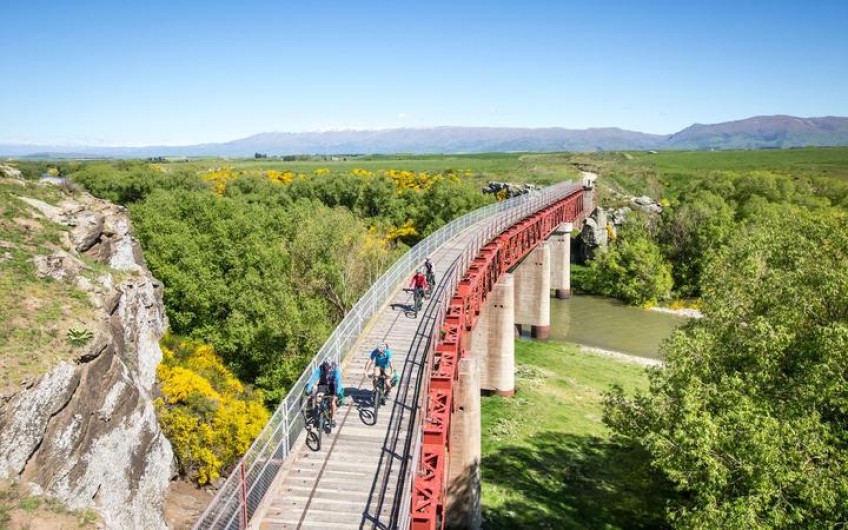 Central Otago businesses see boom, fewer people unemployed
Mar 12, 2021
---
The number of those looking for work in Central Otago is at the lowest level since the nationwide level 3 lockdown ended in May.
Work-ready jobseekers in the district have declined 44 percent since then, according to figures from the Ministry of Social Development.
While there is a seasonal aspect to Central Otago's economic turnaround, some businesses are boasting their best summer yet despite closed borders.
But the dearth of available workers is creating pain for some.
Central Cycle Trail Ltd operator Dave Thomson said even with the summer holidays over, school back and no foreign tourists, he was bracing for a busy couple of months.
"We're having a huge spike in growth compared to some of my friends in other industries," he said.
"It's been the opposite effect to most where we're into our two busiest months of the year and they'll be the two busiest months we've ever had in the 20 years I've been on the [Otago Central] Rail Trail."
Thomson organises tours of Central Otago's cycle trails for tourists.
But he said his business, along with others in the district, catered mostly to New Zealanders and with the prospect of international travel gone they had been more willing to spend locally.
"I think the last full season the rail trail did there was an injection of approximately $30 million into the local economy, so this year - if we can get through - it could be anywhere between $40m to $45m into the area so it is huge money."
Another trail that linked Cromwell and Clyde was due to open soon and would provide a further boost for the district, Thomson said.
Before summer there were fears there would not be enough workers for the summer fruit harvest with the borders closed and the industry usually reliant on foreign backpackers and RSE workers.
But 45 South chief executive Tim Jones said after a huge industry push, and support from local and central government, that was not the case.
"So we've had obviously very few RSE men from the Pacific because of the border being shut, we've had a far smaller number of backpackers for the same reason, and we're pleased to say Kiwis took up the call and came and helped us out to get the crop off," he said.
The problem turned out to be too little fruit, as poor weather affected the crop.
"It's been a cherry season that a lot of growers will look to forget pretty quickly and move onto another one," Jones said.
"I always say we're eternal optimists being fruit growers, so we're trying to put this last disappointing one behind us and move onto what is hopefully a better one next year."
That had further downstream effects as workers went elsewhere, leaving the district's viticulture industry short-staffed with its own harvest just around the corner.
GrapeVision viticulturist James Dicey said the situation was dire and there was a chance of grapes rotting on the vines.
"Grapes not being harvested is a likely outcome and there's a likely outcome down here that not all the apples, which are at the same sort of time as us, are going to be harvested.
"That's a catastrophe. You've spent all the money for the season and you just can't get them off."
The other possibility was a late harvest, which would affect the quality of the wines.
The industry was doing all it could to appeal to workers including offering cheap accommodation and transport, Dicey said.
Central Otago deputy mayor Neil Gillespie said though economic prospects had improved but the issues confronting the district before Covid-19 still remained.
"The cost of living here, the availability of accommodation, those sort of thing, the ability of young people to get into the housing market - all those things they're still here. They haven't gone away and they won't go away."
The council and the community were looking at ways to address housing affordability, but there was no easy solution, he said.
However, with the quieter winter period around the corner, he said it was pleasing most had work.


---