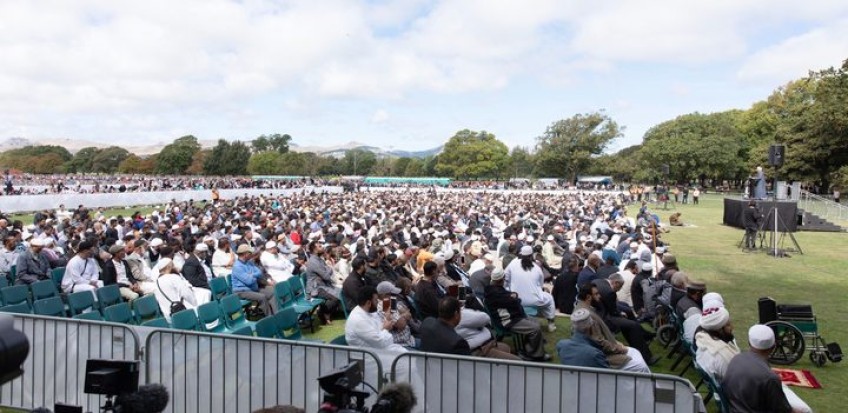 Call to prayer and two-minute silence: 'We are broken-hearted, but we are not broken'
Mar 22, 2019
---
The country has observed the Muslim call to prayer and two minutes of silence in Christchurch, one week after terror attacks that killed 50 people at two mosques in the city.
The call to prayer, the adhan, is an Islamic practice that is observed by devotees five times a day. The call to prayer took place about 1.30pm, lasting about one minute and 40 seconds.
It was attended by Prime Minister Jacinda Ardern, Muslim community leaders, local iwi and international dignitaries, among others. It was followed by two minutes of silence, which has been observed nationally.
Al Noor Mosque Imam Gamal Fouda, who survived Friday's attacks, then spoke, telling the crowd New Zealand was unbreakable.
"We are broken-hearted, but we are not broken. We are alive, we are together, we are determined to not let anyone divide us.
"To the families of the victims your loved ones did not die in vein, their blood has watered the seeds of hope. Through them the world see the beauty of Islam and the beauty of our unity."
"We are here in our hundreds ... love will redeem us.
"To the people of New Zealand, thank you for your tears, your haka, your compassion."
Follow the latest developments with RNZ's live blog here
Fouda also thanked the prime minister, the government and people of New Zealand.
He also thanked the police service and people who helped on the day.
"It's easy to feel lost after the trauma of Friday but Allah will give strength."
He asked Allah to protect New Zealanders and the world.
Friday Jumuaha Prayers took place afterwards.
Learn more about adhan and what to expect here 'They are us': Read about the victims RNZ's full coverage of the terror attack and the response to it PM urges people to pay respects as nation officially mourns
A range of other vigils and commemorations are also taking place across New Zealand today.
Thousands of people arrived at Kilbirnie Mosque to show their solidarity with the Muslim community as they attended their Friday afternoon prayers.
Among the attendees were emergency service staff, Police Commissioner Mike Bush, Mayor Justin Lestor, MPs Grant Robertson and James Shaw and leaders from other religious communities.
A human chain formed outside the mosque, which at times become a waiata.

---