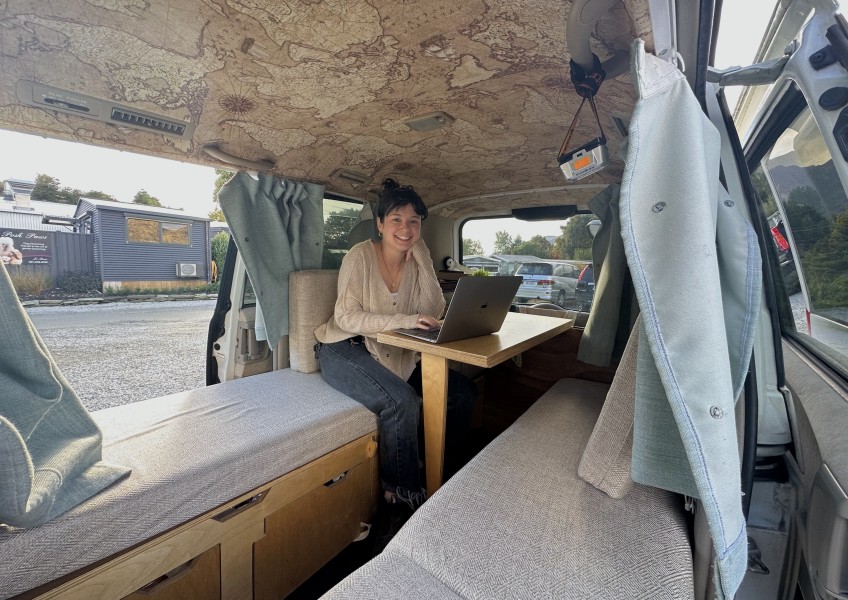 Content creator tries NZ #vanlife whilst working full time
---
Carly Koemptgen is being paid to travel - a lifestyle the envy of many in a culture that pushes "living your best life". Crux met the US TikToker as she parked up her mobile home in Queenstown this weekend to see what life on the road is really like.
At the start of March, Seattle-based Carly Koemptgen set off on her first New Zealand adventure, laptop in tow, hopeful for an internet connection or free WiFi nearby as she trekked round the country.
Since taking to the road, she's been holding down a full-time work schedule, working in social media and content creation.
Ms Koemptgen says she previously tried a nine-to-five desk job, but it was not for her - she finds more creativity and motivation in juggling her time between work, walks, and exploring the countryside.
But it's not without its challenges and, after a month on the road, Ms Koemptgen believes there's more "simplicity" with a normal schedule and your own bed.
"With the van, I have to think about things a little bit harder, about what I'm going to eat, where I'm going to eat and get water, and how I'm going to cook my dinner.
"It takes a decent amount of discipline and a decent amount of pre-planning."
There are lots of peanut butter and jelly sandwiches, she says, as they're cheap, quick, and easy to prepare.
Her route is mapped out two weeks in advance, and her work schedule requires lots of discipline too, Ms Koemptgen says. But there's flexibility in there - changing her schedule to spend more time with new-found friends in Hokitika or to take up an invitation to join St Patrick's Day celebrations in Nelson.
"Sometimes my schedule will fluctuate with the weather too. Yesterday was a rainy day, so it was the perfect day to grind out a ton of work, I just did a ton of stuff in advance, so I don't have to worry about it for the next couple of days."
Finding a place to work, hasn't been much of a challenge. There are public libraries and cafés and coffee shops to go to, and before going to a place she'll always google 'work remotely' spots too.
Plus, there's often WiFi and good views at holiday parks too, Ms Koemptgen says.
During this latest adventure down under, Ms Koemptgen's been working for global HR company Deel, who supplied her with the van and a six-month work contract – with time equally split between Australia and New Zealand.
In a press release, the company says "thousands of content creators from around the globe" applied for the 'social media digital nomad' role that Ms Koemptgen nabbed.
One month into her six month trip, Ms Koemptgen's already hit nine different places. Arriving in Auckland, she's travelled to Rotorua, Taupō, Tongariro, Wellington, Nelson, Hokitika, Haast and Wānaka.
Along the way, she's noticed a distinctly different culture and way of life in New Zealand to that which she's experienced back home in Seattle - describing Kiwis as more laidback, welcoming and resilient.
"It's encouraged me to slow down and to listen to others and look out for more of my people."
She gives Wānaka's eatery Big Fig a massive shoutout, saying is the best place she's eaten at so far - reminding her of her mother's Lebanese cooking.
So far on her travels, she's not met anyone else doing the same thing she is, but she's hoping too. She's also hopeful changes to the culture around working will continue.
"Hopefully, we'll see some shifts to how we approach our work, where it's not your entire identity or your entire life.
"Having more remote work, and allowing you the flexibility to travel would be an awesome thing to see in the future."
After this experience, she plans to do more travelling – something she hasn't done much of.
"I'm very particular about budgeting and making sure that I'm spending my money wisely and always saving it. So I haven't travelled much."
But this method of travel, where she works as she goes, is one she'll seek to adopt again in the future.
"I've realized that I can travel for pretty much the same amount of money that it would cost me to live in the States, stationary.
"That's shifted my perspective...I think I used to think...'Oh, international travel is, like, so expensive and unattainable. And, like, it's really not if I'm not paying for an apartment and a car and my entire life back in the States."
She's worked out that by living cheaply, and budgeting, this trip travelling around New Zealand is costing her relatively the same amount as if she was back home and paying rent.
However, in the wake of the recent housing protests in Queenstown, Ms Koemptgen's says the privilege of her situation has "been on my mind".
"There are people that do this out of necessity…that is something I have been conscious of, it's almost like I'm glamourising sleeping in your car."
She admits to missing her bed, and a normal schedule too, but she's gaining more than she's sacrificing from the experience.
"Hopefully I'll be an old woman with a tonne of stories."
Ms Koemptgen encourages anyone considering budget overseas travel to give it a go.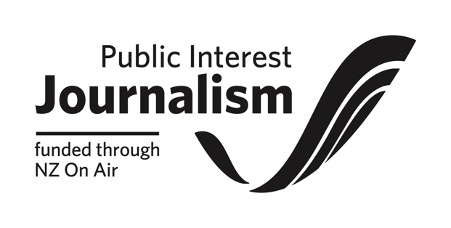 ---