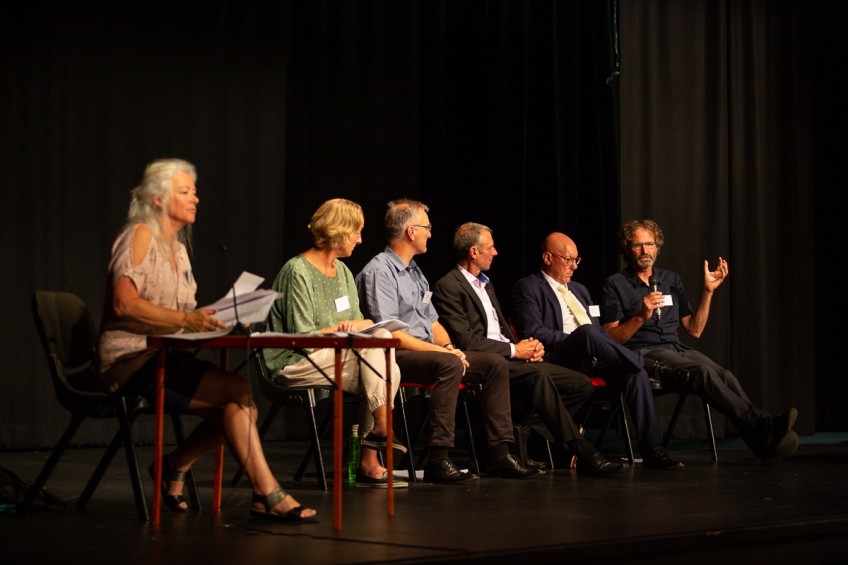 "We've not done enough - things need to change."
---
Some powerful decision makers made some difficult admissions at last night's Crux Water Forum, saying that accelerated growth and over-development were at the heart of the district's water problems.
An overarching theme, and common point of agreement, was that a full appreciation of the importance of our water resources had been slow to dawn on both the Queenstown Lakes District Council and the Otago Regional Council.
Mayor Jim Boult made a blunt statement about the future need to protect water quality. "There will be a cost, both physical and financial, but we have to do things differently. Development will have to slow down."
It was a sentiment echoed by Otago Regional Council Chairman Stephen Woodhead. 'There's been a lot of powerful developers and a lot of growth. Frankly, we have not kept up with it. We've allowed personal greed to get in the way of the needs of the community."
The comments came after a powerful opening speech from Victoria University's freshwater scientist Dr Mike Joy. Dr Joy painted a dark but realistically dismal picture of the state of New Zealand's water.  "We are often in the lowest 10 or 20% of the entire world. Far from being 100% Pure, our rivers often rank amongst the least healthy on the planet. Much of our water is unswimmable, our fish are threatened with extinction and we are not even using the right data to measure the extent of the problem."
A member of the audience later asked if the QLDC and ORC accepted Dr Joy's research data. Both said that they did.
Questions from the district's four main water advocacy bodies underlined the level of dissatisfaction with the state of our rivers and lakes. Wanaka's Friends of Bullock Creek asked both councils "Why are you not doing your job?"
The answers were defensive but also honest. Both QLDC and ORC pledged to at least work better together and look at ways for future planning consents to be the subject of joint scrutiny, rather than risk developers playing one agency off against the other by taking advantage of the Resource Management Act's complexity and the split roles of regional and district councils.
The QLDC's Chief Engineer Ulrich Glasner suggested that domestic water metering would be an effective way of forcing people to appreciate water more and use less of it.
But the heat kept coming back on to property developers. "We've seen some really clever looking ideas from property developers about water management but these have not worked. It's time for a change." said Mayor Boult.
ORC's Environmental Resource Scientist, Rachel Ozanne, was even more straightforward when asked by a member of the audience why our water quality was so poor when the area simply did not have that much intensive agriculture.
"Development and humans are the problem." she said.
Hunter Leece, an audience member, asked why the QLDC was issuing resource consents for new sub-divisions when he claimed the available ORC water allocation was not sufficient to supply that sub-division. "We'll have to get back to you on that" was the QLDC response.
The evening ended with one audience member asking Dr Mike Joy what we could all do as individuals to improve the quality of our water. "Make a lot of noise" he said. "Keeping putting as much pressure on your local and national politicians as possible. It's the only thing that is really going to make a difference. Substantial change needs to come from the top. From Central Government."
Crux will be following up on the forum with some unanswered questions and exploring further the implications of a clamp down on further property development by a newly-forged, freshly emboldened partnership of QLDC and ORC.

---