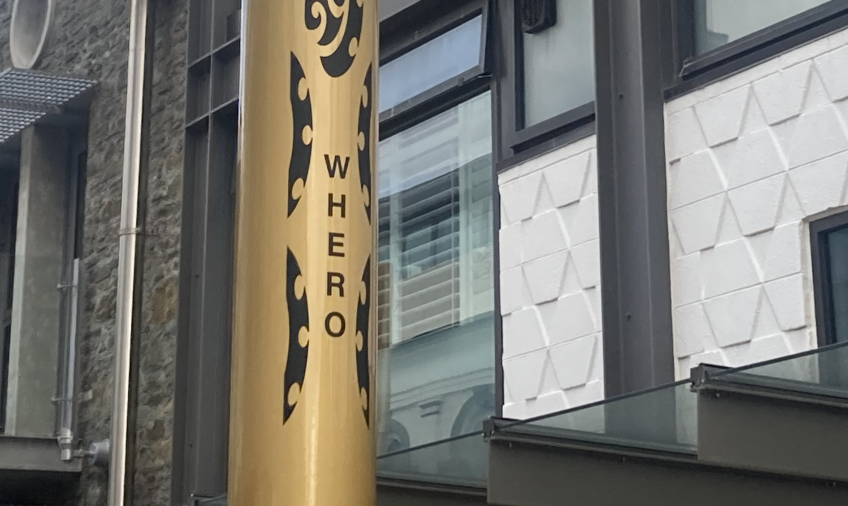 We are not sure that QLDC got this right
---
A Crux reader has contacted us to point out what he believes is an error in a QLDC featured Māori word in the CBD that can mean either orange/red – or bum/backside.
The word "whero" appears on controversial Queenstown golden lighting poles with te reo Māori dictionaries agreeing on the definition as:
Red, Reddish Brown, orange-red
Or
Anus, bum, backside, rump
(Source https://maoridictionary.co.nz/search?&keywords=whero )
We contacted QLDC asking if they had researched the meaning of the word, and what the council intended to convey with the word. Here is their reply, in full.
"A Tāhuna Cultural Design Strategy was developed collectively with Kāi Tahu representatives and the design team for the Queenstown Street Upgrades project. This work was endorsed by the Whakatipu Cultural Panel, made up of mana whenua representatives from Kāi Tahu Papatipu Rūnaka. The strategy identified key cultural values, associations and themes relating to Tāhuna Queenstown, and integrated these into the street upgrades design.
"Within the historic core of Queenstown's town centre the main narrative relates to 'Pounamu' and 'Whero', referencing both the cultural significance of pounamu in the region and its gold mining heritage. Whero is the local Kāi Tahu word for gold, specifically in its mining context. There is a paving feature at the crossroads of Rees and Beach Streets that will signify traditional Kāi Tahu trails and the intersection of both cultural heritages.
"The two words whero and pounamu also inspired the motif designs, produced by Kāi Tahu artists, on selected light poles.
"You may wish to refer to this article, especially this abstract taken from it:
"This article examines the narratives of Māori gold-finding in Otago up to the mid-1860s to reveal how widespread Māori engagement with the gold rush was. It is Pyke who highlighted the two names Māori gave to gold. In his 1887 History of the Early Gold Discoveries in Otago, he says Māori used "the word 'wherro' [sic] … meaning 'red,' [or] more generally to indicate anything brightly coloured".
Source QLDC.
Māori language dictionaries define gold as kōura with no reference to whero as meaning gold, opening the QLDC golden poles to potential misunderstanding and confusion, especially from visitors unfamiliar with the Kāi Tahu interpretation.
Previously Crux, and local residents, have questioned the cost, height and purpose of the golden light poles with QLDC offering this explanation in February 2021.
"The poles do have a purpose. They are used for Catenary Lighting which is a common and attractive feature of laneway / pedestrian environments. This type of lighting was supported by local businesses during early discussions and provides a number of benefits; creating atmosphere and a more inviting and safe pedestrian environment at night for outdoor diners, events and late night shopping."
Source QLDC.


---