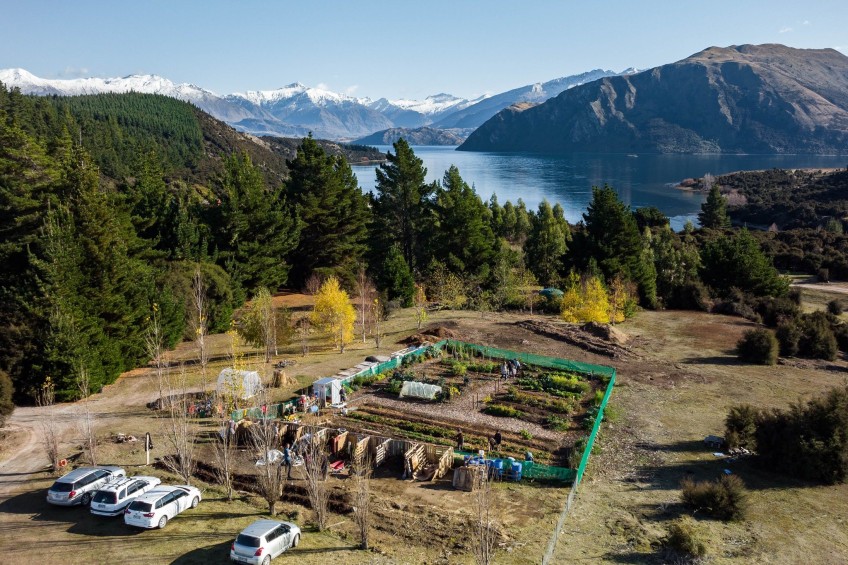 Wao: Waste not, want not
---
We're chucking way too much food in the bin. Whether it's scraps or perfectly edible kai, burying food is an environmental catastrophe, and a waste of a powerful resource. So how can we put it to better use? Another deep dive by Wao Summit's (which kicks off next week!) Georgia Merton.
Kayleigh Simons-Smith prefers the term food surplus to food waste. It's to destigmatize, she explains, and as operations manager at KiwiHarvest Queenstown, she sees plenty of the stuff. "We divert food that would otherwise be going to the landfill, and distribute it amongst the community," says Simons-Smith, who started as a volunteer.
As a food rescue organisation, KiwiHarvest is joining the dots between excess food, and those in need. Theirs is one answer to our food waste issue, which, as it turns out, is monstrous. According to the 2020 QLDC waste audit, over 50 percent of what goes in our kerbside red landfill bins is organic matter. On a national level, New Zealand industry sends over 103,000 tonnes of food to the landfill a year, and it's estimated that 60 percent of that is edible.
It's obvious to anyone that this is needless squandering, but there are a few more layers to it. First off, food in the landfill does not do good things. Contrary to popular belief, broccoli stalks and banana peels (or any other organic material you might toss in the bin) don't magically break down and return to the earth in the landfill. Starved of oxygen, they break down to produce methane, which is 25 times more potent than carbon dioxide at trapping heat in the atmosphere. As we know, this is less than ideal.
Second, throwing this much food away, both scraps and the edible variety, is a mind-boggling waste of resources - in a time when we desperately need to reduce our energy consumption. As food scientist Julia Blackford says, it's a major system failure. "We've got this revolting system and over a third of the food we produce is wasted," says Blackford, whose focus area is designing better food systems. "It's mindlessly wasted."
Third, if we zoom in on just the whopping amounts of edible kai going in the bin, and consider how many go hungry, the mindlessness becomes absurd. In Aotearoa, 40 percent of New Zealanders experience some form of food poverty every week - that is, not having reliable access to affordable, nutritious food.
So that food we're chucking out has a role to play, and many would agree with Kayleigh - waste is probably the wrong word. It is, in fact, an unsung hero. It's a powerful resource: to feed our communities, to build soil and to fight climate change. In other words, food has much better things to be doing than hanging out in the landfill.
Let's start with edible food.
Every year, New Zealand wastes enough good food to feed the entire population of Dunedin, while many struggle to make ends meet. Much of that wastage is at the business level with food that can't be sold, be that because of oversupply, damaged packaging, cancelled orders, mislabelling, or because it's reaching its best before date. This is where KiwiHarvest comes in. With a mantra to 'waste less, feed more', the organisation has branches all over Aotearoa, with a growing network of employees and volunteers.
Language matters, as Simons-Smith knows well, and though KiwiHarvest identifies itself as a food rescue agency, she prefers the term diverting food. It's an effort to destigmatize - they're not plucking food out of the landfill, but saving it before it gets there. KiwiHarvest teams across the country take good food from donors (like supermarkets and wholesalers) and connect it with local charities, which then pass it on to those who are struggling. In fact, they rescue 170,000 - 200,000 kgs of good quality surplus food every month.
Tāhuna (Queenstown), despite its shiny veneer, is struggling just like everywhere else. And, though it was Simons-Smith's interest in waste reduction and the environmental side of things which first got her involved in KiwiHarvest, she quickly came to understand the social side of the problem. "Queenstown is seen as a very privileged area," she says, "But the reality is there's an issue with food insecurity. As the cost of living goes up, people are realising this truth more and more."
The Queenstown KiwiHarvest journey began with one determined local, Esther Whitehead, who recognised this reality in 2018. She began picking up surplus food from supermarkets in her own car and distributing it to charities, but when she eventually realised it was too big a mission to tackle on her own, she reached out to KiwiHarvest, which had been running since 2012. Queenstown KiwiHarvest was born.
"For the first couple years it was pretty small scale, we just had a van and just did a couple hours in the morning whizzing around the supermarkets and dropping the food off at various charities," says Simons-Smith, who has been with the team since 2020.
After receiving funding from the Ministry for Social Development in response to the COVID crisis, the team were able to lease a warehouse and get a larger vehicle, some refrigeration and freezing units, and a forklift. Simons-Smith explains that the organisation is basically an intermediary. They provide food to organisations like Baskets of Blessing, which distributes gifts and meals to those in need, and Mana Tahuna Charitable Trust, set up to improve the wellbeing of Māori and Pasifika people in Tāhuna. Over the hill, KiwiHarvest supplies Wānaka's Community Networks and Food for Love, who deliver home-cooked meals.
Simons-Smith explains there are several strands to what KiwiHarvest does. "So the first strand is the original supermarket collections. The second is our partnership with NZ Food Network, who have relationships with food producers around the country," she says. "These food producers move a lot of bulk food around. So that can be anything from a cancelled export or a kiwifruit farmer with crop damage."
They also do a cafe and bakery collection, which Simons-Smith started last summer. "We got funding through the QLDC Waste Minimisation fund, which we used to purchase an e-bike and get it fitted with a custom built trailer," she says ,and explains that the idea behind the bike was to navigate the narrow roads of Queenstown, reduce emissions, collect small amounts of food and engage the volunteer community.
Solutions like these are working. In a recent Social Return on Investment report, the Aotearoa Food Rescue Alliance found that for every $1 invested in food rescue, $4.50 of social value is generated. This value was spread across food donors (such as their reduced environmental impact and waste disposal fees), food rescue volunteers (increased sense of satisfaction and social connection), recipient organisations (who experience better organisation capacity through access to free food) and, obviously, food recipients.
As for the safety of donated food, Simons-Smith says it's something that has to be taken very seriously."Food safety is obviously really important for us and all of our food donors," she says. "All our staff are food safety trained so they can determine what's good to eat and what isn't."
Though the first pioneers in the food rescue space may have been turned away by potential donors because of liability and food safety concerns, Simons-Smith says those days are behind them. "I think in the last few years, supermarkets and other donors have come around to the idea of trusting food rescues to put in place the measures of food safety that we know are safe."
On top of that, since 2014, there is a clause in the Food Safety Act called the Good Samaritan Clause. This basically protects any business which is donating food in good faith. As Simons-Smith says, that clause is probably responsible for a lot of the attitude change.
KiwiHarvest Queenstown is one example of community-scale food rescue. So what about when food becomes scraps which we can't eat? Well, there's plenty going on in the soil-making space, too.
Let's talk about food scraps.
Specifically, their role in nature's astonishing organic recycling system. As Arrowtown composter Michael Sly explains, when you compost food waste, you stop it turning into a methane-producing anaerobic sludge. "Instead, you store it as carbon, which can then be used by plants," says Sly, who, as far as community composting goes, is at the coalface. He accepts scraps from individuals in the community as well as the likes of Coronet Peak and the Great Walks, and breaks them down in his home-made hot compost system.
It's here that food scraps really come into their own in the fight against climate change. Once turned into compost under the right conditions, this black gold, as it's known to many passionate folks in the industry, can be laid on the earth. Here, Sly explains, it can help the surrounding plants to store carbon - that is, it assists with carbon sequestration. At a time when our atmospheric carbon is set to reach catastrophic levels, that's no small thing.
"All that's happening here is a natural decomposition process," says Sly, "On a simplistic level, it's very easy to let microbial energy sort it all out, and it does." In other words, it's creating the right conditions to allow nature to close the loop, instead of thrusting ourselves into the equation and trucking waste 'away'.
The process is, as anyone who has put their hand in a hot compost pile can attest to, nothing short of magic. As Walt Whitman writes in his poem, 'This compost', 'It distils such exquisite winds out of such infused fetor, It gives such divine materials to men, and accepts such leavings from them at last. Yep, when you ask a composter about compost, they do tend to wax lyrical.
On top of the drawing-carbon-from-the-atmosphere thing, laying compost also adds to the diversity of the soil ecosystem. Sly puts it succinctly: "Compost helps us grow better food. It's a low hanging fruit for creating nutrient dense materials to improve our local glacial or non-existent soils. We bring all these nutrients into these basins, why send them out again?"
Sly is well-versed in finding use for what most may consider waste. Under his business, Wilding & Co, he extracts and sells essential oil from invasive douglas fir wilding pines. It's the mulch left over from this which he uses for the composting operation. "I care about the things that mattered before people started going on about climate change," Sly says. "Minimising the waste of energy, and if you do that there are lots of positive outcomes."
Being able to provide local compost is a big part of his kaupapa, too. "I'm trying to support people who are growing their own vegetables," he says. "They don't really have compost aside from going Mitre Ten and buying bags of it, which have had to be transported here." This building of local food-growing capability is exactly what Julia Blackford says is at the heart of food resilience, which is essentially our ability to feed ourselves. "Any connection that you can have with food is a good one," she says, "Understand where it comes from, grow it if you can."
Sly, who reckons it takes him half an hour to turn his hot compost using his tractor, emphasises the importance of scale. "The bigger the operation, the better the cost return equation, in terms of hours required," he says. It's a sentiment which is becoming stronger across the country: the most effective solutions are in the community setting.
Just over the range, on a north-facing piece of land with spectacular views over Lake Wānaka, lies another community-led example. Grow Wānaka takes food scrap drop-offs, makes soil and grows food for the community - all on three quarters of an acre, gifted by local land owners. It's a blooming garden with a greenhouse and five worm farm bins, and a teaching hub for workshops. According to Julia Greeks, the treasurer for Grow, the weekly working bees are drawing more and more people.
Like Sly's operation, the mission is to keep the nutrients in the community, using worms to break down food into vermicompost which will help to grow more veggies. So, as well as diverting scraps, it, too, gets to the guts of local food resilience - growing food and helping individuals to do the same. And the produce? "After the volunteers, the first place it goes is Community Networks," says Greeks. After that, when the garden's going really well, they'll get in contact with Bex Sarginson from Food For Love, who cooks and delivers meals around the community.
Education is a big focus for the team, which consists of a committee of about 10 and an ever-growing tribe of volunteers. "We're running workshops which are just brilliant, and so well-attended," says Greeks, who came on board in 2020. These include composting workshops with local guru Ben Elms (or Dr Compost, as he's better known), and various gardening 'How-to's'. "We've also been doing quite a bit with Wānaka primary school - the kids have been coming to the garden and learning about the worms," Greeks says.
Though Greeks first got involved with Grow to learn more about growing food, she's found herself becoming a passionate advocate for the composting side of things. "It really made me personally think about how much food waste there is in Wānaka. It's just so easy to throw your food in the red bin," she says. She explains that while not everything is suitable for worm farms, QLDC have provided some bokashi bins for what's not, with the end product going in trenches in the garden.
They're still a way off what Sly would deem an efficient scale for composting, but the wheels are all in motion. The project has recently been given consent for community scrap drop-offs, which Greeks says was a long process, but one which ORC jumped in to help with. Grow joins an expanding network of community food, garden and composting hubs around Aotearoa, like Cultivate in Christchurch, and OMG in Auckland's CBD.
Carbon sequestering and food resilience aside, Greeks says the feel-good effects for those who come to the garden, muck in and connect are obvious. "It's really good for mental health and social connections because people from all over come along," she says. "And it's a fantastic way to learn - every time you go you learn something new from someone else."
The growing numbers of people turning up to help, side by side with their hands in the soil, is a testament to the space. And Grow is just one example; it appears there is a hunger for this kind of community action, which is, quite literally, at the grassroot level. From food rescue to community gardens, it seems this is how we find solutions to our crazy state of affairs: small groups of committed and passionate people, gathering to make change. In this case, saving food from the landfill and using it to create a better world.
Are you doing something awesome in the food waste space? We'd love to hear about it.
For a deeper dive into what some of these projects are up to, join either (or both!) the Queenstown or Wānaka Sustainable Communities Tour. Both tours will visit local sustainability champions making change on the ground. The Food for Thought discussion will open your eyes even further to the real issues facing our global food system.
To get in touch with the KiwiHarvest team, reach out to Gary Hough here. To get involved with Grow Wānaka, head to their Facebook page or join a Saturday working bee. There's a Spring Seedling Sale at the garden on Saturday, October 15.
Main image: Grow Wānaka takes food scrap drop-offs, makes soil and grows food for the community - all on three quarters of an acre, gifted by local land owners.

---