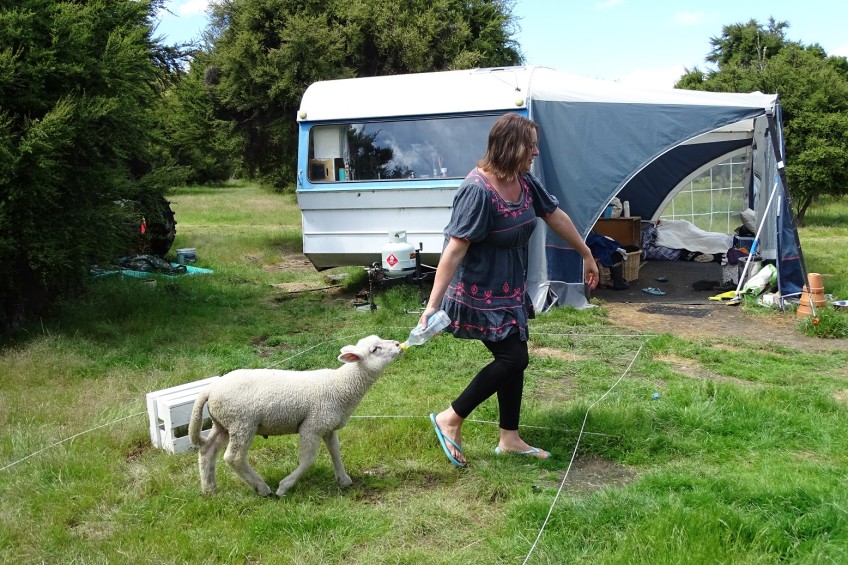 Wanaka - no QLDC support for residents with non-standard accommodation
by Kerrie Waterworth - Nov 27, 2018
---
Wanaka-based, international award-winning visual artist, Jane Kellahan, has made it her mission to force the Queenstown Lakes District council to "do something" about providing land for owners of tiny houses, buses and caravans to rent long term.
Kellahan moved to Wanaka two years ago to live near the mountains and the water to give her inspiration in her work and to provide stability for her son.
Kellahan says she couldn't afford to rent a house as being an artist it is either "feast or famine" and for the same reason refused to take out a mortgage. Instead she decided to live in a caravan at Albert Town campground. Earlier this year an Albert Town resident entered the campground, abused her for living permanently there by calling her a "freeloader" and threatened to run over her dog.
"No one is a freeloader in these camping grounds because you have to pay per night. People just assume because you live in a caravan you must be some kind of hippy or a loser. I live in a caravan yet I am the only artist representing New Zealand at the 2019 London Biennale in May."
Kellahan says she got "lucky" and was offered land on a nearby farm to park her caravan but she knows of "hundreds" of people in Wanaka who are living in storage sheds, tents and anywhere they can because they cannot find cheap long term accommodation.
Kellahan says she also knows of others who could afford to buy a caravan or build a tiny house but cannot afford the price of a section to put it on.
Under the 1985 Albert Town Recreational Reserve Management Plan residents staying at the Albert Town camping ground can stay a maximum of 28 consecutive days or 50 days a year.
Rudi Sanders is the manager of the Albert Town camping ground and says it can be heart-breaking to have to ask someone to move on after 28 days.
He says there are still sixteen permanent residents living at Albert Town camping ground but there is nowhere for them to go.
"Since the introduction of Airbnb many landlords are renting their houses out to the general public so there is not the affordable or available accommodation there once was," Sanders says.
All of the remaining sixteen permanent residents except one are employed in permanent jobs. They include an architect, writer, trainee helicopter pilot, house painter, and builder.
Sanders values having long term residents at the camping ground as they "keep an eye on things."
He says there is a lot of "good cooperation" between permanents and tourists with the permanents giving advice on where to walk or catch fish. The permanents ask tourists to put out a fire if they light one and to pick up rubbish if they drop it.
Sanders say the 1985 regulation barring long term stays is more than 30 years old and not valid anymore. However, he has met with QLDC staff several times but says they are "reluctant" to make changes. He can't understand why, when Nelson City Council can allow 100 permanent sites in their 800 site city camping ground, QLDC can't do it here.
Kellahan recently presented a special multi-media exhibition at The Rippon Hall to raise money for Land Search and Rescue volunteers. At the time she said she was motivated to do it as there is "definitely a strong sense of community here that I have never experienced before".
Kellahan says she is just as motivated to solve the land crisis for tiny home, caravan and bus owners.
"The council needs to know how big the problem is and I am going to make it known, so they have to take action."
Both QLDC deputy mayor Calum MacLeod and Wanaka Ward councillor Quentin Smith were contacted by Crux and said they have spoken with Kellahan and agree the situation needs addressing "sooner rather than later" to reduce the lack of affordable housing across the district.
Main Image: Jane Kellahan and her caravan.

---