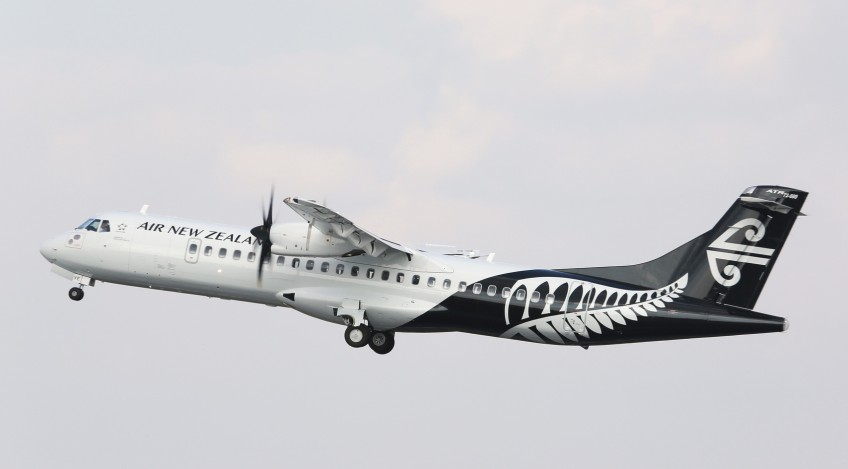 Wanaka does not need jets to access Auckland - pilot
by Terry Hetherington - Sep 25, 2019
---
Wanaka based airline Captain Terry Hetherington has researched and calculated that turbo-prop aircraft, specifically the ATR 72-600 which are already in use in New Zealand, can indeed fly between Wanaka and Auckland. His workings have been peer reviewed by two experts who make these calculations frequently. Terry Hetherington is part of the Protect Wanaka lobby group.
I've been tracking the developments relating to Wanaka Airport since well before Wanaka Stakeholders Group Inc. was formed. I'm troubled by the lack of information shared with the community, and with the lack of transparency from QAC and QLDC.
Very recently, a new "theme" has emerged from the pro-jet camp: the suggestion that although ATRs (or similar turbo jet aircraft) could operate regional services out of Wanaka to other destinations, they supposedly could not operate between Wanaka and Auckland. Therefore, we "need" jets here, or we cannot fly to Auckland!
I could write a whole article about the assumption (by some) that we must be able to fly directly to Auckland from Wanaka. For now, I will just say two things: firstly, there's an airport that does that an hour's drive away (which by most peoples' standards is great), and secondly, there is always the option of flying via Christchurch or Wellington. But let's just put that to one side for now.
This claim about the limitations of ATRs is not true. ATR 72-600 can easily operate the AKL <> WKA sector. Air New Zealand currently operate 29 ATR 72-600/500 aircraft, with another 7 on order.
I've worked through the steps below and had my calculations and outcomes peer reviewed by two experts. They agree with my methodology and results. This is the same set of steps that pilots working for airlines will take in calculating the loading and limitations of every flight.
I'm explaining this in fairly non-technical terms, so that the information is accessible for everyone:
First, ATR states that a maximum range with full passenger load is 825 nautical miles for the ATR72-600 with 70 passengers. (see ATR fact sheet: here)
If operating with 68 passengers (as Air New Zealand does), the additional 200kg of fuel would extend the maximum range to 900 nautical miles.
Next, I used flight planning software to plan a flight from Auckland to Wanaka, to see what was possible. The route is approximately 550 nautical miles.
An "alternate" must be planned for. That is, if a landing was not possible at Wanaka because of weather or something unforeseen, the plane can divert to another airport. In this instance, Queenstown, Invercargill, Dunedin or Christchurch (the furthest and therefore the most limiting). For this calculation, I chose Christchurch.
With this aircraft performance data at hand, a full plane (68 passengers and baggage) and the right amount of fuel, is it possible? The answer is yes. The ATR72-600 can fly 900 nautical miles, with a full passenger load; Auckland to Wanaka, then diverting to Christchurch is 710 nautical miles. Which means that turbo-props can most certainly fly between Auckland and Wanaka.
Additional considerations:
The runway at Wanaka would need to be extended to take ATRs, requiring some capital outlay. However this would not be anything close to the development required to allow jets to land at Wanaka (as they require less runway length and strength)
The calculations above are based on a calm day (zero wind). Wind impacts performance, but the flight distance would still be possible on a windy day, and in an extreme case a closer alternate like Dunedin, Invercargill or Queenstown would work.
I have not looked at other turbo-prop aircraft types. There are many which could also be considered for a route of this distance, and are currently being used around the world.

Focussing on my knowledge and professional expertise just highlights the lack of transparency and lack of detail to date from QLDC and QAC, and those who are prepared to make unsubstantiated statements in support of them. I felt compelled to share this with you all, to put the issue of whether ATRs can do this or not to bed.
No doubt the pro-jet camp will say, "ah, but it's not economically viable for the airlines to operate ATRs in this way". There are many responses to this, and they are not for this letter. However, I am firmly of the view that if QAC build a jet capable airport, they will not and cannot settle for five return services a day, as they have suggested. That just doesn't make sense, and it's clearly not the real end-game. Ultimately, a jet capable airport will need to be busy to be profitable. QAC is a commercially minded organisation and profit driven, and shareholders want to see a commercial return.
If the suggested redevelopment of Wanaka Airport is about putting on a reasonable number of services for the local population, then aircraft like ATRs can help fulfil that need.
The future of our community is in the balance. What that future looks like is up to all of us - so let's work together as a community and decide what we want for the future of the Upper Clutha!


---