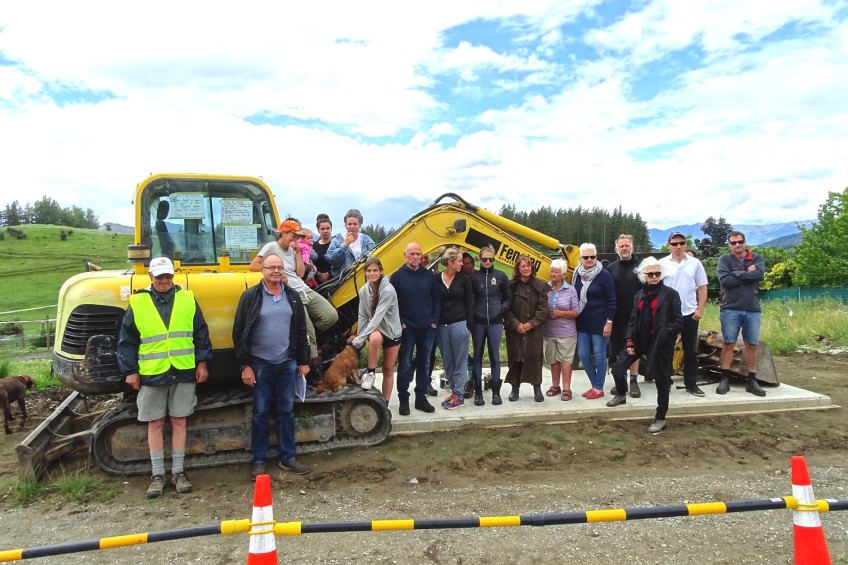 Wanaka cell tower protester digs in - with neighbours' support
by Kerrie Waterworth - Dec 05, 2018
---
A Wanaka resident who illegally parked a digger on a construction site to prevent the installation of an eleven metre Spark cell phone tower is refusing to move it until Spark executives agree to meet with him and his neighbours.
Barry Bruce lives at 185 Mt Aspiring Rd, directly opposite where the tower is being installed.
He says he would rather not have to take on the telecommunications giant "but there is clear evidence that these guys are just pushing their way through communities without really due consideration."
Bruce says he first heard about the proposed tower when he and two other affected households received a letter from Spark dated August 31st on September 3rd. He says that was the same day Spark lodged an application for a certificate of compliance with the Queenstown Lakes District Council suggesting to him it was already decided.
Spark New Zealand Lead Corporate Relations Partner Michelle Baguley says Spark was not required to ask for submissions or hold any public hearings, "instead as per our own industry guidelines, we contacted a few of the houses in the direct vicinity. These residents were sent an information pack, site plan and letter of intent in both August and October of this year. Following this initial contact we have been consulting with a number of residents frequently (and in some cases daily) via email over the last few weeks."
Bruce disagrees and so do many of his neighbours, including Rippon Vineyard. They owned the land the tower is being built on before it was sold to the QLDC for road reserve in 2013 when Mt Aspiring Rd was realigned.
Rippon Vineyard general manager Nick Mills says, "If anyone puts up something of this significance on anyone's land in Wanaka then there should be due process and consultation with neighbours and that wasn't done here in this case."
Rippon Vineyard co-founder Lois Mills says despite the tower being built right beside their property they "weren't consulted".
She says until this year Spark used to rent a section of Rippon Vineyard and erect a temporary cell phone tower in the summer, so she can't understand why the new tower couldn't have been built there. "About three or four months ago we gave them permission to come on to the property and ascertain different sites but we never heard anything more back from them."
Spark's Michelle Baguley says "from the public perspective it may appear that cell towers can be located anywhere, but in contrast it's a very technical and complex process which requires specialist RF engineers and network architects to meet the requirements of the network while abiding by all the applicable laws.
These include but are not limited to:
work within the designated rules of the law (National Environmental Standard for Telecommunications Facilities- NESTF)
abide by council regulations and gain a consent
have good access to power and fibre
avoid network interference with other sites
avoid obstructions from trees
reach all the desired end users where mobile coverage is required
avoid hill shadow
identify land that is suitable for heavy construction
and a number of other factors specific to each location."
Bruce has had no further communication from Spark but has had a request from a parking enforcement officer in Queenstown to meet at the digger tomorrow morning. He says at this stage he is not going to move the digger until he has clarification about "certain grey areas".
"There are a number of questions I need to have clarified such as the boundary with Rippon Vineyard and the road reserve; I don't think a surveyor certificate has been issued by Spark despite requests. Also their comments that they had consulted widely and at length is incorrect and there is no proof they have looked at alternative sites."
Bruce says he appreciates that Spark has to abide by certain rules and regulations "but there is another thing known as principles which Spark is pretty short on."
"I'll be very strong on that and I am prepared to stand up to them".


---