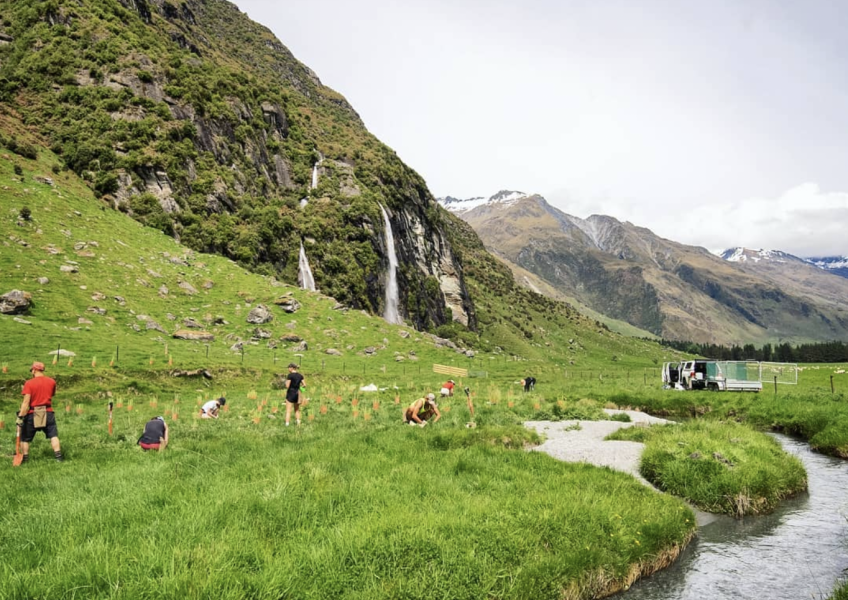 WAI Wānaka invites locals to dip into Conservation Week
---
Conservation week is set to kick off and local environmental organisation WAI Wānaka is keen to get the community amongst it.
They're encouraging people to take a moment to 'e mahi mō te Taiao' - act for nature – on Thursday September 8th.
WAI Wānaka and several other like-minded organsations - the Department of Conservation, Te Kākano, and Southern Lakes Sanctuary - are banding together to provide locals an opportunity to get out of the office or off the couch and lend the environment a helping hand.
The team will be running three different events, including an exploration and some mahi at the Luggate Creek and Albert Town Lagoon and some planting and maintenance at the Glendhu Wetlands.
WAI Wānaka's community activator Oliver Eden-Mann says the events will help residents learn ways they can give back and contribute to the area's long-term environmental sustainability.
"Wānaka is such a unique place and so diverse. Someone has to keep it that way."
The team is encouraging people to drop in for however long they want and bring a pair of gardening gloves and some questions - info, tools and food will be provided.
Hui the start of a conversation
Environmentally conscious young people came together this week thanks to a new initiative by WAI Wānaka.
The group of 18 to 30 year olds gathered at Wānaka's b.social to talk all things sustainability and to connect with other environmentally conscious members of the community.
Ideas were shared about what the young people would like to see actioned in the town in the spaces of freshwater, healthy ecosystems and community wellbeing.
The new group's being led by WAI Wānaka's Oliver Eden-Mann and Jaylene Harper.
Wānaka is surrounded by open natural land, but it's sometimes good to connect with an urban population, in an urban space, to talk conservation, the pair reckons.
Mr Eden-Mann says WAI Wānaka is the facilitator for these conversations.
"However, the group members are the key drivers of the ideas and projects" he says.
The group's still new, and it will continue to grow, with plans to meet twice a month going forward.
Young people in the area are invited to come along and join the conversation.
"You don't need to be an expert, you just need a love for the environment."
'Working together for healthy water'
Founded on collaboration, WAI Wānaka was established through the forming of three groups in 2016 with a shared focus of protecting and preserving local waterways.
The Lake Wānaka Trust, The Upper Clutha Water Group and the Alpine Lakes Research and Education Centre together answered the concerns expressed by residents, community groups and businesses about the area's freshwater.
Officially coming together in 2018 as WAI standing for 'Water Action Initiative' as well as being the Māori word for water.
WAI Wānaka manager Julie Perry says even big, beautiful, clear lakes can go bad.
"Our lakes are not monitored, measured or managed" Ms Perry says.
A recent social media post by Otago Regional Councillor Alexa Forbes tells the story of Lake Taupō, which had degradation identified in the 1950s yet it took until the early 2000's for meaningful manamagent changes to happen.
The story of Lake Taupō has obvious parallels with Lake Wānaka, says Ms Perry.
"We are trying to get across the story of let's not wait for years to do something, let's not be complacent."
Conservation Week runs from September 5 to 12, and registration for all three WAI Wānaka events is available on the group's Facebook page.


---