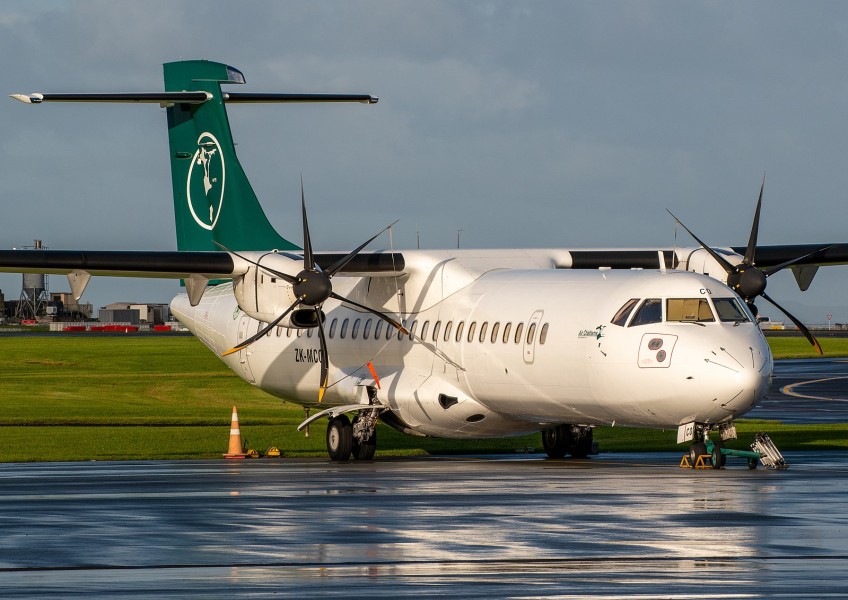 Wānaka ATR flight could mark future scheduled service
---
The successful flight over the weekend of an Air Chathams ATR passenger aircraft could be the start of more regular passenger services out of Wānaka by the growing airline.
Air Chathams uses the same type of ATR turboprop aircraft used by Air New Zealand.
The ATR landed at Wānaka Airport yesterday after congestion at Queenstown Airport became a factor in Air Chathams requesting permission to land at Wānaka.
A charter group of domestic tourists from Blenheim was on board.
Air Chathams charter manager Paul Aston told Crux today the whole experience was great for the airline and great for the passengers.
"They loved it. They were heading to Queenstown and enjoyed the road journey over the Crown Range and were out of Wānaka airport within about seven minutes of us landing."
Mr Aston says the ATR landing at Wānaka, thought to be a first for his company, has opened up the possibility of regular charter or even scheduled flights, even though there is a higher regulatory requirement for scheduled flights.
The ATR 72 aircraft can cruise at more than 500 kilometres an hour making Wānaka to Wellington a clear possibility, but Auckland would be a two-hour, 20-minute flight.
Wānaka locals have made it clear that they would welcome turbo prop aircraft such as the ATR but remain opposed to jet aircraft. Sounds Air currently operates scheduled flight to Christchurch using a smaller Pilatus PC12 turbo prop aircraft.
However, the Queenstown Airport Corporation QAC says that yesterday's ATR flight was a "rare occurrence" and that an upgrade to Wānaka Airport would be required for regular scheduled ATR turboprop services.
QAC also told Crux today that runway work being carried out at Wānaka Airport at the moment was regular maintenance and not linked to any plans for future ATR services.
Air Chathams Paul Aston says that the runway length at Wānaka is 100 percent fine for ATR aircraft, as are the runways at Alexandra and Manapouri airports.
It is understood that CAA Part 139 Certification is needed for scheduled ATR services but that could include security, navigation systems and baggage handling rather than runway length.
QAC CEO Glen Sowry told Crux in September this year that a runway extension of 200 metres, plus some widening work, would be necessary for ATR scheduled flights.
Mr Sowry told Crux "If there is the appetite from council and elected representatives to make that investment in Wānaka I think there's a reasonable probability that we could attract Air New Zealand to operate ATRs there."

---