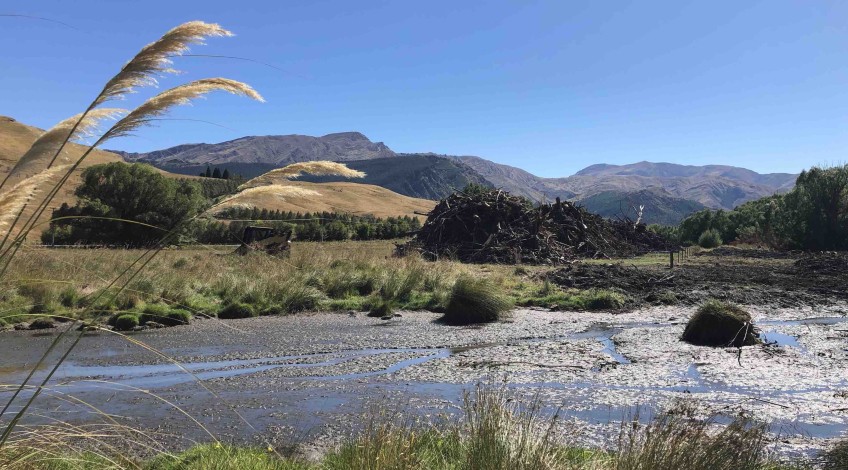 Volunteers fixing Lake Hayes - one plant at a time
---
One of the most photographed, and most environmentally challenged, lakes in New Zealand is slowly being restored by an army of volunteers who see victory in sight.
While various agencies debate how to fix Lake Hayes' water quality, the Wakatipu Reforestation Trust has been quietly getting on with restoring the surrounding catchment area to its original state.
The extensive work has so far involved over 6,000 native plants and trees replacing European-introduced species such as willow and sycamore which have damaged the environment and caused problems with water flow and water quality.
The Trust is also persuading land owners and residents around Lake Hayes to use native species in their gardens and paddocks.
Their current work involves repairing a 700 metre stretch of Mill Creek with $50,000 of Department of Conservation funding (see main image above.)
Executive Officer of the Trust, Nita Smith, told Crux that the wetlands that surround Lake Hayes are part of a threatened habitat that has been reduced, on a national basis, by 90% due to human development.
"It's all very fragile and interconnected. We can't just rip out the old trees and plant new ones. Each new plant needs to be carefully placed in a situation that has been prepared with great care. We need to get the right mix of native species and make sure every aspect of the restored environment is balanced in every way possible."
The Trust is now looking to recruit more volunteers to the group. It's surprisingly complex and satisfying work. Understanding how every aspect of the eco-system is connected, making sure the right plants are placed in the right place after the right preparations have been made. It's outdoor exercise with a purpose! For volunteering details check out the Trust website or the Trust Facebook page.
Most important of all, the Trust now sees evidence of their work being successful by observing native birds returning to the Lake Hayes area.
Nita Smith acknowledges that they don't hold the complete answer to fixing the health of Lake Hayes but she is confident that the work of the Trust is making a huge difference.
Watch: Executive Officer Nita Smith explains the work of the Wakatipu Reforestation Trust.
All of the various Trust planting sessions for volunteers can be found here.


---