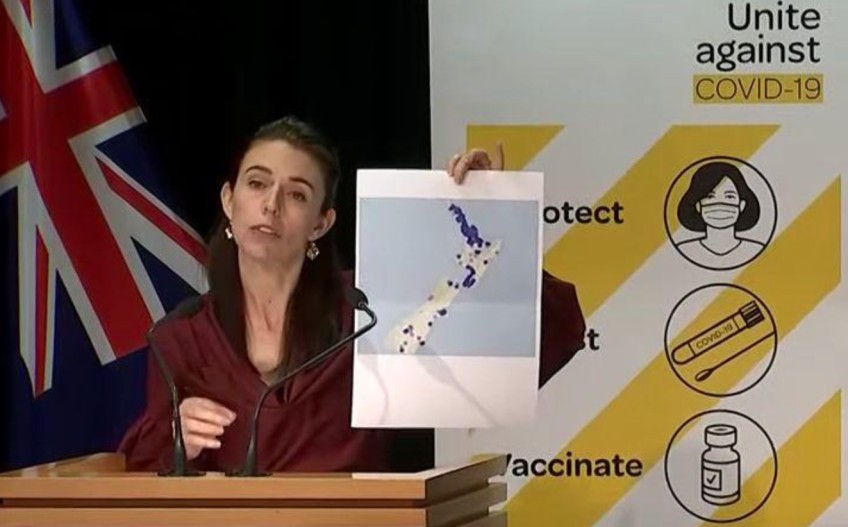 The PM's South Island Covid map - in detail
---
The Prime Minister showed a map of New Zealand at her 4.00 pm media conference today, revealing South Island locations of people who have visited locations of interest in the North Island.
The PM's office has now supplied a copy of the map that is published here. There are 120 known contacts in the South Island.
The map clearly show contacts in Queenstown, Wanaka and Cromwell. Our understanding is that all of these contacts are now self isolating, including people who attended the Mitre 10 and Bayleys Real Estate events at the Spark Arena where a bartender subsequently tested positive for Covid.
The Prime Minster made the point today that by Friday (end of this week) it will have been two weeks since the Spark Arena events.
We asked the SDHB how local people who had been at locations of interest are being tested. Here is their response"
"There is COVID-19 testing available in Southern Lakes District seven days a week. Anyone can call 0800VIRUS19 and book in a test. Queenstown has wastewater testing.
In Southern we are doing vastly more swabbing for COVID-19 testing than before the Auckland outbreak. Capacity for testing is being closely monitored and GP practices are increasing their capacity.
WellSouth has set up a pop-up clinic for University of Otago students in Dunedin to increase the capacity for testing. If needed, further pop-up testing can be rapidly set up.
Wastewater testing is also being done in Dunedin, Queenstown and Invercargill at present. This testing is supporting other measures.
If anyone has been at a location of interest at the time of a case it is very important that they call Healthline on 0800 358 5453 to be registered into the contract tracing system.
They also need to follow the Ministry of Health advice, which will include isolating at home and being tested."
Source: SDHB

---