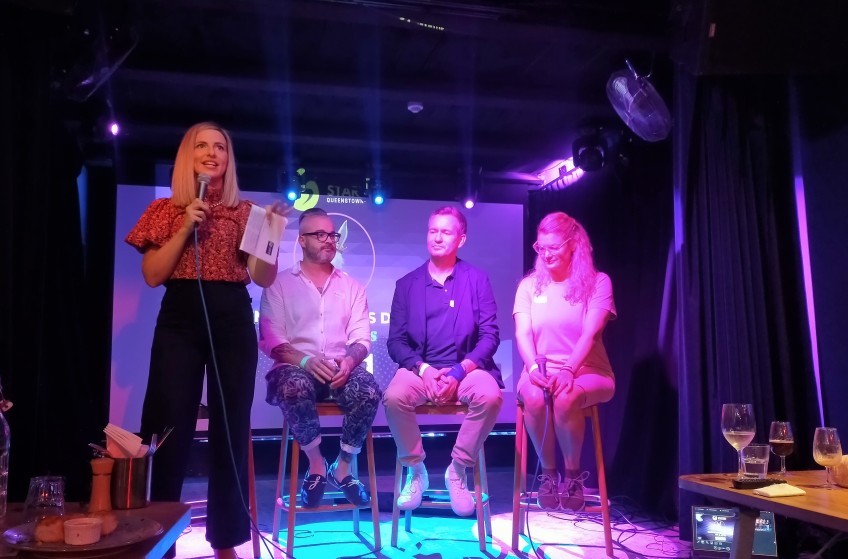 Startup Queenstown Lakes: Diversification work brings in $3.3 million
by Olivia Wensley - Dec 24, 2021
---
Reader Commentary: Olivia Wensley is CEO of Startup Queenstown Lakes.
There's a saying that necessity is the mother of invention, and that has certainly rung true since the Covid-19 pandemic has forced the Queenstown-Lakes to recalibrate into a more diversified economy. I have been so impressed with the brilliance and resilience of the entrepreneurs we work with at Startup Queenstown Lakes.
For most people, starting a new business is scary. Starting a business during a global pandemic? Terrifying. But for the 103 companies and entrepreneurs who have come through our programs this year, they have used the crisis as a launch pad into innovation.
JFK once said "In a crisis, be aware of the danger - but recognise the opportunity". The opportunity is certainly something that is being seized upon in the region. It is fantastic to see stories of hope, optimism and success during a time of difficulty for our region.
In 2021, Startup Queenstown Lakes helped its startups raise more than $3.3 million dollars this year. Our region punches well above its weight in capital attracted, IP produced, and talent attracted. The Government is paying attention, and has allocated a $20 million dollar fund to assist the region in diversification with a focus on the tech and film sectors.
The interest in innovation has been huge - we have hosted a huge range of speakers for workshops in our region, including legendary Xero founder Rod Drury, Venture Capitalists, a Virtual Reality Studio, Amazon Web Services, and New Zealand Trade and Enterprise, and the ever-popular Social Enterprise Lawyer and Author Steven Moe.
Overall we have had a whopping 1400 people attend our workshops and programs throughout the year, both online and in-person. It is fantastic to see a huge engagement with female founders - in our programs we have had from 55%-70% female participants (which corresponds to women being disproportionately affected by Covid-19 redundancies).
Startup Queenstown Lakes recently hosted the team from Beyond VR Studios, to host a workshop on Unreal Engine (a real-time 3D creation tool) - and the interest in Virtual Reality and Virtual Production in film in the region is huge. The venue had to be moved to accommodate the large number of registrations. The same evening we held "Entrepreneur's Drinks" with Beyond and Amazon Web Services speaking on NFTs and Virtual Reality - which again, we maxed out our venue's capacity due to interest. This shows there's a huge appetite for learning about new technologies.
Of the attendees at our recent events, approximately a third have relocated to the Queenstown Lakes region since Covid-19. We have benefited from an influx of tech talent arriving in our region - and the impact of this will be transformative.
Entrepreneurs are recognising that the way we work has changed forever, and they can now be based wherever their heart desires - where else is better than the Queenstown Lakes region? With the announcement of 600 visas for tech talent, we expect to see even more silicon valley expats and similar talent arrive in our region.
The startups and tech companies not only benefit us economically and providing higher-paying jobs, but many are solving real problems, which will greatly benefit our region and beyond.
For example, Phytrac - a company growing a special strain of hemp for phytoremediation (removing heavy metals and pollutants from soil) - recently closed an investment round for $1 million dollars and is set to scale rapidly. Another company, The WAN, is solving the problem of worker accommodation for employees.
We have multiple startups which are optimising and revolutionising the hospitality sector. We have multiple startups which are focused on wellness and mental health - to support individuals and companies during this challenging time. We have companies in the Med-Tech space which will change the world. We have amazing social enterprises supporting a circular economy with tech solutions… the list goes on. I'm constantly amazed at the ideas which come through our programs.
It is exciting to see the establishment of a new local export industry - the export of our region's intellectual property.
No longer just a foot-note in our region's success story, our startup and tech sectors are firmly established and gaining traction and recognition. With the current momentum and the way things are changing so rapidly, it will only continue to go from strength to strength.
In a time of uncertainty, one thing is for certain - innovation is here to stay.


---