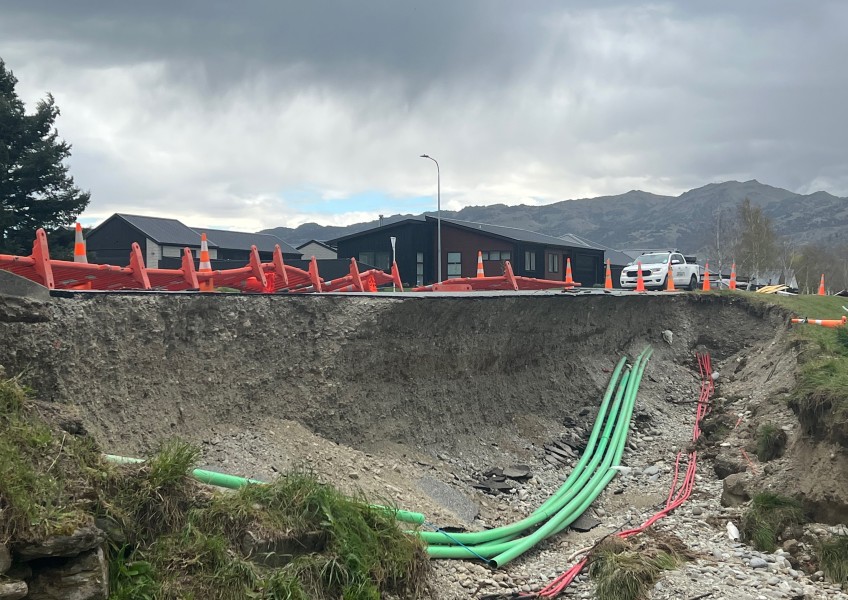 Sole road into Cromwell's Pisa Moorings awaits repairs
---
It is a waiting game at Pisa Moorings near Cromwell after the only access to the subdivision by road was damaged in last week's rainstorm.
A culvert on Pisa Moorings Road, close to the State Highway Six intersection, flooded, undermining the road and uncovering telecommunications cabling. The road remains open with fencing in place to direct traffic away from the exposed edge.
In an update on the situation yesterday, the Central Otago District Council says it is waiting for utility providers to check and repair their assets, before roadworks can begin.
The council's message seeks to reassure local residents that, while "it might look like nothing is progressing", there is a plan.
"Once we have the all-clear (from utility providers), we can begin reinstating the roadway."
When the roading repairs happen, it is likely stop-go traffic management will be in place, and the council is warning residents to allow for additional travel time, particularly during the commuter and school-run peaks.
"Thanks for your patience," the council message says.
The culvert usually runs dry, but water rapidly rose during heavy rain on Thursday, September 21, overflowing the road, which the council closed overnight.
Pisa Moorings Road connects with State Highway Six less than ten kilometres from Cromwell and is the only toad access in and out of the lakeside subdivision.
Cromwell Community Board member and Pisa Moorings resident Wally Sanford was at the culvert on the day of the flood and says there was not much in the way of debris choking the culvert, it just could not handle the volume of water.
"But that's not to say it should have been designed three times bigger. It was bandied around whether this was a one-in-ten, one-in-20 or one-in-100 year storm, but I think this was a pretty significant event."
Main image: The culvert at the start of Pisa Moorings Road, was undermined in heavy rain on Thursday, September 21, exposing services.


---