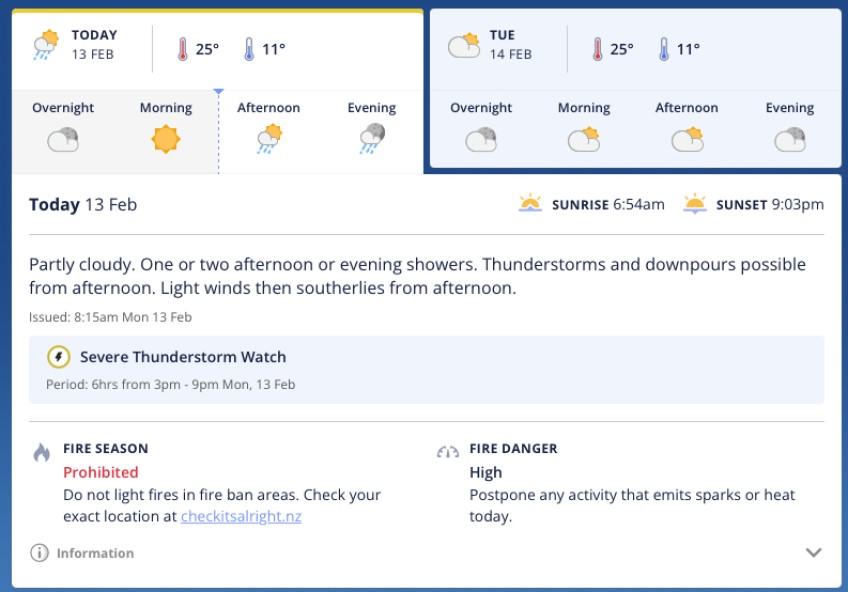 Severe thunderstorm warning for Queenstown Lakes, Central Otago
---
Blue skies may make way for grey with Central Otago and Queenstown Lakes residents being warned of heavy showers and thunderstorms later today.
Metservice has issued a severe thunderstorm watch for a swathe of the lower South Island for six hours from 3pm.
It's expecting a cloud buildup to produce isolated heavy showers and thunderstorms, with some small hail and localised downpours of 25 to 40 millimetres an hour.
"Rainfall of this intensity can cause surface and/or flash flooding, especially about low-lying areas such as streams, rivers or narrow valleys, and may also lead to slips," the Metservice warning says.
"Driving conditions will also be hazardous with surface flooding and poor visibility in heavy rain.
"Any severe thunderstorms that develop will be isolated, and the thunderstorm activity should die away late evening."
The warning covers inland parts of southern Westland (south of Jackson Bay), northern Fiordland, Central Otago (including Queenstown Lakes and inland Clutha) and inland Southland.


---