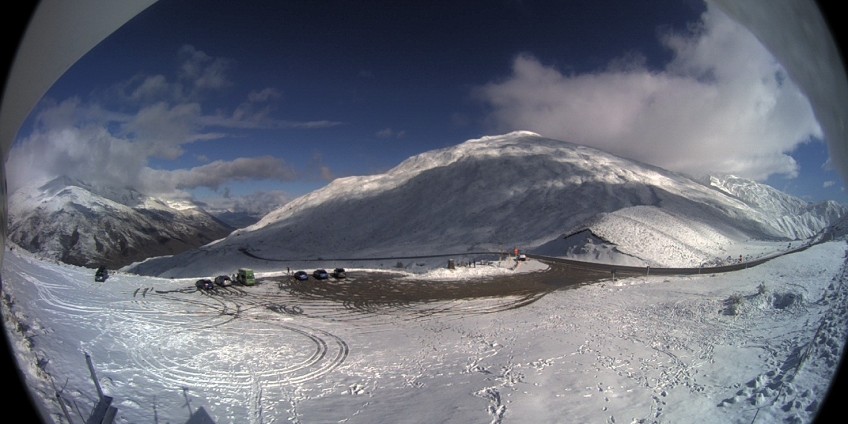 Road closures and warnings as snow settles - and there's more to come
---
UPDATED 1.40PM: The Lindis Pass has reopened but authorities continue to advise drivers to be cautious as spring snow blankets pockets of the South with more forecast to fall throughout the day.
MetService has this morning issued a severe weather warning for Southland, Otago and Canterbury.
It says an "Antarctic blast" will deliver snow down to sea level by the end of the day.
Twenty to 30 centimetres of snow is expected down to approximately 200 metres - Queenstown and Wānaka both sit at approximately 300 metres, and Cromwell, 200 metres.
Blustery south-westerly winds are also forecast, with 90 kilometre an hour winds likely in exposed places in Southland and Otago.
Further travel disruptions are expected, it says.
This morning, residents in the Whakatipu Basin woke up to snow on the ground; as did those in the Maniototo and Manuherikia areas, where crews are ploughing and gritting roads.
Dansey Pass Road is four wheel drive only, the Lindis Pass was earlier closed and chains are required to be carried on the Crown Range, where snow is being cleared and conditions may change quickly throughout the day.
The Queenstown Lakes District Council's telling residents to "put the jandals away and get the puffer jacket back out" as winter returns.
"Snow has been falling this morning all over the district with more snow forecast".
NIWA says temperatures in the South Island could feel like anywhere from -15C to -5C.
Speaking to RNZ this morning, NIWA meteorologist Chris Brandolino says the predicted temperatures are noteworthy even in mid-July, let alone in October.
There was a real hypothermia risk for people and livestock, he says.
Orchardists in Central Otago are also on stand-by, waiting to see the extent of the weather and its effect on budding fruit.
The weather warning is currently in place until 9am Thursday.
Main image (MetService/Crown Range webcam): An Antarctic blast in spring has dumped snow on the Crown Range, Wednesday, October 5, 2022).

---