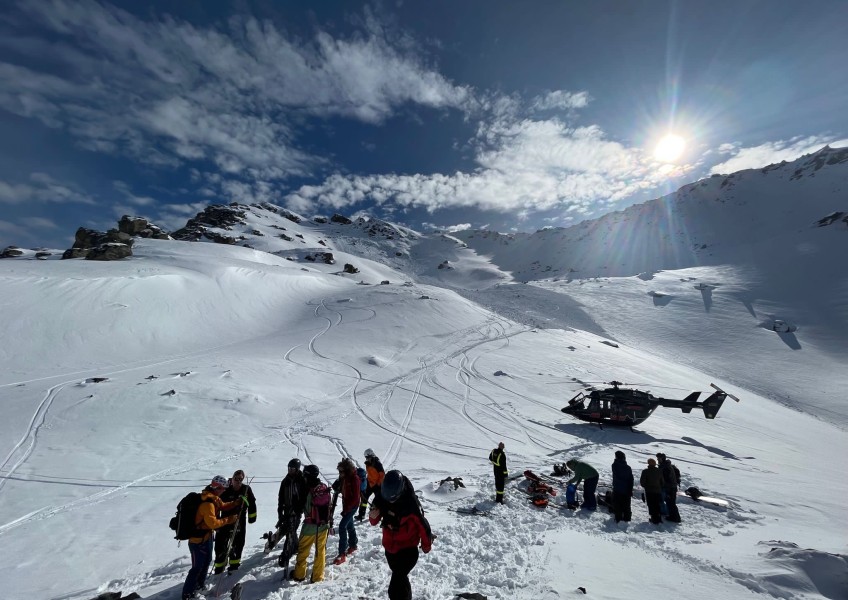 Remarkables avalanche delivers blocks of snow the size of 'small cars'
---
Chunks of snow the size of small cars barrelled down The Remarkables after a skier triggered an avalanche in backcountry terrain on Saturday, renewing warnings about the volatility of snow conditions this season.
Ski patrol teams from The Remarkables, Coronet Peak and Cardrona, along with avalanche search dogs, were flown by helicopter to the mountain range, where as many as ten skiers and boarders were located.
One of them was Alpine Cliff Rescue Team leader Russ Tilsley, who had been digging test pits with two mates to assess whether they would take to the slopes themselves.
He was close to a ridge and able to quickly make a phone call requesting help, after the snow let loose below him and his crew.
"We saw the whole thing happen, it just sort of ripped out in front of us."
He had looked down and seen a skier buried up to his waist, but he was aware of at least three groups in the immediate area at the time.
"It was big – it was a good class three, three-and-a-half."
Mr Tilsley says the avalanche was approximately 200 metres wide, 800 metres long, and four metres deep by its end.
Waiting for reinforcements, he and his two companions did an initial sweep of the slope, checking for any signals from transceivers, vital kit for anyone venturing into the backcountry.
"We had to move down through the debris, which was quite difficult. Because a lot of it was big, hard chunks…Some of them like the size of small cars, you know, like a Mini.
"We did a search, went right down to the bottom, and couldn't get any transceiver signals. As we got to the bottom the first helicopter came in over the ridge."
The afternoon ended with all accounted for, the backcountry adventurers able to decompress over a beer or two after a close call, toasting their good fortune.
Mr Tilsley says people "were really shaken up…it was very stressful".
For those dotted across the slope went it went off, 10 or 20 metres difference in positioning up, down or across the hill and they "probably would not have been so lucky", he says.
Mr Tilsley has plenty of experience when it comes to backcountry alpine expeditions and reckons "this year has been an exceptionally year for bad snow".
"It's probably the worst ever."
There was a little bit of snow early in the season, then a gap, even some rain, which changes the surface of the snow.
Avalanche risk increased with last week's decent snow dump.
"This early season layer just sat there for so long with no snow then 'bang', all this weight got thrown on top.
"When you throw all that on this weak, shitty crap underneath, it's not great, and that's what's happened right throughout the region."
On Saturday, temperatures up the mountain were also mild, and continued to warm up as the day progressed and "that just seems to make things a little more tetchy".
Those further down the slope said the start of the avalanche sounded like a rifle shot.
"You know, this big 'bang' and that's the tension being released out of the slope."
With conditions as they are, it "doesn't take much" to trigger an avalanche right now, and people need to be planning ahead, well equipped and making good decisions after checking out conditions in the field on the day, Mr Tilsley says.
Perhaps even opting for "cruisier" missions this season.
"It's not saying you can't go into the backcountry, it's just a matter of tempering where you go and what you do…don't go pick a route that's through avalanche terrain."
Saturday's avalanche occurred to the southeast of the Sugar Bowl ski area, over the ridge into the Doolans catchment at about 1800 to 2000 metres altitude.
New Zealand Mountain Safety Council chief executive Mike Daisley says the avalanche "could have easily resulted in tragedy" and is a serious reminder to all backcountry enthusiasts of the risk this winter.
There were multiple reports of backcountry avalanches this weekend, and the conditions that caused them are not going away.
Read more: Remarkables avalanche survivor: 'That's all it took, one wrong step'


---