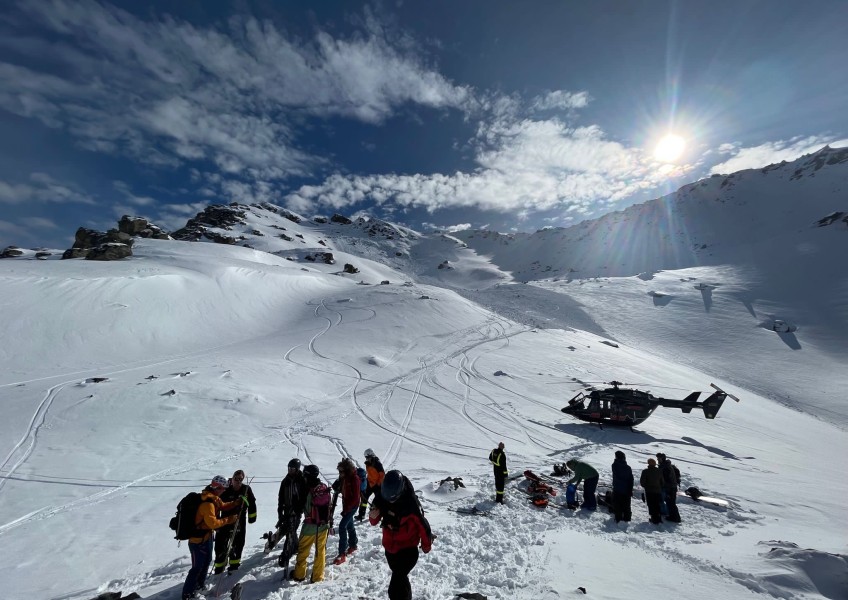 Remarkables avalanche survivor: 'That's all it took, one wrong step'
---
A survivor of today's Remarkables avalanche, Queenstown resident Joe O'Connor, has described how he survived in spite of "one wrong step" that triggered a potentially fatal situation.
The NZ Mountain Safety Council has published Joe's story in the hope that others will learn from it, saying that current snow conditions will persist for some time and that a "very high degree of caution" needs to be exercised.
Here's that survival story - followed by comments from the NZ Mountain Safety Council's Cheief Executive Mike Daisley.
"Joe and his mate had done everything right this morning before heading out for a ski in The Remarkables backcountry. They checked the avalanche danger with The Remarkables Ski Patrol, completed all the right snowpack tests and were carrying the right equipment.
"However, it's doesn't matter the result of any test, you just have to be so careful - anything can happen," says Joe O'Connor as he recalls being swept up in today's size 3 avalanche.
Joe shares his story with the NZ Mountain Safety Council (MSC) and the events leading up to what he describes as "a pretty scary experience".
"The plan was to go over and splitboard along the east aspect of the Doolans. We went and talked to ski patrol and they said it should be pretty safe over there, but of course there is always the danger there so make sure to be cautious," Joe, who is based in Queenstown, said.
"We got to the top of where we were going to drop in at about 10am, all our snowpack tests passed, and we thought, 'okay great, it's a mint day, of course there's always the danger but we don't expect there to be any super big happenings'.
At about 11am, Joe's mate was in front of him as they were skinning back up the hill. Joe was about 20m behind him when he saw a piece of crust break off and start sliding towards him.
"Once that went there was a big wind slab just about 50m above us, and then it all dropped," Joe said.
His mate managed to stay out of the avalanche, however Joe wasn't so lucky.
"I just couldn't turn my skis in time. Before I knew it, I was covered in slab and I couldn't move, and I started just sliding down the hill.
"It was a pretty scary experience! There were a lot of thoughts going through my head as I was sliding," he said.
"I slid about 100m, and by the time I stopped I was buried about waist deep, so I managed to get my pack off and dig myself out."
Both were carrying the right equipment, including a transceiver, shovel and probe.
Joe said it all happened so fast. They had seen two other parties on the mountain that morning, but knew neither were below them when the avalanche happened.
"You know, we were there and then I just heard a boom, like a shotgun had gone off next to me, and then before I knew it, I was sliding, and I couldn't control where I was going."
He describes the whole day as an "eye opener".
"You know you're always aware of the risks of going into the backcountry. But we definitely should've shown a lot more caution. We thought we were doing the best we could with gathering info and tests, we just got a bit too comfortable thinking everything was fine, and that's all it took, one wrong step," Joe said.
"We didn't see any weak layers in our testing, but obviously it was just lower than the probe of 2m, but at that depth you don't expect anything to happen. The PWL was there, it was just a bit harder to find," he said.
"It's definitely left me a bit more weary, but hasn't scared me off from getting back out in the backcountry though," Joe added.
Joe thanks the quick response from the rescue teams, including The Remarkables Ski Patrol and Avalanche Search Dogs.
Comment from NZ Mountain Safety Council Chief Executive Mike Daisley:
"This large, and destructive size 3 avalanche was triggered in The Remarkables backcountry, outside of The Remarkables Ski Area.
"The avalanche was triggered by a skier while multiple parties were in the vicinity of the avalanche. Luckily everyone has survived.

The avalanche ran on the Persistent Weak Layer (PWL), which the New Zealand Avalanche Advisory (NZAA) has been reporting on in the Queenstown region avalanche advisory since early in the season.
"Given the presence of this PWL and the multiple large avalanches we have seen around the regions recently, there is a very real sense that this situation could have easily resulted in tragedy," NZ Mountain Safety Council Chief Executive Mike Daisley says.
Daisley says this event is a very real example of a high consequence situation, and given that, a serious reminder for backcountry enthusiasts this winter.
"The PWL is not going away and needs to be treated with very high degree of caution."
"MSC would like to thank the Remarkables Ski Patrol and Avalanche Search Dogs for their quick actions, having sent rescue parties to the scene after a member of the public reported the event to them. "
Are you avalanche ready? If you're heading into the New Zealand back country this winter, be sure to:
Submit a public observation here.
Hikers and trampers can find the avalanche forecast under alerts on Plan My Walk.


---