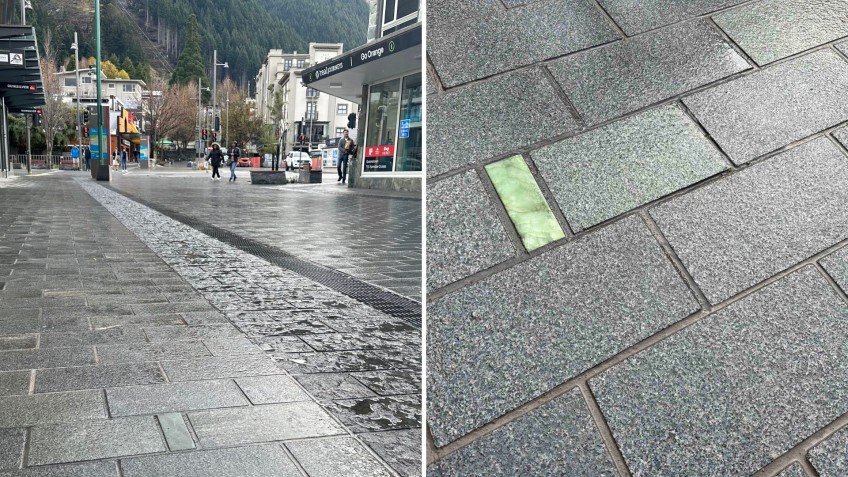 Queenstown's pounamu-lined street costs $25,000
---
One Queenstown street is now lined with real pounamu, as part of the council's efforts to tell local stories in its CBD upgrades.
At $506 per installed unit, the 50 inlaid stones have cost a total $25,000.
Speaking with those on Rees Street yesterday, there were mixed reactions to the buried street treasure.
One staff member of a Rees Street business standing outside for a smoke break says they had noticed one tile positioned near the entrance to their workplace about a week ago.
He says it is "quite cool". He hadn't yet noticed the other tiles along the street but would be looking out for them.
An elderly couple from Mount Mananagnui standing near two pounamu tiles hadn't spotted them, with the husband saying he "often notices those sorts of things".
Although appreciative of the greenstone, the woman spoke of the high cost of it, and called it "a waste of money".
In a time where families and individuals are having to tighten their belts and cut back on unnecessary expenditure, should our council be doing the same?
To make sure the pounamu stays in the ground, a council spokesperson says each has been anchored into a concrete block and concrete grouted in.
Nelson-based pounamu carver Timoti Moran wasn't involved in the decision-making process but says there is risk the pounamu may be snatched up.
He says that pounamu is often "targeted to be stolen", listing examples of this happening in cemeteries, and a case in Hanmer Springs a few years ago, where a 50-centimentre carved stone was taken from inside a spa and hot pool centre.
"There's plenty of headstones that get robbed…I made a headstone from Rose Quartz and in the middle of it, I had this beautiful pounamu toki. It was set in, you couldn't get a chisel into it, it had been bolted into place, and then they (thieves) just drove into the cemetery and drove over the headstone and took the whole thing.
"It's awful but it happens, it's happened up North, it's happened in Motueka, it's just the changing times."
Mr Moran also spoke of the preciousness of the stone. He's recently taken on a big pounamu project himself, aiming to gift pounamu to the 6000 children living in state care.
"You're looking at a stone that's 300-plus million years old…a stone that has seen the birth and death of dinosaurs. It saw the birth and death of Jesus Christ. It saw the rise and fall of all the empires and civilizations."
Mr Moran says that in the last years, Europeans and Maori alike have reconnected with this "amazing taonga", and "its true value is beyond measure".
"It comes from Papatūānuku, so you know, it's my cousin…to me, pounamu is solidified wairua."
The pounamu used for this project was sourced from South Westland from a Kāi Tahu stone carver. The artist who did the pounamu was Ewan Duff.
In a press release from March, the council says the tiles were chosen to reflect the region's history of gathering precious stones - particularly pounamu and gold - and their cultural significance in the area.
While Rees Street has seen green pavers and poles to pay homage to the area's pounamu-gathering roots, it intersects with Beech Street, which has gold-coloured pavers, poles and bronze inlays to reflect whero (gold).
The gold-coloured whero poles have not been without their own controversy. Last year a Crux reader had pointed out the word whero can mean red and bum or backside, as well as gold.
Mana Aukaha has been approached for comment.
Main image: Some of the new pounamu stones buried on Rees Street - $25,000 of a $60-million facelift for the Queenstown CBD.


---