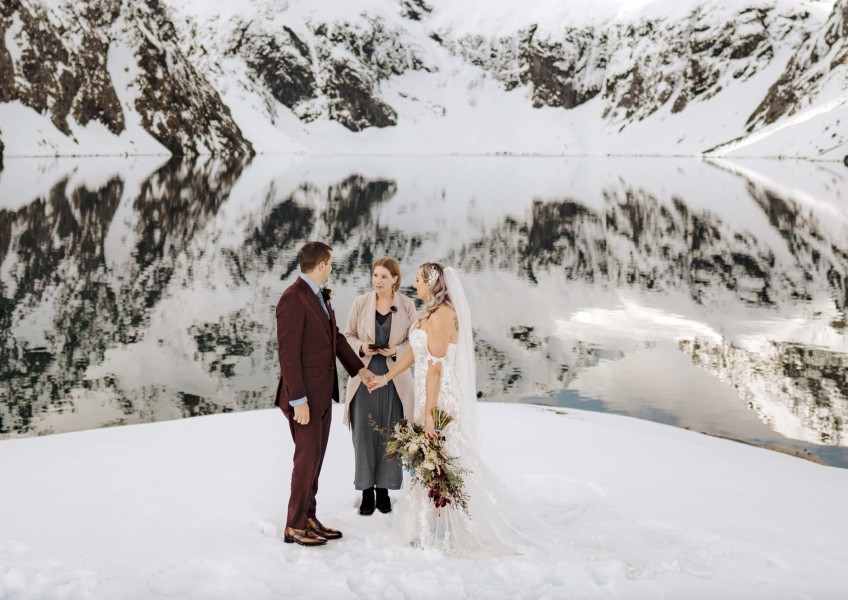 Queenstown wedding industry sees elopements replace big weddings
---
Around half of the wedding ceremonies in Queenstown are now elopements with couples abandoning large expensive ceremonies in favour of something much simpler, faster and cheaper.
After 15 years as a celebrant, Judith Mitchell says most of the marriages she officiates at now are registry ceremonies and happen in her own home.
"I've married people that have just been travelling around in campervan, and they've decided they wanted to get married and thought 'let's go to Queenstown'," Ms Mitchell says.
Ms Mitchell says she's had couples ask fellow hikers they've met on the Kepler and Milford Tracks to come along for the ceremony, because two witnesses are required.
Wedding celebrant Charlotte Frances says the two lockdowns and Covid-19 social-distancing rules "knocked a lot of confidence" out of couples wanting to host big weddings in Queenstown, but it increased the number of people travelling to the area to elope.
"It's quite a lot to ask for your guests to come from like Australia or Hong Kong or the US."
"Then people were like, 'you know what, we just want to go there, let's just go and elope'. They have an intimate ceremony here in Queenstown, maybe they bring their parents or sometimes best friends but it mostly just them... and then most would then have a big party back at home afterwards."
When borders closed for an extended period of time, Ms Frances says they did lose a lot of overseas guests, but kiwi-elopers who might've gone to elsewhere – to Fiji, or Bali or Rarotonga – came to Queenstown instead.
The change comes at the same time as the very definition is "elope" is changing in line with new social trends.
Elope's meaning is shifting towards "a small destination wedding" whereas it used to mean "to run away and secretly get married," and before that "for a married woman to run away with a new lover," and even before that it just meant "to escape or run away" without the romantic context, according to the Merriam-Webster dictionary site.
Ms Frances says her normal turnaround period from enquiry to the special day is typically one to three months, and due to marriage laws in New Zealand, she's never performed a ceremony with less than three day's notice, but there are couples who have their ceremony here, and then get legally married overseas.
"It is interesting that you have to wait three days for your marriage licence. I'm not really sure where that rule is coming from or why, because it would be quite cool to do things a little bit more spontaneously, but I'm not sure like ethically if that's such a great idea…. I'm fully aware the legal stuff is not the most exciting part."
However, Ms Mitchell says she's "absolutely sure" spontaneous ceremonies happen in Queenstown, although she hasn't experienced it first-hand.
One couple who did exactly that is Pennsylvanian couple, Courtney and Colin Lucas, who started planning one Thursday evening, and had their a ceremony less than 48 hours later on a Saturday morning by the Queenstown Lakefront.
They'd come to New Zealand for a two-week holiday, also going to Auckland, Fiordland and Mount Cook, it was a trip they'd discussed very early on when they first began dating in late-2021.
Mrs Lucas was pretty keen to elope, however Mr Lucas was hesitant at first, without his family or close friends there, until he got a call from his mother during the trip and she asked, "Are you guys married yet?".
"I knew Courtney was on board, then I turned the corner and I was like, this is pretty perfect. So she put some feelers out there.
"The idea of eloping was also just really nice, in terms of less planning, less money and being intimate."
Taking the advice of one of their tour guides, they put out a post on local community Facebook group to see if anyone was available for a ceremony, but they hadn't set their expectations high until a "bunch of messages" came into their inbox, including one from a celebrant and another from a photographer.
Since it hadn't been three days, they're sorting out the paperwork on their return to their home to the US, where 'self-uniting' marriages are allowed in some states.
"It's specific to Pennsylvania… you can essentially get married without an officiant and you need to have two people signed as witnesses. We're going to handle it here in the States, and we're in the process of doing it over the next few days," Mrs Lucas says.
She says she's "happy with how the Queenstown day went", although she was still a bit motion-sick during the ceremony having taken a twelve hour tour to Mount Cook the day before.
"It was very untraditional, which I was happy with, it was Friday night when we got back from the trip and we didn't even know what we were going to wear," Mrs Lucas says.
Unable to find any traditional weeding attire in the morning, they opted to "bundle up" in jeans and warm jackets instead.
For Mr Lucas, it also went better than expected, given the limited amount of time they had to get ready.
The couple had met on Reddit in October 2021, when Mr Lucas put himself out there making a post about himself and the kind of partner he was looking for, saying he had tried various apps without success. His now-wife responded to the Reddit post.
"She was just absolutely perfect match for me in terms of personality and humour and so we just went from there and we met in person about a month and a half later."
"I know it's cliche, but she really is my best friend."
Queenstown celebrant Ms Mitchell says there's a real mix of different couples who get married in Queenstown.
"Everyone's getting married under different circumstances, some people are eloping, some people come here to get married because they want a special venue, some are doing it for residency."
Since same-sex marriage become legal in New Zealand in 2014, she says she's also married an increasing number of gay and lesbian couples from overseas.
It's special to be confided in, and part of this intimate ceremony, Ms Mitchell says.
"I wouldn't even have a clue whether those couples would go back and share with the families that they were married.
"I don't ever ask those questions because it's not very professional and it's sort of not my business."
However, since it's a pretty popular place to get married, the market is "pretty saturated" with celebrants, there's around 40 celebrants in the Queenstown Lakes area, she says "so you have to be pretty proactive" on social media and promote yourself.
Main image (Kellie Frances Photography): Marriage celebrant Charlotte Frances weds 'Carrie and Adam'.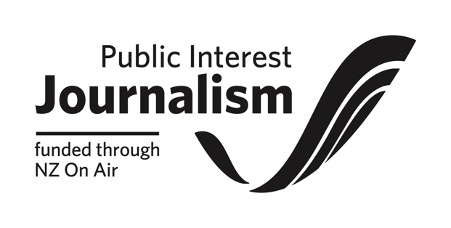 ---