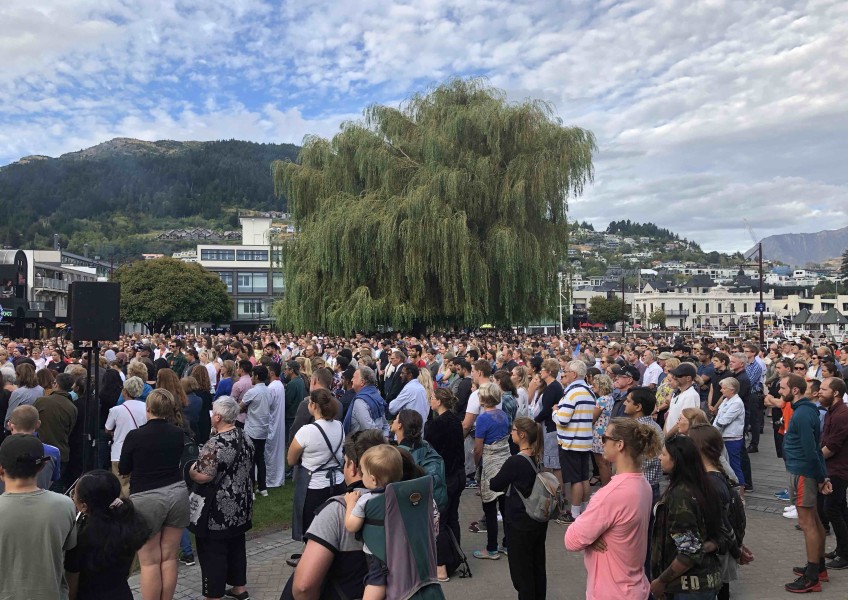 Queenstown and Wanaka share the grief of Christchurch
---
Up to three thousand people flooded into Queenstown's Earnslaw Park this evening to show solidarity with the victims of the Christchurch mosque shootings.
The vigil was marked by an observation from one of the muslim community leaders present at the event. He told the vigil that "Kiwis are not identified by the colour of their skin. Kiwis are identified by their morals, their values and their sense of what is right."
Mayor Jim Boult echoed that sentiment by observing that in spite of the evil that had been witnessed in Christchurch that we, as nation, need to find the strength to come together and support each other. He thanked the police, fire and ambulance services for their bravery and courage during the mosque massacres.
Many international tourists made their support clear from the edge of Earnslaw Park, making it obvious that the main area should be the property of Queenstown residents - of all ethnicities.
Here's our live coverage of this evening's Queenstown vigil.
Wanaka
Over a thousand people spilled from Wanaka's lakefront marquee for tonight's vigil for Christchurch. The mood was one of sombre solidarity as young and old gathered to pay their respects.
Deputy Mayor Calum MacLeod led the ceremony, saying everybody was hurt by these events in different ways. "We stand by you," Mr Macleod said, speaking directly to the Muslim community. "Know that this is your home."
The vigil opened and closed with a karakia, and the crowd sung the national anthem and hymns in both English and Te Reo.
Our live coverage of tonight's Wanaka vigil.
Mr Macleod acknowledged the ongoing work of the NZ Police, St John's Ambulance and other members of the community for their ongoing protection and support. He concluded by urging the crowd to reach out - to family, neighbours and to the Muslim community.


---