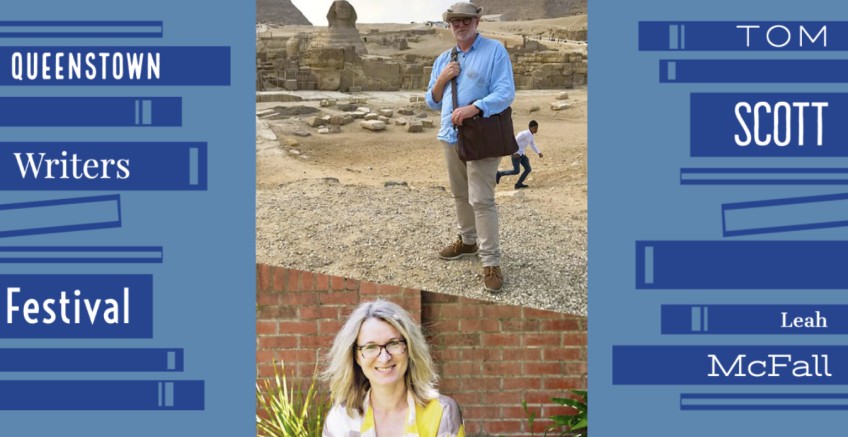 Q'town Writers Festival kicks off with Tom Scott
by Leah McFall - Nov 05, 2020
---
Tickets are on sale for the first session of Queenstown's Writer's Festival - here's the details and a preview of what promises to be one of the highlights of the entire event:
Tom Scott in conversation with Leah McFall
Famous for his weekly column and cartoon for the New Zealand Listener in the 1970s and 1980s, Tom Scott is also a much-awarded writer for film, television and theatre, and the author of The Daylight Atheist, which was performed in Arrowtown by Michael Hurst earlier this year.
Wellington's Leah McFall released Karori Confidential, a collection of her award-winning Sunday magazine columns, in 2018. She has written humour, features and book reviews for titles including Your Weekend, Canvas and Stuff. Previously at RNZ, TVNZ and the NZSO, she began her career in Queenstown at Q92FM.
7.30pm to 9pm Friday 6 November 2020 (includes time for Q&A) at Queenstown Contemporary
Tickets $25 (includes a glass of certified organic Two Paddocks wine) Bookings can be made here.
"I can tell you two things about spending an hour with Tom Scott. One, it won't be long enough. And two, it will live in your memory for a long time.
Tom Scott is our foremost public wit. He's a master of anecdote and a conversationalist par excellence: everybody's fantasy dinner guest. If you've previously enjoyed him as a speaker, you'll know he'll have you laughing one minute and welling up the next. He's also unguarded and game for anything. No questions, his publicist told me, are off limits.
He's got a bloody knack, has Scott, of being in the right place, at the perfect time, to observe key cultural moments in our history. He seems to have been everywhere these past 50 years, knowing everyone. From about 1970, when he was a flash of colour among the brown suits and kipper ties of political Wellington, he was usually in the room where something important happened.
If we couldn't be there, we were lucky Scott was. In dozens of columns and cartoons, and later in his films and documentaries, he turned news into art, and that art became news. He wrote it down as it was happening and boy, did we love reading it.
There were those theatrical encounters with the fearsome Rob Muldoon, whose antipathy towards Scott in the press gallery and Parliament's corridors became the stuff of legend.
Then Scott was there to witness Lange's emergence and rise to premiership. He saw at first hand the turning point in the House, when Lange landed a major hit on Muldoon with a single flash of wit. Remembers Scott: "'Hah! Lange!' snorted Muldoon. 'Your belly is bigger than mine!' 'That may well be so,' bellowed Lange, 'but mine is higher off the ground!'" It was a bellwether change, Scott told us. "The spell had been broken."
There were moments of deep gravitas, too. Scott observed the pitiless decline of Lange's health, as he previously did of Norman Kirk. Indeed, the pages of Scott's memoir which describe Kirk's body lying in state at Parliament, are some of the most moving in that book.
Later, he kept vigil for a close-to-death Ed Hillary in the Himalayan foothills – helping usher him to safety by helicopter to Kathmandu. At these moments, Scott was our proxy – feeling deep emotion on behalf of the rest of us but keeping enough critical distance to write it all down.
Sometimes I wonder if we'd remember these men the way we now do, without Scott's journalism and cartooning. I wonder, in the case of Kirk at least, if we'd remember them at all.
So yes, Scott's talents are multiple, his awards innumerable and his achievements incomparable. Cartoonist, columnist, satirist, playwright, screenwriter, film-maker – take your pick from his work on page, stage, or screen. This is a man whose nib never goes blunt, and whose ink never runs dry. Let's face it: on Friday, he could quite easily interview himself.
But now Tom Scott has released an acclaimed new book, and there are fresh matters to discuss. Searching for Charlie: In Pursuit of the Real Charles Upham VC & Bar pays tribute to a man everyone has heard of, but few people truly knew.
It's an unconventional biography – military history with humour and heart. It takes us across New Zealand, to Europe and the Middle East. It's the reason Scott quit a long and happy stint cartooning for the Dominion Post. It was a passion project that became an emotional quest. The book even has elements of pilgrimage, as Tom retraces not only Upham's boot-prints in the Cretan dirt and desert sand, but those of the NZ Division – honouring them with remembrance.
Like our hour with Tom, you'll find the book funny, moving, surprising and in some ways, comforting. It's a portrait of a baffling man – our most honoured New Zealander, revered even by his enemies, whose medals and the fame that came with them brought him no pleasure at all.
It's a love letter to a bygone generation and in many ways, a plea to all New Zealanders to remember the past. Nobody but Scott could have written a book like this. He's bloody gone and done it again.
I can't wait to talk to him. I hope you can join us!
7.30pm to 9pm Friday 6 November 2020 (includes time for Q&A) at Queenstown Contemporary
Tickets $25 (includes a glass of certified organic Two Paddocks wine)


---