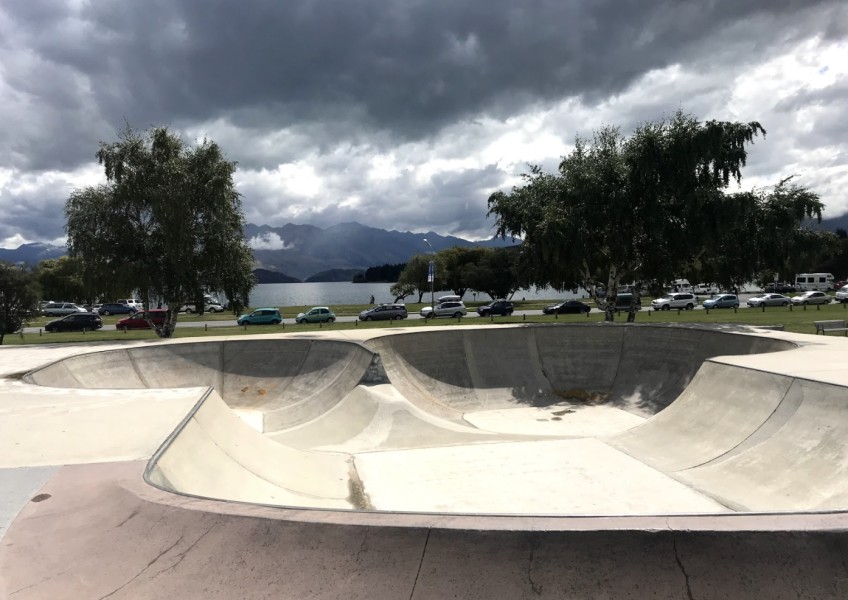 QLDC warned of "disaster" over Wānaka skatepark failure
---
Members of the Wānaka Skatepark Club warned QLDC that hiring Civil Concrete Ltd to work on their $320,000 construction project "will be headed for disaster." Only months later the company went into liquidation owing local contractors close to $50,000 – but Civil Concrete Ltd was paid in full by QLDC.
"We are getting blamed for this" Wānaka skatepark's Wayne Pretty told Crux today. "We warned the council time and time again about Civil Concrete – but they would not listen."
The club has released to Crux a remarkable chain of emails that correctly forecast trouble ahead for Civil Concrete Ltd.
Civil went into liquidation in July this year owing over $300,000 in unpaid tax to the IRD and close to $500,000 to unsecured creditors. Another amount of $151,000 is owed to secured creditors, taking the total debt to just under $1 million.
One email on October 7 2020 from the Wānaka club to QLDC said: "There is a real risk that the council could waste over $300,000 with Civil Concrete doing the park. We believe if we go down the road with Civil Concrete we will be headed for disaster."
QLDC has confirmed to Crux that they received the emails raising red flags over the quality of work by Civil Concrete Ltd but has told Crux that the job got done and ratepayers got value for the $320,000. QLDC was "disappointed to learn that Civil Concrete's liquidation has left sub-contractors out of pocket."
The Wānaka club was so concerned about the risk of project failure that they enlisted the help of a Wanaka council member (not named by the club) who listed specific concerns to QLDC shortly after the decision to use Civil Concrete had been made.
These concerns were that Civil Concrete Ltd:
Has not finished their first park in Methven.
Has started another park in Fairlie.
Has insufficient experience in this type of work.
Has a lack of respect within the skateboarding community.
Are under an unrealistic 10 week time frame to complete a redo of the bowl and a new street area at the Wanaka Skate Park.
Has completed what is considered to be a poor finish on their first park.
Is struggling to retain a skilled workforce.
Has been selected solely on the criteria of being the cheapest price.
In a statement to Crux QLDC says they carried out proper checks on Civil Concrete Ltd. "A referee was provided by Civil Concrete in its RFP (project proposal) which indicated no issues."
The man behind Civil Concrete, Joshua Horn, called Crux after we had published our first story on this issue and said that he was trying to pay back money to creditors. He said that "QLDC told me what to quote for the job" – a reference to the council document that specified the $320,000 budget and made it clear that proposals above that amount would not be considered.
Mr Horn indicated that he had undergone a difficult split from his wife and two children in Methven, suggesting that was the prime cause for the business failure.
The bottom line appears to be that QLDC got the job done at a price they had pre-determined. The skatepark club says that budget was not realistic for the project and as a result the council is to blame for local sub-contractors not getting paid.
The council Wānaka project RFP document indicates a number of "optional" evaluation and due diligence checks on contractors as follows:
reference check the Respondent organisation and named personnel other checks against the Respondent E.g. Companies Office
interview Respondents
request Respondents make a presentation
arrange site-visits
test products
inspect audited accounts for the last three financial years
undertake a credit check
undertake a Police check for all named personnel
It appears from the QLDC statement to Crux that few if any of these checks were actually made, although the council member who represented the skatepark club was told that "the due diligence over the evaluation period was extensive enough." An email from QLDC referred to numerous conversations with references but rejected the suggestion of a $3,000 peer review of Civil Concrete Ltd's work saying "this money is better spent on our own skatepark."
This is QLDC's full response on the question of due diligence:
"At the time of tendering there were no signs of the company's potential insolvency. The physical works at the skate park achieved practical completion on 23 April 2021 and the liquidation process began on 22 July 2021. A referee was provided by Civil Concrete in its RFP which indicated no issues." Source: QLDC.
Crux understands that the liquidators, PWC, are unlikely to be able to pursue Mr Horn legally due to his difficult personal situation and a lack of obvious access to additional money. The company was put into liquidation over the unpaid IRD taxes. The first PWC liquidator's report refers to a lack of proper financial records, a point that would have presumably been identified by QLDC had they undertaken their "optional" due diligence checks.


---