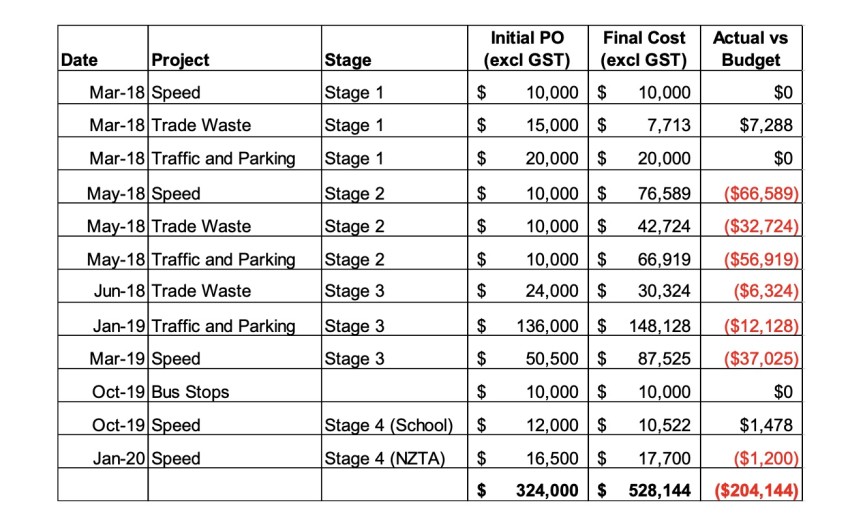 QLDC report: ZQN7 $200,000 over budget - millions more "non-compliant"
---
Main Image: ZQN7 Ltd's actual invoices compared to what was quoted - the company was paid $200,000 over budget. Only one of the twelve invoices complied with QLDC's financial rules.
A report to be presented to a meeting of QLDC's Audit, Finance and Risk Committee later this week gives details of millions of dollars of mismanaged funds following a Crux investigation into the council failing to follow its own procurement rules.
The procurement rules are designed to stop "jobs for mates" and make sure that ratepayers get the best possible value for money.
A Power point presentation shown to councillors at a secret QLDC workshop on February 15 reveals the first indications of how deep the non-compliant expenditure has gone.
Not only does the presentation show the ZQN7 project being $204,144 over the $324,000 pre-agreed budget but that millions of dollars more was spent on other consultants and contractors who were given work outside the council's own financial rules.
An analysis on Page 15 of the document shows that in 2019/2020 around $67 million of purchase orders were issued for consultants and contractors - with 7% of that total, $4.7 million, that should have been controlled under the QLDC procurement guidelines. The $4.7 million is limted though to projects under $50,000.
The report's authors, including Infrastructure General Manager Peter Hansby who should have signed off ZQN7's work, for some reason decided to limit their analysis to projects under $50,000. This is in spite of the procurement rules specifically forbidding the splitting of big projects like ZQN7 into smaller packages of under $50,000.
The report offers no explanation as to why ZQN7's work was split into 12 different, sub $50,000, lots. In any case, 11 of those 12 did not comply with the QLDC procurement rules. The rules state that the total value of a project must be used and that smaller amounts cannot be used to hide or obscure the full scale of work given to one supplier.
Crux is currently attempting to obtain, so far without success, details of other consultant expenditure by QLDC that is non-compliant with the "no jobs for mates" rules. The non-compliant dollar total will be much higher than $4.7 million if projects over $50,000 are taken into account.
The Office of the Auditor General this afternoon told Crux that a decision was yet to be made as to whether their current "informal" examination of the QLDC's procurement finances will turn into a full investigation.
View the full QLDC workshop presentation here.


---