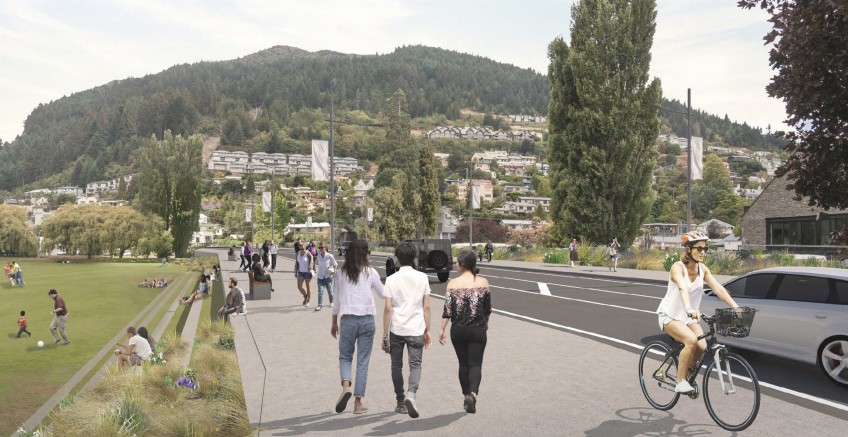 QLDC accused of distorting arterial road business case
---
Former councillor Cath Gilmour has attacked the Queenstown Lakes District Council's $150 million arterial road project saying that it is not needed and has presented a misleading business case to ratepayers.
Ms Gilmour, in a submission to today's council Annual Plan review hearing, says that she was told in 2022 by then QLDC infrastructure manager Peter Hansby that "he had been instructed to bolster the road's business case by having the water network use it. That is inadequate cause."
The submission does not identify the person who gave this instruction to Mr Hansby.
Mr Hansby passed away suddenly earlier this year after a short illness.
The submission from Ms Gilmour calls for the arterial road project to be scrapped after the completion of stage one, currently under construction. The submission argues that the Memorial Hall should be saved from demolition and that there is no business case for the final two stages due to traffic demand not being to the west (Glenorchy) but to the south and east where population centres are growing (Frankton and Jacks Point).
"With high and growing QLDC debt levels, the idea of bowling an existing community facility when we don't need to do so becomes even more farcical. Ulrich Glasner, when still in his engineering role at QLDC, confirmed that the Memorial Centre did not need to be knocked down even if stage two of the arterial project did go ahead. It could be cantilevered over Horne Creek. And Mr Hansby confirmed the arterial could instead be routed over the space made available when earthquake-prone QLDC offices in Gorge Road were demolished.
"He said he did not propose this because he did not want to buy another fight with the community by proposing to chop down the apparently protected tree in the council car park behind it. Again, an inadequate rationale for a course of action that would cost our community tens or hundreds of millions of dollars."
Crux has highlighted the fact that the arterial route takes it directly to the proposed controversial billion-dollar Lakeview development but to date there is no funding for the final two stages of the project.
Ms Gilmour observes that the arterial road has a troubled history that would be made even worse by the completion of stages two and three.
"This project was shelved for decades for good reason. Please return it to the shelf once stage one is completed and turn the new infrastructure team's focus to where it is needed."

---