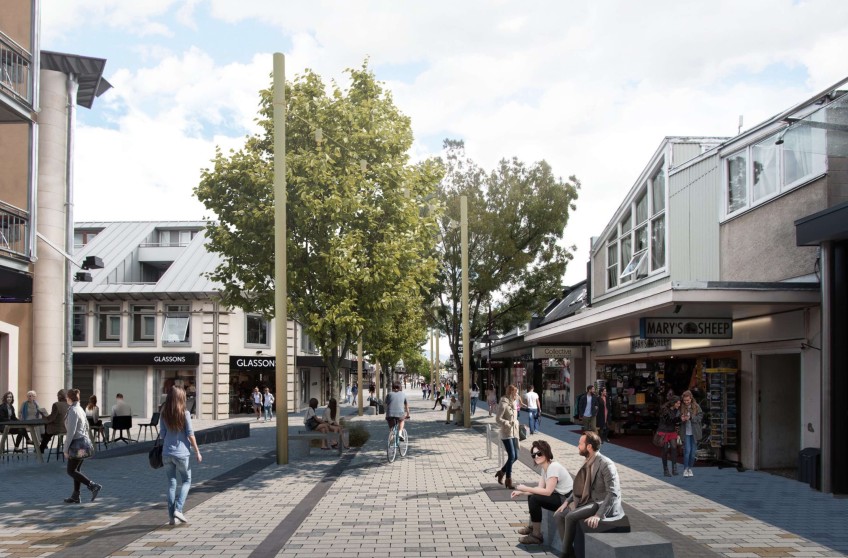 People power needed to save Q'town CBD from sterility
---
When the fences come down and the last pavers are laid, there's no guarantee the considerable public investment in a "bricks and mortar" spruce-up of the Queenstown CBD will make it a more attractive place for locals.
And that's why a community-led initiative is canvassing residents to find out what might help make the Queenstown Bay area a vibrant heart of the district for them.
Shaping our Future coordinator John Glover reckons snubbing the downtown is increasingly common among people who call Queenstown home.
The QLDC's latest Quality of Life Survey delivered some disappointing digits on the downtown: it was the least most used town centre among locals who took part in the survey.
While 46 percent of respondents said they visited Frankton most often and 28 percent Wānaka, only 23 percent listed Queenstown's town centre as their top spot.
The Queenstown Lakes District Council is spending "huge sums" of both ratepayer and taxpayer money on the revamped streetscape, Mr Glover says.
"But what's the return to the community on that investment?
"The risk is that the result might be sterile, lacking authenticity, vibrancy and that the badge of 'proud not to go there' remains amongst locals."
Shaping our Future is hoping survey responses will offer up some low-cost actions to help make the CBD "more relevant, inviting, local and inclusive in the short term", Mr Glover says.
"If the area is highly valued by residents, it reduces its vulnerability to tourism shocks."
QLDC is well underway with its planned upgrades of the area, and ongoing construction work has been frustrating for businesses and visitors.
Mr Glover says the aim of the survey isn't to re-invent or begrudge what's already happening.
"Running the survey's not a criticism of the council.
"This is about getting the best out of what's already happening and what might make it even better."
He's asking survey respondents to think about what can be done on top of the physical built environment to make the spaces more the community's own.
"I'm constantly inspired by the really forward-thinking suggestions that come out of our community when we ask some of these open-ended questions."
The Shaping our Future survey can be completed online here, plus the team will be out and about completing surveys face-to-face over Queen's Birthday weekend at LUMIFY Laneways.
A workshop on the topic is also in the pipeline, Mr Glover says.
Main image (QLDC): An artist's impression of a revamped Queenstown downtown.

---