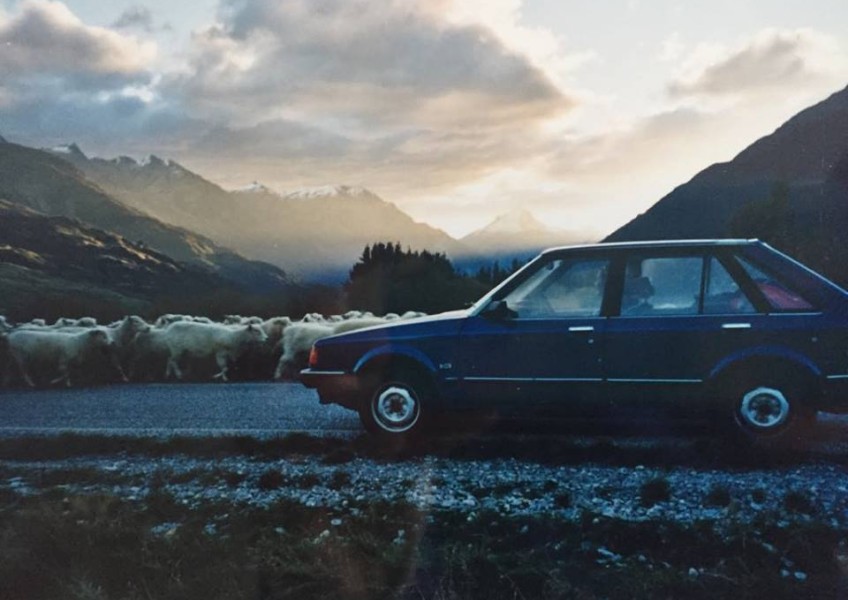 Outside Looking In: Bridget Mills
by Bridget Mills - Jun 21, 2018
---
In our latest Outside Looking In column, Auckland-based television producer Bridget Mills shares her romantic view of the Southern Lakes region...
I grew up in the North Island. Across the harbour from Wellington city, in the seaside suburb of Eastbourne. And I am one of those North Islanders who chose to travel overseas and do their OE before they even stepped foot in the South Island. I caught trains, buses and hitched around Europe marvelling at the scenery, blissfully unaware that one of the most beautiful parts of the world had been just a short ferry ride away all along.
When I returned – broke, a bit fat and at a loose end - I decided it was probably time to explore my own country. I spent my last pay cheque from my shitty pub job on a car. A 1984 Ford Laser. It was $400. I hadn't driven a manual before, but I managed to take it on to the ferry, lurching across to the South Island where I learnt to drive on the streets, hills and one-lane bridges of the Mainland.
The trip was almost 20 years ago now, but I still vividly remember that drive along the tree-tunnelled Haast pass, navigating the road as it wound between two massive, glorious lakes, and arriving in to Wanaka at the onset of Autumn. The colours of that place blew me away. Reds, oranges, ochres and purples – I didn't know New Zealand had seasons until then. As far as I was aware it was either summer and windy, or winter and windy.
I took two rolls of photos during that trip - long before the digital camera or smartphone. They're all printed and pasted nicely in a tangible album. Looking at them now, any one of them could make a great Facebook cover photo; landscape pics of long empty stretches of road, mountain ranges, lakes, sheep crossing state highways and an unusual number of people's gardens. I must have been impressed with the pruning skills of the South.
More than a decade later, and mum and I took a roadie around Central Otago. It was 2011 and I had been living and working during, and in the aftermath of, the quakes in Christchurch. The extent of the damage, the daily interactions with people who had lost so much, and the demands of the newsroom were grinding me down. I needed to get out for a bit.
We drove fairly aimlessly, stopping for ham sandwiches, pots of tea and to rifle through op shops and antique stores. Sometimes we'd be driving along and over the crest of a hill we'd glimpse the bluey-green hues of a lake. Perfectly still, reflecting the hills around it. This time it was spring, and I was once again struck by the colours of the landscape and how each season is defined by the colours of the trees, flowers and leaves.
We booked nothing, pausing each night when the light started to fade. We stayed in cabins, low-level motels with candle-wick bedspreads and backpacker hostels. People were kind, curious but not nosey, and welcoming in a way you don't really experience in other parts of the country. It was a refreshing break from a place that was (quite rightly) all-consumed with damage, death and disaster.
So for me, as an outsider, the Southern Lakes region has provided adventure, exploration and solace. Lots of great op-shop finds too, including some beautiful wool blankets which are providing warmth during this windy, wet North Island winter.
Bridget Mills spent her 20s travelling, studying and working in a variety of random jobs (factories, travel agencies, government departments, pubs and a publishing house…just to name a few). Once she hit 30 she trained as a journalist, spending the first seven years reporting and producing at Radio New Zealand in the Auckland and Christchurch newsrooms. The last few years, since having children, she's been freelancing as a writer, producer and researcher. Bridget currently works as a segment producer on The Project.
The car in the feature image is the 1984 Ford Laser Bridget bought on her return to NZ from her OE, with the last pay cheque she received from her shitty UK pub job.
Read earlier Outside Looking In features: Mary Fitzgerald, Wayne Mapp, Mark Hathaway


---