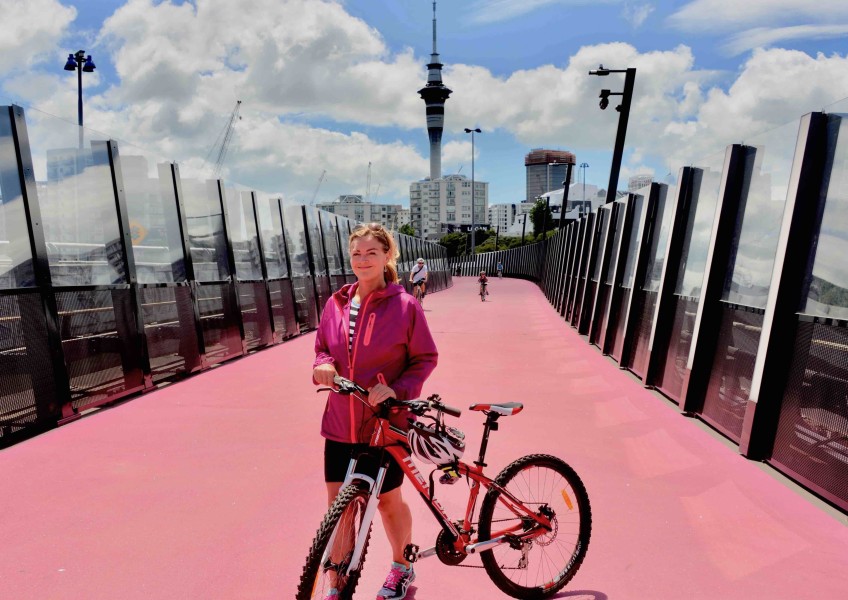 Outside Looking In - Mary Fitzgerald
by Mary Fitzgerald - May 25, 2018
---
Is Queenstown just a simpler version of Auckland? In this Outside Looking In Auckland journalist Mary Fitzgerald is feeling homesick for Wanaka and Otago but wonders if things have changed too much.
Queenstown is Auckland for beginners, but with substantially better scenery….
This according to Sarah, my born-and-bred bestie from Parnell.
Sarah maintains Queenstown is as good as Auckland for fun in many ways and a great escape for Aucklanders, "It has all the glam of Auckland, delivering luxury, with jaw dropping scenery all around".
Sarah is one of many Aucklanders being pulled to Queenstown for the top-end-luxe, the golf, the lodges, skiing, and Instagram mountain top photo opportunities.
She laughed when I told her I was writing about how I see Queenstown and Wanaka, looking in as an Aucklander, because she describes me as the ultimate Auckland imposter.
She knows while I've been an Auckland ratepayer for 14 years, I spend as much of my holiday time as I can in Wanaka, and sometimes Queenstown. I have a foot placed in the north and one in the south, and I feel local in both.
I live in Auckland, existing in the hustle, gridlock and congestion of the big-little city, and periodically I escape the city madness to regroup with my parents who have lived in Wanaka for decades.
I grew up in Dunedin and from the 1970's, toured with my parents and brothers, first to Queenstown for annual family ski holidays and later to Wanaka.
Looking in on that time, what I remember of those halcyon days is that there was always a division between the two alpine centres – there were "Wanaka People" and "Queenstown People".
Wanaka People holidayed there because it was small, quiet, not glitzy, still felt remote and did not have all the tourist buses and large numbers of international tourists.
Queenstown People holidayed there because it had great hotels, restaurants, and with international tourism, it had a bit of a flash edge to it.
Looking in now, there's still a loud, glitzy, exciting, pricey, tourist bus ridden, international Queenstown, cashing in on the scenery, and Wanaka by comparison, remains the smaller, modest tourist-centre-cousin to Queenstown.
Everything is busier now – there are vineyards, great restaurants and an array of adventurous distractions to take part in – but much less of the spacious grandeur, that for me defined the area decades ago.
It is the spacious grandeur that I remember from my Central Otago childhood. The landscapes felt open and endless, a place one could visit, but not leave a mark on – one left the district sensing it would always be bigger than anything else.
Now looking in, the space and wide-openness is becoming less wide, because of tourists from near like Sarah, and from afar, and because people want to relocate there.
Queenstown and Wanaka are criss-crossed with tarsealed roads and housing developments where once empty stretches of land lay. Supermarkets now occupy space next to car yards and furniture warehouses. Indeed, parts of Queenstown look like parts of Auckland, albeit framed incongruously by the Remarkables.
Looking in, I see Queenstown and Wanaka in the midst of significant infrastructure challenges associated with growth.
There's a shortage of housing, the cost of living is high, there are new developments being carved into the landscapes, the airport is strained, there's diminished parking, and new roads and roundabouts are quickly filling with traffic.
And then there is the hardship.
Queenstown and Wanaka, like Auckland, have residents who are struggling to keep up with the cost of living, and with the challenges of growth. Living there is tough, tight and strained.
For many New Zealanders, Auckland, Wanaka and Queenstown are places that are simply financially out of reach.
The apparently untamable growth in Queenstown - and in Wanaka – now shares parallels with Auckland.
So on reflection, as I look in from Auckland, I see Queenstown and Wanaka have indeed grown to become like Auckland for beginners, but not in the way Sarah intended.


---