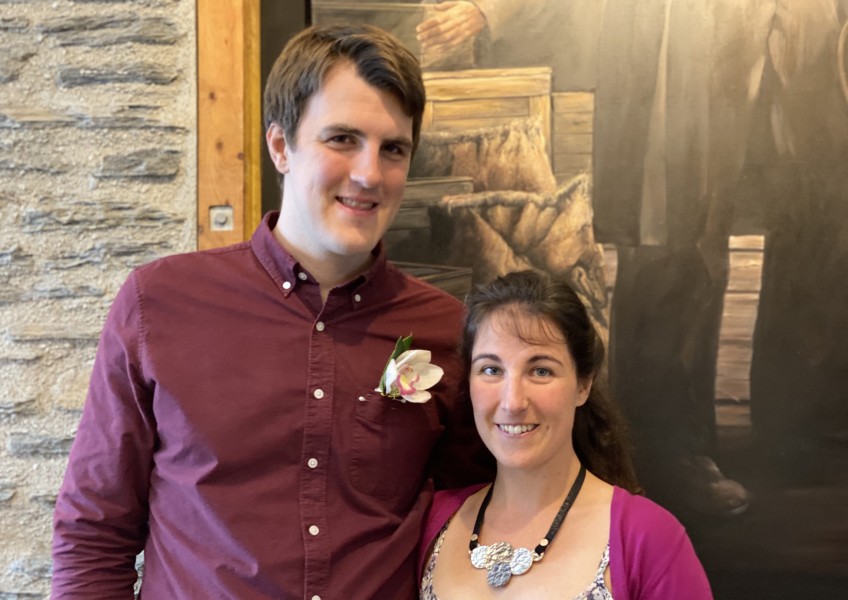 NZ's first post-Covid wedding in Q'town hotel lobby
---
Queenstown's exit from the long lockdown was marked by peak romance this morning as New Zealand's first post-Covid wedding took place in the lobby of a local hotel.
Swiss tourists Holly Boud and Hans Winkler were married at the Rees Hotel in front of a small Level 2 group of witnesses that included Holly's parents, Ian and Eva, who were also in New Zealand when the lockdown was introduced.
The ceremony was sent back to Switzerland live on Zoom - in true lockdown tradition.
The Zurich couple, in their early thirties, were on vacation in Queenstown when the Covid-19 restrictions were introduced. They did not even have winter clothes with them, let alone wedding outfits.
Holly works with Swiss bank UBS while Hans is an IT consultant. They first met each other a year ago - in fact a year ago on Tuesday, two days ago. They had hoped to marry on that special anniversary but Level 2 freedoms only came into force today, two days late.
Rees Hotel owner Mark Rose told Crux he was delighted with the opportunity for the couple to get married in the hotel lobby, under Level 2 rules. "It's everything that Kiwi hospitality stands for. As we come out of Covid-19 today's ceremony hopefully represents the way that the local hotel and hospitality sector can take the chance to build closer, more special relationships with our guests. It's been one very positive side-effect of Covid-19."
Main Image: The new Mr and Mrs Winkler after today's ceremony.

---