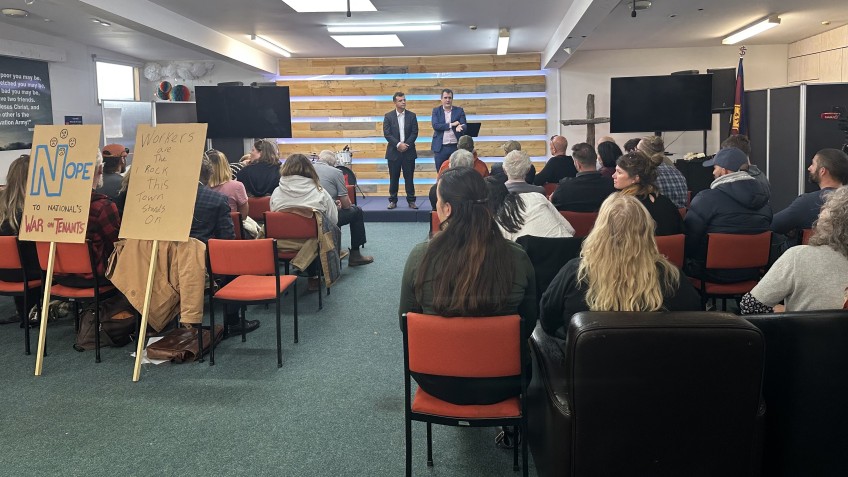 National announces rental crisis fixes in Queenstown
---
In a standing-room-only meeting today, the National Party's housing spokesperson delivered four potential fixes for Queenstown's rental crisis.
Using his visit as a stop on of the campaign trail, Chris Bishop says if elected the party will bring back interest deductibility, reverse the bright line test to two years instead of 10 years, stop the "essentially automatic" rollover of 90-plus-day fixed-term tenancies to become periodic tenancies, and bring back no-cause terminations for landlords.
He says right now the "balance is wrong" and these recent changes are deterring landlords from wanting to put their homes on the rental market, and decreasing rental supply.
Forty-five minutes of rigorous questioning and emotional story-telling followed Mr Bishop's announcements.
Sixty people gathered at the public meeting hosted at the Salvation Army building, but not everyone picked up what Mr Bishop was putting down.
One member of the audience voiced that Mr Bishop's proposed regulation tweaks would not help and, instead, could make tenants more vulnerable.
Another Queenstown resident, Simon Edmunds, accused National of being "the party of landlords", saying that bringing back these rules would harm tenants.
"They're (landlords) not the group that you need to step in and help – the people that need protecting in this town at the moment are our tenants."
He asked why Mr Bishop wasn't addressing Airbnb, calling it "the elephant in the room".
"Why aren't you campaigning to introduce healthy homes protections (to) apply to Airbnb? Why don't you campaign to actually provide the funding for local councils to actually check that Airbnbs will be regulated properly, and to check the Airbnbs are playing on an even playing field?"
Talking to Crux afterward, the MP says he "absolutely, fundamentally" disagrees with National being the 'party of landlords' saying the changes proposed will help tenants.
He did not think it was an oversight to omit Airbnb from today's announcement.
"I'm very aware of some of the issues that some people in Queenstown have with Airbnb. As I've said, I will go away and have a look at it. I'm very familiar with the arguments around Airbnb. We'll go ahead and look at that, but today was about the tenancy changes."
In general, the stories he heard today were "heartbreaking".
One of these heartbreaking accounts came from seven-year Queenstown resident Ashley Munn, who tearfully expressed concern people were going to die this winter.
"So, say your four points that you keep coming back to as a part of your answer to everyone works – say all that works – what are you going to do in the meantime?
"What's the hold up – what if someone freezes in their car?"
She says those with empty homes or Airbnb properties should be "morally shamed".
To this Southland MP Joseph Mooney responded that they weren't in government and there were limited actions they could take.
"We are trying to push our changes that we think will make a difference, but the reality is at this point in time we're not the government."
Hospitality worker Ellen Murphy says that the increase in staff housing is driving up rents further, as well as hostel prices.
A 25-year-old, four-bedroom Fernhill house her workplace was looking at renting for their 'working homeless' staff was $1,600 a week.
"What we're kind of seeing through the rental process is that now that companies are willing to do that, they're putting the rents up, but that's now pricing out the individual again."
Another co-worker of Ms Murphy was paying $900 a week for two beds in an eight-bedroom dorm at a backpackers.
Mr Bishop says this is all ultimately the effect of a rental supply issue, and new proposed National legislation would help.
He also explained how the four changes would help the rental crisis.
"Interest deductibility…that has put a real squeeze on landlords who used to be able to deduct interest as legitimate expenses.
"On the first of April this month, the phasing kicked in for the new tax year, and landlords are now able to deduct only 50 percent of the interest…on top of that, you have increased interest rates.
He says increasing the bright line to 10 years "acted as a disincentive for people to buy rental properties" and that's feedback he's received directly from landlords.
He also acknowledged how tough Queenstown's housing market is.
"The average house in Queenstown is $1.6 million. The average house in Auckland is $1.3 million and the average house in Wellington is $850,000."
Local MP Joseph Mooney agreed with the proposed legislation.
"Labour's removal in 2021 of no-cause terminations and the near-automatic rollover of fixed term tenancies into periodic tenancies have backfired badly. The rent in Queenstown-Lakes went from a median rent of $555 per week in October 2017 to $700 at the beginning of 2023," Mr Mooney says.
"Queenstown is the perfect example of how these law changes have backfired, with around a quarter of all properties sitting empty, some of which would have been offered for short-term fixed rental. This is happening while there are reports of many sleeping in tents, cars and on couches."
Queenstown Housing protest organiser Hannah Sullivan expressed annoyance at her process of trying to get answers to the housing crisis – and wasn't satisfied by today's announcements.
"I genuinely feel that no matter who you ask about an immediate fix, they always say the same thing: 'we can't do it because of this reason'," Ms Sullivan says.
"And then they say, 'but Council can'. And then you go to council, and council say, 'we can't, go to central government'. And then central says, 'this is not normally something we deal with, go get your local MP'.
"And then you have your local MP and the housing spokesperson and they still can't answer the question of 'what are you doing now?'."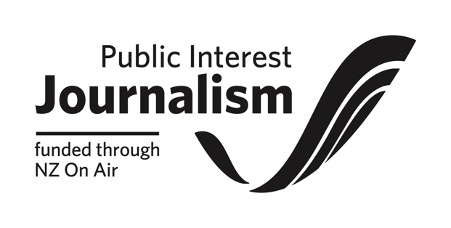 ---