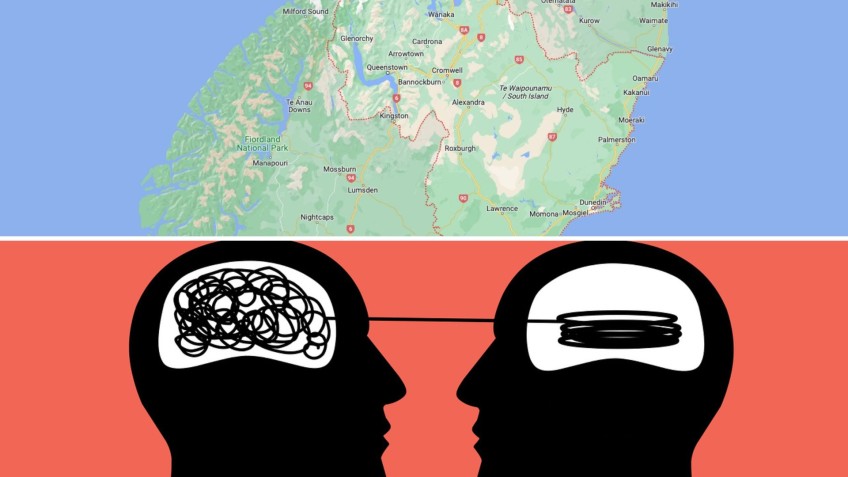 Mental health: 'Move staff from Dunedin to Central Otago and Southern Lakes'
by Kerry Hand - May 01, 2023
---
Reader commentary: Kerry Hand worked in the southern mental health services for many years and operated the successful Miramare agency. He had a close observation of the money flows and operations. He believes community mental health services should be easy to access and ordinary to use, and to achieve that requires better allocation of resources. He lives in rural Bannockburn.
The good people of Central Otago and Queenstown Lakes have paid their taxes like everybody else in Otago, but the community mental health staff they deserve have been kept elsewhere. It's been an unsolveable problem for many years, but at last there is now a way forward.
In the Dunedin area there is one community mental health staff member for every 443 people, while in the Central Otago-Queenstown Lakes area there is one community mental health staff member for every 2,884 people. That's out of kilter by more than six to one. It's an extraordinary postcode mismatch. The Clutha and Waitaki districts are starved in the same way.
Figures supplied by the the former Southern DHB now Health New Zealand show it directly employs 335 community health staff in Otago. It's a powerhouse of resource - nurses, doctors and others - bigger than many nationally known companies. Strangely, it allocates only about 26 community mental health staff to Central Otago and Queenstown Lakes. With an equitable redistribution of the 335 existing staff that number should be 101 not 26. In Dunedin, it allocates 294 community mental health staff, when an equitable distribution says it should be 176.
The answer? Transfer 75 staff positions - nurses, doctors and others, out of Dunedin into Central Otago and Queenstown Lakes. Frankly, I don't care if the final staff number is 90 or 110, or if the transfer takes two or three years to complete, but it needs to happen.
The outcome is very clear - people in Central Otago and Queenstown Lakes just don't get to use the service. The small number of staff actually in place have to deal first with real emergencies. Good, useful work with people on a planned basis has to be lower priority or often just not possible. For example: Worried parents who ask for help for their child from a GP often don't get referred for the same help as they would in Dunedin. There is no real point as the referral cannot be dealt with.
Mental health issues are quite common everywhere. It's local, not those different people elsewhere. Many readers will have personal or family experience. Children and young people feature importantly, also those dealing with alcohol and drug issues.
It really is a big inland city in Otago. It's got a large and growing population likely to be greater than Dunedin in a few years. Central Otago and Queenstown Lakes is more spread out than Dunedin, but with 75,000 people it's not so little and Dunedin with 130,000 people is not so big.
I need to clarify some detail. While there are inpatient wards in Dunedin the large staff numbers working there are excluded from these community mental health staff calculations. While those wards are for all of Otago, residents from inland seem to be underrepresented there.
In addition to the direct employees of Health New Zealand there are mental health staff working with contracted organisations but it seems that these predominately are allocated in Dunedin. On the other hand, good things have happened with extra capability appearing in the inland areas with WellSouth placing mental health staff into general practices and with the ADL organisation providing clinical staff youth work inland. But, it is possible extra money coming from central government was the driver for those useful initiatives, not the former DHB.
It remains that direct employees of Health New Zealand are seriously misallocated for in Central Otago and Queenstown Lakes, roles which most of us would think are the core of a serious mental health service. The equitable solution would be to transfer 75 positions there.
Mental health services staff work hard, so those in Dunedin don't like to hear that their positions could be better located inland. But the transfer can be done without anybody having to move or lose jobs, by using a sinking lid policy on existing Dunedin positions, with respectful human resource practice, and the natural turnover of staff in a two, three or four-year programme.
You can attract staff if you are not introducing them to a service under crisis pressure. The internal staff politics of the health service make change very difficult, so new positions in an area can be very attractive, especially when there are new approaches to the work and organisation.
To provide a local community mental health service has few practical barriers. You need a base with spaces to see people, phones, basic information technology for communication and vehicles for mobility, so it's much like any other commercial office - easy to find or set up.
You would have to ask then why the employees of Health New Zealand working in community mental health are nearly all retained in Dunedin. It's bit of a mystery, and nobody I have found inside the system seems to have really thought about it. Some speculate that there is less experience of mental health challenges inland, but at best that's a dubious speculation. Others say 'funding', but of course why would you not spend the funds you have for the best benefit in a mental health service. And nobody has claimed that mental health challenges are six times more prevalant in Dunedin that elsewhere.
Sometimes it's claimed that rural spread is the cause, but I can't really understand why you would reduce the staff allocated. I would think you would increase it. Anyway, supporting people in rural spread is not as hard as portrayed. But that's for another article.
Population number is the best way to allocate community-based staff. You might decide to adjust allocations depending on such population demographics as Maori, young people and older people. But, as a former health minister explained to me, it makes a very small percentage difference and often the population indicators cancel each other out.
Currently, we have a major health reform underway in New Zealand, and the Southern DHB is no more. Its planning and funding role is changing dramatically. It's becoming part of the nationwide health service Health New Zealand (Te Whatu Ora), and services in future will be determined in different ways. Health New Zealand is creating "localities" and that's the opportunity for achieving adequate mental health services in Central Otago and Queenstown Lakes.
Localities will give voice to the local communities and a "locality plan" will be devised. Iwi and local authorities will first suggest the boundaries, and it seems likely that Central Otago District and Queenstown Lakes will make an ideal locality. The towns of Cromwell, Queenstown, Alexandra and Wānaka have distinct identities and common interests. Geography makes the whole area distinct, with significant travel times to services over the border, out of the locality.
The current population of 75,000 will become 100,000 in the foreseeable future. Sophisticated services are quite viable.
Rob Campbell, the former chairman of Health New Zealand, has indicated that locality plans should be consistent across the nation. Some places have features that will need customised arrangements, and some things will be standardised across localities. For example, it might be a statement that GP staffing should be the same for each unit of population across the nation. And it might also define where secondary services should be found - Dunedin for mental health inpatient services, Christchurch and Dunedin for some surgical services, and Auckland for the extremely specialised, provided to the whole country-type services.
It's not a contest between areas - Dunedin remains a strong part of the service and co-ordination is vital. But, in community mental health local availability is key. It would be very strange if Health New Zealand, with its nationwide view, allowed this post code lottery, a six-to-one mismatch in service level, to continue.
So, watch this space, have a chat with the mayors and iwi, think through what you see should be happening. Watch as the locality develops, and contribute. There will be ways for you to do this. It will not be a matter for the paid professionals and funded organisations alone.

---