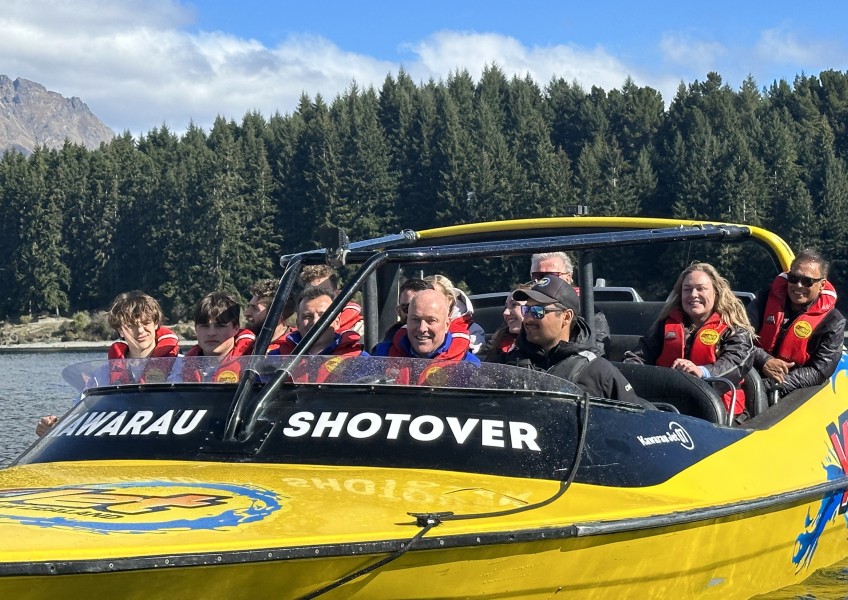 Luxon takes thrills and spills jet boat ride but fails to make splash with tourists
---
As part of the pre-election campaign rounds National leader Christopher Luxon has spent the day in Queenstown, riding up the gondola and taking a trip on the KJet, with a lunch meeting with local business owners squeezed in between.
Polls have his party in a position to govern come October's election, with Mr Luxon as the country's next prime minister, but he didn't make too many waves as he walked along Marine Parade this afternoon.
For now, his face isn't familiar to overseas guests, and tourists on the lakefront today needed an introduction to know who he was.
It didn't prevent him stopping to chat, though.
Hosting him on his walkabout and jet boat ride was Southland MP and Queenstown resident Joseph Mooney, set to become tourism minister if voters deliver National to power next month.
Jet boat driver Tepuni Pihema was behind the wheel of the boat that took the would-be prime minister and tourism minister for a blatt around Lake Whakatipu.
He says it seemed like Mr Luxon enjoyed the Queenstown tourist activity, and was "up for all of it".
"He was asking for faster, and wetter, and the quickest spins possible."
There was a heavy police presence in the CBD, with a delayed start for some stall holders at the popular Earnslaw Park market, as some public access to the area was restricted for the visit.
One small business owner says he spoke with Mr Luxon, who inquired how business had been.
Although not wanting to share his political leanings, he says Mr Luxon came off as a "likeable" guy.
With 37 days left until the election, Mr Luxon used the visit to announce some fresh tourism-related policy.
Earlier this morning, from up on the viewing deck of the Skyline Gondola, he unveiled his party's planned $22 million tourism package, involving a new Great Walk in Canterbury, and e-bike infrastructure for the New Zealand Cycle Trail.
There are also intentions to change things for migrants coming to New Zealand; lifting the cut-off age for working holiday visa holders from 30 to 35, and scrapping median wage requirements for accredited employers.
The business owner thinks the new plans for extending the age for working holiday visas will be good for businesses seeking staff, but will, in turn, increase the demand for housing.
"It's just a band-aid, it doesn't really solve anything."
As for dropping the median wage for migrants working for accredited employers, he reckons if it's a business that relies on employing minimum wage workers, then potentially "you don't really have a business".
He's been in Queenstown for twelve years and says the past three years have been a struggle as a small business owner, but he has hopes the worst is behind him.
Another stallholder, Jan from Cozi Toez, says the high-profile visitor did interrupt the usual Thursday trade.
While she stuck it out, she says another stall holder chose to call it quits and went home, but after the National leader left there was a "big wave" of people that came onto Marine Parade, who'd not been able to get through during his visit.
The semi street closure also meant a busker had "slim takings" from their scheduled one-hour performance slot.
But mostly Jan was supportive of Mr Luxon's visit and his policy announcements.
She has set up by the lake for the past twenty years and says the past three years have been tough, even with borders back open, and she wants to see more visitors return, saying "we need more tourists".
"Prior to Covid, it's always been good, but the last 12 months, even the tourists are watching what they spend."
She says people will purchase something small, but not "big ticket items".
She also likes the sound of an age extension to working holiday visas, saying Queenstown needs more diverse age groups in the town, rather than "just the very young".
Jan also spoke to Mr Luxon during his lakeside walk, with her friend's two dogs sitting by the stall catching his eye, and he came over to say hello.
"He's obviously a dog person," Jan says.
Mr Luxon also spoke today at a private event run by the Queenstown Business Chamber of Commerce.
Main image: Jet boat driver Tepuni Pihema prepares to take Leader of the Opposition Christopher Luxon for a blatt on Lake Whakatipu, Thursday, September 7.
Read more: Luxon reveals plan to attract more tourists, says no to Queenstown tourist tax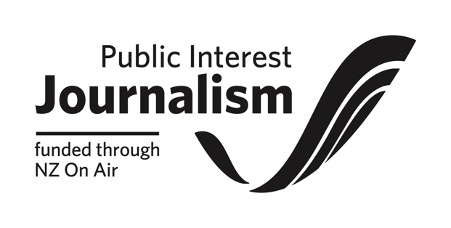 ---