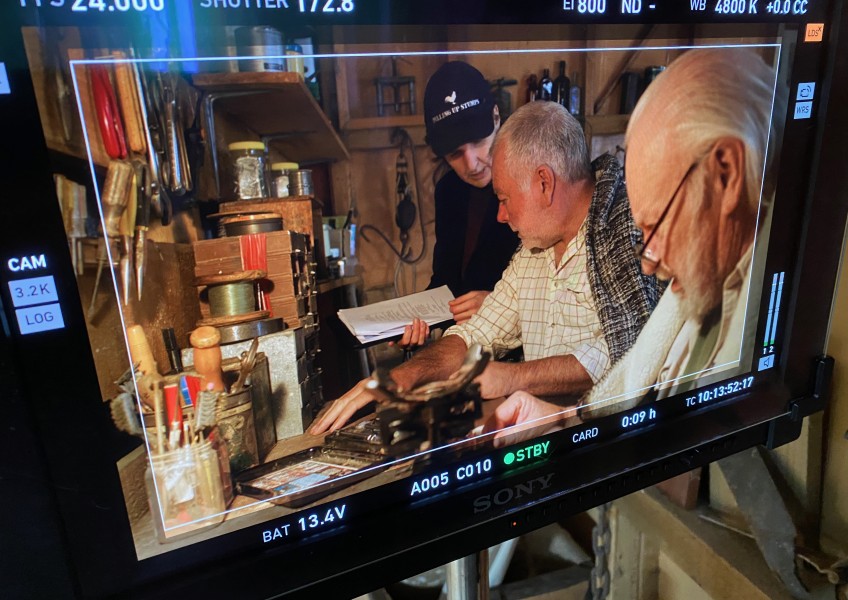 Locals and veteran stars shine in 'sensitive, emotional, and nuanced' Arrowtown movie
---
On a rural property on the outskirts of Arrowtown, there's an inconspicuous shed, just like any other in many backyards around New Zealand. Except, for four days of last week, this Arrowtown shed doubled as a complex movie set.
Collaborating under the tin roof were seasoned veterans of film cinematographer Alun Bollinger, known as 'AlBol', and actors Ian Mune and Mark Mitchinson, who've been in the industry for decades. Then, others who haven't been alive that long, like "the Jacks" - two Wakatipu High School students, sharing the same name, who worked as production runners for the first time.
Pulling Up Stumps is the first film directorial project for Elinor Teele, but she's not a stranger to the creative arts, being a published HarperCollins author and theatre director.
She wrote the script with a nod to her grandfather's rural roots and the region, where her parents have resided for two decades.
"I was trying to think of a story I could tell that would be homage to both my family and Central Otago."
The film has only two actors - one aloof older man, and another slightly younger chattier man - and there's also a rooster and a converted wool shed.
Elinor's described the piece as sensitive, emotional, and nuanced, drawing on her personal connection to the area.
The production is led by an all-women creative team. Producers of the film are Emma Martini, FrameUpMedia, an Ōtautahi/Christchurch-based producer with 25 years of experience in the film and television industry, and Tauranga-based Phillida Perry, operating under her production banner, Daughter.
Phillida's father was also a farmer, and she's familiar with old sheds and the men who occupy them.
"The core idea of the film was to speak to the heritage of the region, that kind of pioneering spirit that often starts with 'man alone in his shed'. Agricultural folk will have a shed where they keep the leftovers of their working life, items that are sentimental or significant."
Many of the items used on the set have come from Elinor's family friends, neighbours, and locals, who've donated tools from their own sheds, adding an authenticity to it.
"Every piece in that shed that I see in the film is attached to a memory I have of this summer, of locals who told me their stories – their stories about farming, and the old days," Elinor says.
She says she feels like she's "been breathing the dust of seven ages" for the past four days, surrounded by all these artifacts from the working lives of Otago farmers.
But her highlight's been watching the local Otago film crew at work, Elinor says. Part of her vision for the production was to draw on the local talent of the region.
Among the bunch is Cromwell-based makeup artist Charlie Oswin. She spoke with Crux about the role she plays on set – it's more than just painting faces – and the local film industry.
Charlie notes that when all the crew are crowded 'round the monitor, they're all looking for different things.
"It's such a beautiful little story, and it's got a great meaning. You can tell everybody wants to help each other and wants it to do really well…when that time and effort goes in from all the different departments, and it all comes together to build something that's pretty amazing."
After a 20-year career between Auckland and the UK, working with the likes of New Zealand Opera and Lord of the Rings, she has settled in the small town to raise her first child.
"There's a lot more to make up than what people realise because we are reading the script, breaking the script down, sometimes working with the director, knowing exactly what her vision is for the characters, then working with costume to create that character, and then helping the actor to feel like that character as well.
"Many actors will say, until they've got the costume and makeup on, they don't feel like their character."
But there's another side to the role, it's about looking out for everyone on set. You couldn't do her job if you weren't a caring person, she reckons.
Her first job as a 14 year old, working part-time in a salon in a small town in the English countryside influenced her decision.
"I just saw people leaving the salon feeling happy and relaxed and I loved making people feel that way. So it started with beauty…and then I just fell in love with creating characters.
"The actors come to us in the morning and, in my mind, it's not just about what they look like, but if they're okay – are they warm, are they cold, do they need a drink?"
Since her move to Cromwell, she's dabbled once again in the beauty side, taking on event makeup. There are so many weddings in Queenstown and lots of international clients, plus, more importantly, these gigs align with her new schedule as a full-time mum.
The local scene's pretty great too, and after living in New Zealand's largest city, Central Otago's got a nice, friendly vibe, she says.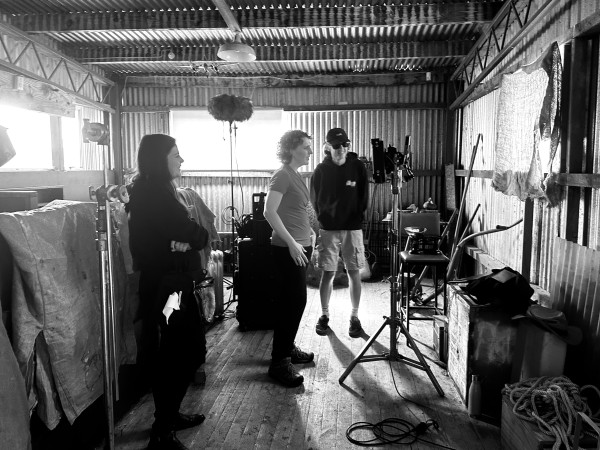 "Auckland can be very big and there is lots of us and lots of crew and lots of work. Whereas there's a lot smaller projects here.
"I find that everyone really wants to help each other out, all the local makeup artists have been passing work and taking me with them."
For this role, Charlie says there was minimal makeup involved, and the major job was creating fake mud and spreading it convincingly across Ian's hands.
Charlie's previously worked with Mark Mitchinson on New Zealand film Ablaze based on the 1940s' Christchurch fire. He says he finds the landscape of the region inspiring as an actor, and he feels "ready to shoot rabbits" as soon as he steps off the plane.
He connected with the script upon its first reading.
"I do love that sort of rural New Zealand setting, men speaking about things that are much deeper without talking about their real feelings; talking in metaphors, talking vicariously around things," Mark says.
Surrounded by big open spaces and large mountains, and then going into the shed each day to film, Mark feels they're bringing "the spectacular into the specific".
There's only one shot not under the roof of the converted wool shed, and that's an establishing shot of the Crown Range. For high schooler Jack Smillie, seeing the work that went into creating this shot was a key learning experience.
"It took us about an hour to drive there [to the Crown Range], like half an hour there and half an hour back, and then the time there, with the lighting and all the different departments that work together.
"The amount of different elements that go into making a shot, like you'll watch a shot that's maybe five seconds long on screen, but it would have taken 20, 30 minutes – anywhere up to an hour to shoot."
Jack first heard of the work experience when he and his mate, Jack Trounce, saw it advertised at the bottom of their school newsletter.
That's been probably the most interesting part was just seeing how all the different departments work together.
"The past four days have been pretty hectic and pretty busy and getting to work with such talented New Zealand actors and iconic cinematographer, Albol. It's been a great experience.
"I got to hold an Arri Alexa camera…that was about a $250,000 camera I got to hold, so that was pretty cool."
Jack and Jack applied for the role and landed it, and it involves a creative project of their own - alongside the four day shoot, they've been working on a behind-the-scenes documentary to accompany the short, gathering b-roll and conducting one-on-one interviews.
Post-school, he's not too sure exactly what route he wants to go down, other than "something in film, television, broadcasting or media", so it's been a good experience.
He's hoping for more production or broadcasting roles now.
Producer Phillida says creating this sort of experience was exactly what they were hoping to do with Pulling up Stumps.
"We wanted to create a learning environment so that we could all grow, and we can develop emerging talent as we create the film, and at the same time build expertise in our production team."
Early development of any film is a tight collaboration between the director and producers, she says.
"We each bring different strengths to the project.
"The opportunity to film with this calibre of cast and crew, coupled with a talented emerging director is fantastic."
Ms Perry's come to the film industry after a business and legal career, and she's been producing for the past three years, with one film under her belt, and a feature documentary film, Ms. Information, set to release mid-year.
"The shift (to film) was because I'd always been passionate about and involved in the arts and I really wanted to capture stories that said something about life. I suppose I want to leave a mark.
"I'm pinching myself. I've had the most extraordinary experience (on this film)."
She says landing Ian Mune and having him come on board was the "starting point for us to build an extraordinary cast and crew around". Mark Mitchinson admits that the opportunity to work with Ian was a big drawcard.
"I've known of Ian since I was a kid. He's such an iconic figure and such a national treasure, and I've always loved him as an actor."
During filming, the pair of actors have been sharing an apartment together, sharing stories and helping each other get into their characters – that's where the "magic" happens, Ian says.
Why did Ian come on board the project?
He connected with the script's "internal story" and sat down with Crux shortly after wrapping. Ian's film CV spans more than four decades, with screenwriting, directing, and acting on the list - he's been involved in more than 50 roles.
He was impressed by Elinor's directorial ambitions, writing and passion – and he's continued to be impressed over the past four days.
"There's never been a time where someone's asked her a question and she's replied with 'I don't know'."
But he's also got a rural background. His father was a dairy farmer, and Ian himself studied agriculture intending to become a sheep farmer. Instead, he got "sidetracked" down the creative route, first in theatre and then film.
He later reconnected with the farming life with his wife, owning and living on a 50-acre goat farm.
"We worked away at it for 10 years, until Roger Douglas and the New Zealand Ministry of Ag and Fish destroyed the industry."
Another thing drawing him to the role was the Queenstown location, which he describes as "fabulous film-making country", noting how distinctive the light is in the region.
This was something director Elinor herself also touched on.
"The light is bleached, and white in the daytime, and a pale violet at night until you fade into pitch black, and the stars.

It's distinctive to the region – something that Elinor, who's split her time between New Zealand and the United States, hasn't seen anywhere else.
Both the director and lead actor note how much the region has changed in a short time. This rapid change is why Elinor wanted to create the story and why she believes it's gained so much support from locals.
"It is poignant for me having come here, and then been abroad, and then come back to see how quickly it's changed and to see some of what I call the 'old guards' – the farming families – and the locals moving out, often, or just passing away.
"I wanted to capture it just before it completely vanished."
Many were reluctant to talk about their future hopes for the film.

Except for executive producer Brett Mills, who also provided the crew with all the camera equipment to make the film possible. He believes "there's something magic about this film".
But others on set were reluctant to give it such high praise.
Mark says "you always roll the dice a little" when you take on a film, but there's something in this people can relate to.
Elinor says her main aim is for the people of this region to be able to see the short. She's hoping for it to land a spot in New Zealand and international film festivals.
"I try not to think too far ahead. I've learned that you appreciate and soak in the experience while you have it. I've just had four days with amazing people and incredible filmmakers."
Pulling up Stumps has now wrapped, and the footage is being put together in post production.
Main image (George Cassells): Elinor Teele directing two actors, Ian Mune and Mark Mitchinson.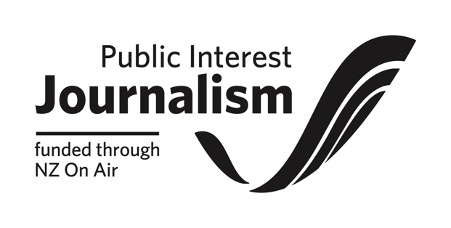 ---