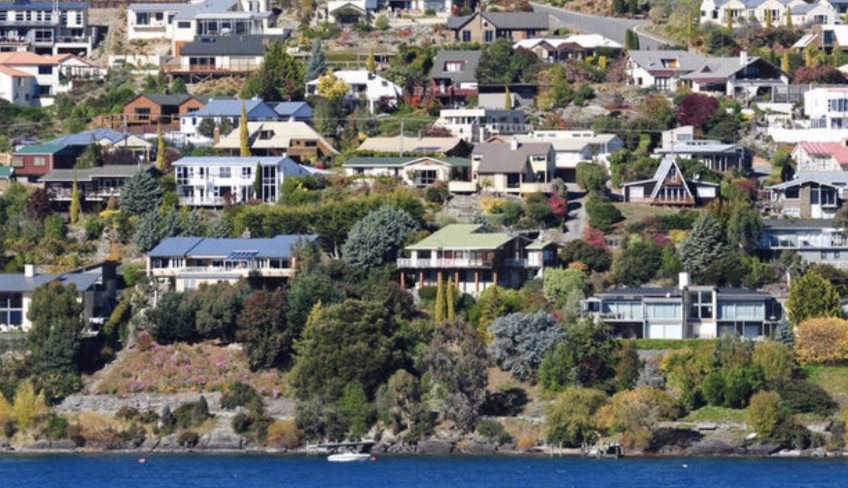 Local winners and losers as house prices soar
---
Every neighbourhood in Cromwell, Wanaka and Queenstown recorded an increase in median house price values last year of more than $100,000. And, for many, the figure increased by hundreds of thousands of dollars.
Data from CoreLogic shows that all 13 of the local suburbs in its latest Mapping the Market report recorded a jump, with increases of at least 17 to 40 percent.
It's good news for property owners, tougher to take for those looking to get on the property ladder as well as those working on affordable housing options in the community.
In and around Queenstown, median property values soared from what was already a high starting point at the beginning of 2021, despite Covid-19.
The most lucrative gains were made by properties around Lake Hayes (That's the actual lake - not LHE. Check out the Mapping the Market report to see how suburbs are grouped), which jumped in median value by $653,900, reaching $2,358,950. In Jack's Point, it was a $558,500 jump to $1,911,350, one of the highest percentage gains in the country, and in Arrowtown, $558,350 to $2,017,300.
Gains in other Queenstown hotspots were also in the hundreds of thousands: In Lower Shotover median house values jumped by $364,000 to $1,578,950, in Queenstown central, it was $216,050 to $1,436,050, and in Arthur's Point, $215,800 to $1,366,350.
The lowest dollar rises were in Sunshine Bay, Frankton and Fernhill, where owners still added $163,4000, $164,850, and $169,150 to their property values respectively.
Over the Crown Range in Wanaka and surrounds, the gains were also eye-watering.
In Wanaka itself, properties increased by $384,350, reaching a median value of $1,752,750. In Albert Town, it was a $272,550 jump to $1,220,150, while in Lake Hawea, it was $165,500 to $1,005,400.
Down the Clutha River in Cromwell, median house prices grew by $111,100 to $819,350. While in neighbouring Mt Pisa and surrounds, it was $162,550 to $1,107,700.
CoreLogic chief property economist Kelvin Davidson says the soaring median house prices in this neck of the woods were not surprising.
"It was pretty stellar growth from an area that was already expensive.
Tight listing supplies helped drive prices up, as did the number of new, higher-end builds entering the market, he says.
Cromwell's rising median house values can be attributed in part to its proximity to the Southern Lakes.
"Commuter-belt towns" across the country have seen rises in median house values, and Cromwell fits the bill with workers travelling through the Kawarau Gorge to work in Queenstown, he says.
Covid-19-facilitated work-from-home options are also luring people to regions, like Central Otago and the Southern Lakes, offering attractive lifestyles, and that also pushes prices up, he says.
Cromwell real estate agent Keeley Anderson says buyer enquiry from the north is growing every day.
"Many people have realised after 2020 and 2021 they don't need to live in Auckland to retain their jobs and are looking further afield for a lifestyle change.
"Queenstown and Wanaka are often their first stops, but they quickly realise they can buy a home in Cromwell, a booming and bustling town, with a commute of just 45 minutes to Queenstown, and they're sold."
But, the buoyant market is brutal for those hoping to buy their first home – the last ministry house she sold, typically a starting point on Cromwell's property ladder, went for $860,000, she says.
"Demand for the ministry homes is squeezing the market for entry-level buyers.
"I'm working with a young couple who have missed out four times on buying a new home."
Housing affordability is an issue both Queenstown Lakes and Central Otago District Councils are grappling with.
In December, QLDC councillors unanimously approved the Queenstown Lakes Homes Strategy and Action Plan.
It outlines key actions to address issues relating to housing in the district.
Many of the issues are related to housing affordability.
In February, CODC councillors agreed in principle that council has a role in affordable housing.
Mapping the Market report:
The data reflects all house values in a sample area, not just properties bought or sold in 2021.
By the end of 2021, New Zealand had 31 suburbs with median values of $2m or more; two of these were in Queenstown (Arrowtown and Lake Hayes), 28 in Auckland, and one in Wellington.
Tempted to cash up and buy cheaper? Head west. Around New Zealand in 2021, 36 suburbs had a median value of less than $400,000 and eight, less than $300,000 - most on the West Coast.

---