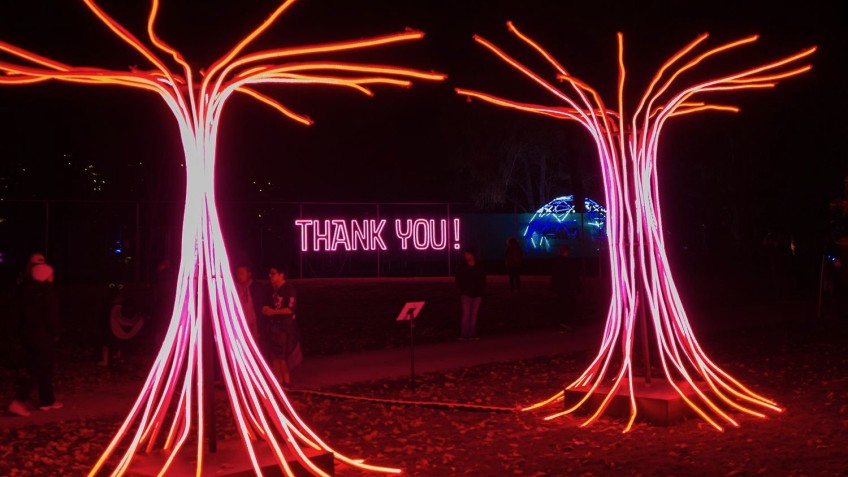 Lights and lightening trash at LUMA
---
While the glowing art is impressive, it is not the only thing set to shine at the LUMA light festival in Queenstown next month.
A group of local eco warriors wants to shine a light on running waste-free events too.
DISHrupt, an initiative by Sustainable Queenstown, will return for the third time at the event providing their reusable dinnerware services.
Vendors on site will be dishing up an array of international flavours, and the group will provide reusable dinnerware to align with LUMA's goal to keep the show single-use free.
The non-profit, established through QLDC's Waste Minimisation Fund, will wash and return metal plates, cups, tumblers and cutlery throughout the long weekend event
Event-goers, while chowing down on meals chosen from a range of food trucks, also have the choice to bring their own keep cup or purchase one from the group at the festival.
DISHrupt are also supporting vendors to supply additional products that are compostable, such as napkins.
It is not just about the festival either - alongside the cling-clang of plates and cups organisers hope to plant the seed for behavioural change.
Megan Glenn, who is the coordinator for Single Use Free Whakatipu and stepping in to help Dishrupt with the LUMA project, says the event is an opportunity to educate on the shadow convenience casts on waste issues.
"Our landfills are getting fuller and fuller of plastic and waste that can be avoidable."
Reusable and BYO alternatives also cuts supply costs for vendors, who would otherwise bulk buy plastic serveware, she says.
Ms Glenn says plastic-free pledged events have been gaining attention and enthusiasm, and LUMA is an opportunity to keep the conversation going.
As LUMA gears up to welcome locals, tourists and travellers to enjoy food and razzle-dazzle over the weekend, the group is making the most of the opportunity to set the waste-free stage for Queenstown.
Reducing waste would help alleviate tourism-fueled pressure to manage Queenstown's overloaded local waste system, Ms. Glenn says.
Among the problem is that plastic plates and other utensils with food residue cannot be recycled meaning whole bins can be written off due to contamination.
Likewise, takeaway cups, which often have a hidden waxy plastic lining that can spoil them for recycling.
Ms. Glenn says an uptake in reusables can take some pressure off of the strained waste system.
And she wants central and local government to step up to further support waste minimisation initiatives through good policy and other support.
This could look like initiatives like DISHrupt being funded meaning it can have an ongoing presence in the community, Ms Glenn says.
"We are trying to not just be a guinea pig but the forefront leader in what it looks like to go zero waste at an event."
She hopes the groups' presence and the spotlight on the issue at LUMA will inspire further action.
"We have to come together as a community to find ways we can come at this problem with more solutions, whether you are a cafe owner, business owner, event organiser or a consumer."
Festival-goers can also opt for greener transport options to get to the event, which is being held across the Queenstown Gardens.
There will be a constant rotation of free buses running from 5pm to 10pm on festival days from Queenstown Central Shopping Centre, allowing for 'park and ride'.
The festival is set for Kings Birthday Weekend (Thursday, June 1 until Monday, June 5).
This year the festival is ticketed, and tickets are available at https://luma.nz.
Main image (Facebook/LUMA Queenstown): Angus Muir Design puts on a show at LUMA 2021.
Gemma Marnane is a Massey University student journalist interning with Crux.

---