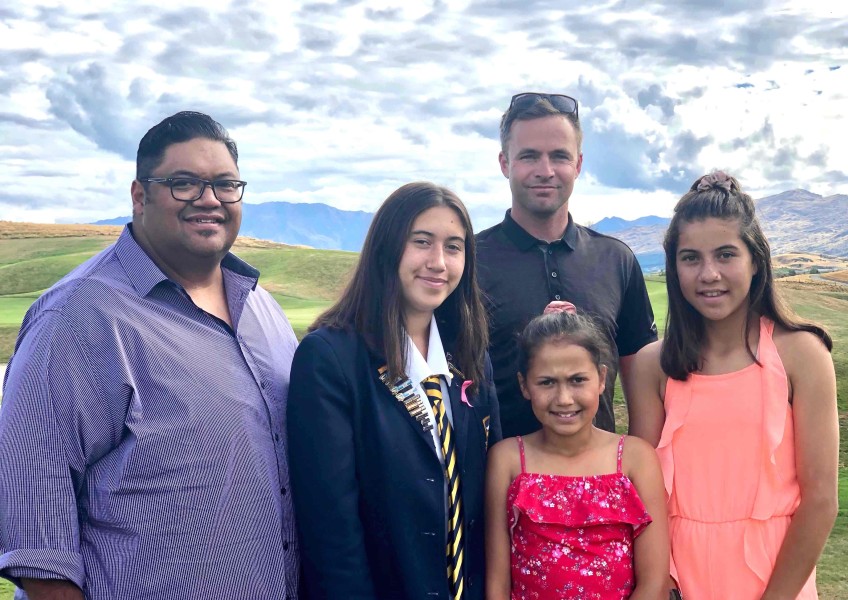 Kate Moetaua Foundation invites scholarship applications
Jul 20, 2021
---
(Main Image above: Teaukura Moetaua (T), Anika Moetaua, Craig Palmer (The Hills) , Malia Moetaua and Aya Moetaua.
From the Kate Moetaua Foundation:
"The foundation, set up to honor local arts and drama teacher Kate Moetaua who passed away in 2018, is now offering its second round of scholarships.
Kate influenced the lives of many young people, opening their eyes to the world of performance and helping them to gain confidence on and off the stage. One of her final wishes was for a foundation that supported young talented people in the sporting, cultural, education and arts arenas in Wakatipu.
The community swung into action and raised over $50,000 through donations, a CRUX charity day at The Hills and a show the Wakatipu High students produced called 'Made by Kate show'.
In 2019 nearly $4000 was awarded to 8 local Wakatipu High Students, and in 2021 $3500 is on offer, but as Kate's daughter Anika Moetaua (17) says "we definitely won't stick to that number if we get lots of deserving applications. The foundation is to support the talented youth of Wakatipu so we will try to fulfil as many as we can. Our families goal is to carry on Mums love for the arts by creating opportunities for others to fulfil their dreams."
Kate's daughters Anika, Aya and Malia along with her husband Teaukura Moetaua review all the applications and decide on the winners. Teaukura says "to see the memory of Kate live on through this wonderful cause is heartening to us as a family." The foundation encourages you to share this scholarship opportunity amongst your family and friends so they can reach everyone in the Wakatipu youth community.
2019 Scholarship Winner Hera Winders is now studying a Bachelor of Design at Massey University and used the money to fund art materials and course essentials that she says "helped her produce and create some of her best work yet. I want to say a huge Thank you to T, Anika, Aya and Maila for the amazing opportunity. Also for fulfilling Kates wish to give support to students in the arts and sports domain"
Hayato Yoneto was also another 2019 scholarship winner and used the funds to pay for transport costs to get to sprint squad champs and compete in the U20 National Sprint competitions. "The Kate Moetaua foundation was part of my supporting crew which allowed me to continue doing what I do."
The top 2 recipients will again be presented with their scholarships at the Wakatipu Community Foundation Gala awards night in September. The community foundation administers the fund on behalf of the foundation and is looking to grow the number of scholarships they facilitate on behalf of donors in the future. Grants and Scholarship Co-ordinator Euni Borrie says 'Scholarships are a wonderful way to support youth in the community and as a result of the generosity of local donors we now have some additional resources to administer scholarship programmes."
Click https://forms.gle/uK3QhY1rQfjJdLRh8 for the application form which closes at 5 pm on July 31.
For more information www.katemoetauafoundation.org
The Kate Moetaua Foundation can be contacted at [email protected]
Euni Borrie can be contacted at s[email protected]


---