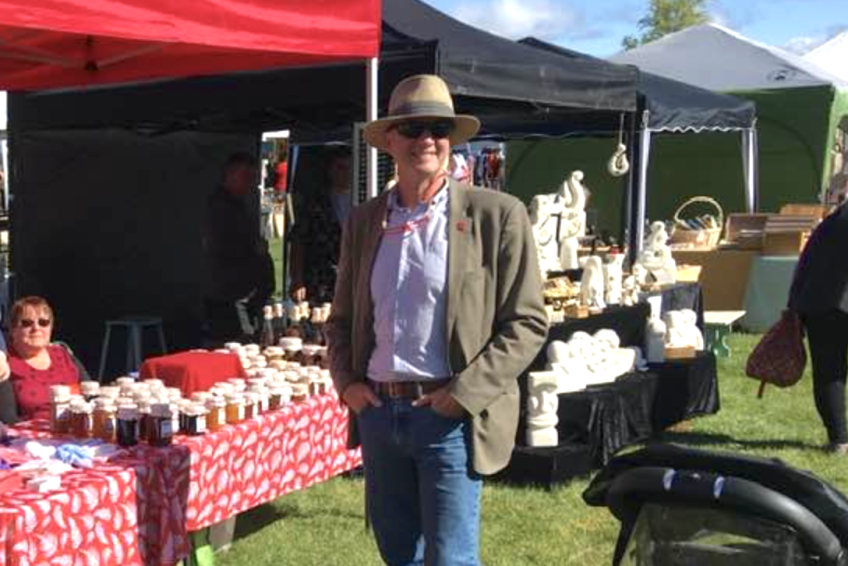 Jon Mitchell wins the Q'town battle but loses the Southland war
---
Queenstown lawyer Joseph Mooney may have been voted into Southland's historically safe National seat last night, but a breakdown of vote numbers from individual polling booths across the electorate this morning shows a majority in his hometown preferred his closest rival, Labour's Jon Mitchell, as their voice in the capital.
Across the electorate, Mr Mooney received 17,817 votes to Mr Mitchell's 12,741, giving him a winning margin of 5,076.
But at polling booths across Frankton, Queenstown, Arrowtown, and Glenorchy more voters (5,113) gave their candidate tick to Mr Mitchell than to Mr Mooney (5,021) - although Mr Mitchell put his nose ahead by less than 100 votes.
The trend followed in the party vote too.
The tide of red that rose across the country inched up this bluest of electorates – across all polling booths in the electorate, Labour claimed 38.5 percent of the party vote compared to National's 36.8 percent.
And in polling booths closest to the town at the centre of this country's tourism industry, this shift to the left was most pronounced – in Frankton, Queenstown, Arrowtown and Glenorchy Labour won 5,339 votes to National's 3,361.
To compare, in 2017, now disgraced former National MP Hamish Walker, off the back of another National MP scandal, won the then Clutha-Southland seat with a 14,354 winning margin (compared to Mr Mooney's 5,076 last night); and National secured a whopping 60 percent of the party vote.
Talking to Crux this morning, Mr Mooney declined to comment on Mr Mitchell's or Labour's numbers.
He did say: "I am privileged to be given the opportunity to represent Southland and am looking forward to getting to work being an advocate for this incredible region and its amazing people in parliament."
Speaking from his election after-party with family, friends and supporters at the Kiwi Birdlife Park in Queenstown last night, Mr Mitchell said the drop from a 14,000-plus winning margin for 2017's winning local candidate shows Queenstown voters are sick of being taken for granted.
"There is a distinct lack of trust in what National is able to provide to this electorate."
National needs to go back to the drawing board as it's in no state to be able to govern well, he says.
Meanwhile through the gorge and over the hill in the Waitaki electorate, Wanaka and Cromwell voters failed to paint their towns quite the same shade of red.
Incumbent National MP Jacqui Dean is back to the halls of power for a sixth term, with voters in polling booths in Cromwell and Wanaka endorsing her tenure.
Cromwell and Wanaka voters gave Ms Dean 5,210 votes – 1,251 votes more than her closest opponent, 21-year-old Otago politics student Liam Wairepo, of Labour.
But the party votes in Cromwell and Wanaka painted a picture of a different hue – 1,292 more voters gave their second tick to Labour (4,871) compared to National (3,579).
Last night, Mr Wairepo said he was proud of what his campaign team had achieved in growing Labour's share of the party vote.
Across the traditionally true-blue electorate, Labour received 43.8 percent of the party vote, compared to 30 percent in 2017 (National secured 31.6 percent and 54 percent respectively).
"This has been a safe, safe seat for a long time.
"It (the result) says a lot about the Labour Party."
Mr Wairepo was candidate of choice for most in Oamaru, home of Ms Dean's electorate office.
The town is also home to the country's fastest-growing Pacifica population – there are more people of Polynesian descent in Oamaru per capita than both Wellington and Auckland.
Mr Wairepo says he's been working hard in the town to connect with its diverse populations, who may previously have felt invisible politically.
Ms Dean says the result was closer than in previous elections.
"But I have never taken this seat for granted.
"This has been a long and dis-jointed campaign, but I have enjoyed every minute that I've been able to spend out and about around all parts of what is the third largest electorate in New Zealand.
"I've said many times that I want to be judged on my actions rather than promises and that still holds true. I will continue to be a strong and proud advocate in Parliament for the people, businesses and communities of the Waitaki electorate."
Crunch the numbers yourself here with the Electoral Commission's polling booth stats.


---