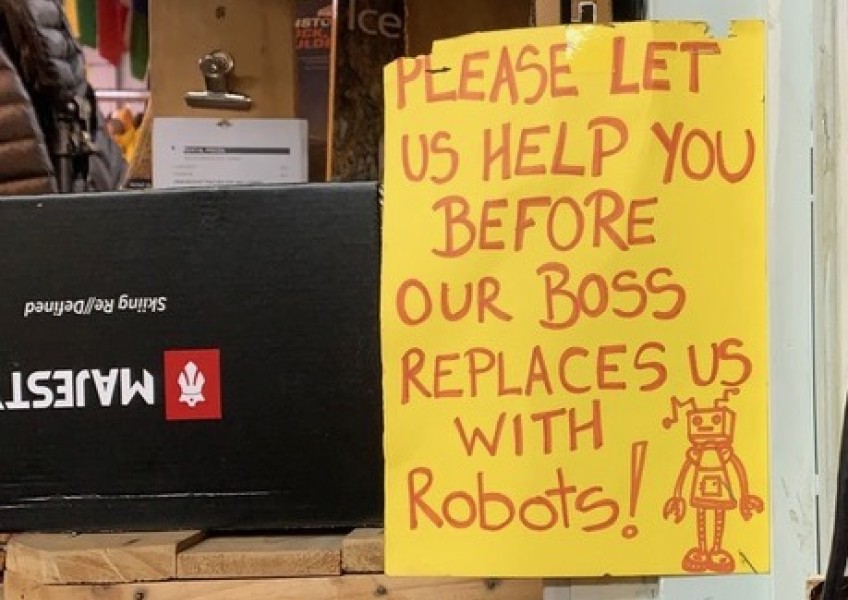 Where have all the handmade shop signs gone?
---
Swish, gleaming storefronts have taken over my town. They have retail assistants that look like secret agents and ludicrous window displays dedicated to a single item. Their signage is sleekly designed and expensively lit, stage-whispering, "this is not for you."
At the other end of town is a cluster of big box outlets, concrete tilt slab beacons pulsating with signals of rising or declining national business confidence. Sometimes, I'll admit, browsing the aisles can be calming — almost soothing. The displays are orderly, the music is predictable, and everything is priced with numbers ending in a psychologically compelling '9': $19, $159, $1099. "You can have it all," they nod encouragingly.
I miss the kind of shops that sat in the middle, though; the independent shops that Queenstown used to have more of. The shops that were staffed by familiar faces, occasionally watched by a neighbouring retailer if someone needed to pop out to the post office. The ones that smelt like polished wood and real life rather than fabric glue and polystyrene packing beans. They invited people to wander and peruse, promising surprising, delightful finds in return.
I loved the shops that offered lay-by — not through a buy now, pay later app that comes back to haunt you on a mortgage application, mind you, but the old school way where they simply put your thing out the back with a note on it until you'd paid it off. The personality of these places was real; too much of the retail vibe these days feels conjured up by a marketing department somewhere to be artificially relatable.
Queenstown used to have a lot more shops that weren't franchises; that were unique to this place and made town a destination for the people who live here too. Wandering the town centre these days I feel like most of the shops (or do we call them "stores" now?), cheesy slogans and merchandised entrance ways could have been lifted from almost anywhere else in the world and plonked on the shores of Whakatipu-wai-Māori.
I know that globalisation and technology have changed commerce forever, and that Queenstown is not the only victim of a tough retail environment. The world's bottomless appetite for stuff made at the lowest possible cost has forced retailers to scale up, sell out or quit altogether.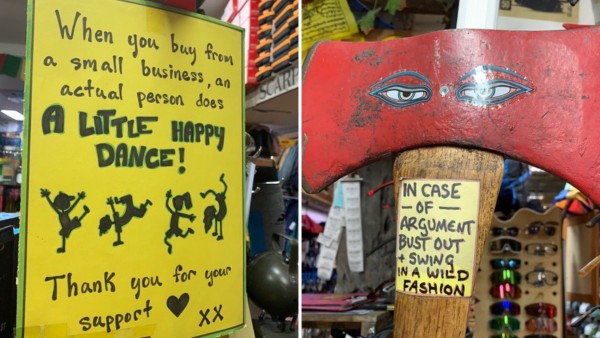 But if there's one thing that could turn the tide on impersonal, templated retail, it's more handmade shop signs.
A hand-drawn sign is a beautiful thing. It takes time to do. A real person has put aside other pressing retail tasks to neatly craft a helpful message for customers. They could have used a Canva template in brand colours with the shop's logo on it — but no. Nor have they clicked through untitled folders to duplicate and edit a soulless sign from last year.
Instead they pulled out a piece of paper from the back room, located the shop Sharpie and considered the wording, letter shape and layout of their message. These signs have humanity.
They may well have started drawing block letters without measuring how many needed to fit, and ended up with one very skinny one at the end. It's possible that they didn't rule the line heights first, wrote on an uphill slope and had to start all over. So what? The slight unevenness and wobbly pen strokes are what it's all about. The new sign on the Shotover St Four Square even looks like it was designed with that aesthetic in mind, which I'm obviously conflicted about.
To the stalwart hand-writers around town, I salute you. Even if it's just little sticky labels with a scribbled, smudged price, I'll take it – just give me anything that suggests a human has selected a product rather than an algorithm or faceless head office.
Thanks for holding out against the templated price-up-to-price-down commerce monster — and please keep doing your thing. Because no matter how "personalised" my online shopping experience becomes and no matter how cool our courier driver is (let's hear it for Lee!), nothing beats old school commerce.
Humans need a town centre that's run by humans, after all.


---