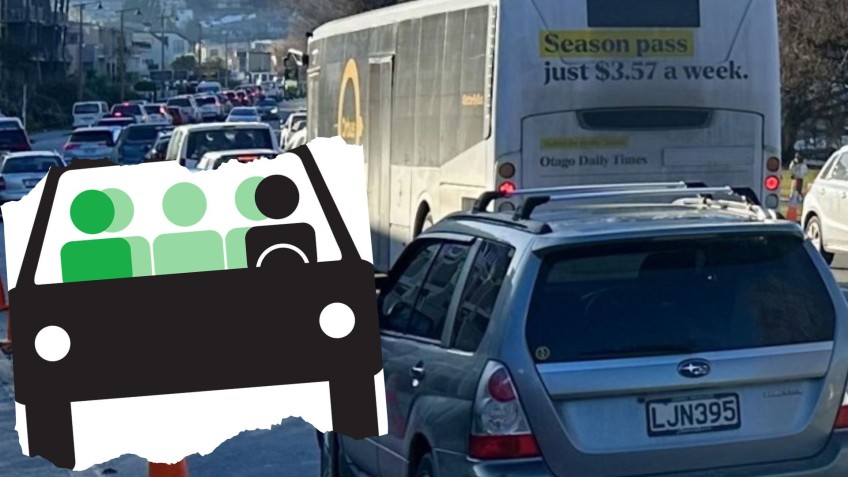 How to create the perfect carpool
---
Honestly, carpools are excellent. You know how the casual driveway or over-the-fence chats with your neighbours are always the best kind of catch ups? Carpools are in a similar spot on the continuum of socialising and time commitment: they're time-bound, functional and you can put in as much or as little social effort as you want – it's just that setting up a carpool requires the additional step of inviting someone into your personal space.
However, taking the step from acknowledging that you're both travelling in the same direction at roughly the same time each day to deciding to go together can be a step too far for a lot of people. I think it's fair to say that as a nation, we are a little carpool-hesitant.
Like many (most?) people currently residing in Tāhuna-Queenstown, I lived overseas for a number of years. The return home, after stepping through the airport doors into the humidity of Tāmaki-Makaurau would always reinforce a few things I already knew about living here: the quality of the light here is unrivalled, pies are the greatest on-the-go food ever created, and that we really are not that keen on using public transport – or carpooling.
Overseas in cities where public transport is really the only way to get around, I would quite happily cram in with the masses and plan my daily activities around the schedule. Yet upon returning home, where our towns are designed around the personal car, I had to put in a lot more effort to maintain the same approach to getting myself around. Jumping in the car is just what people do here. Whether it's about protecting our personal space or perceived freedom of movement or is just a habit, I don't know.
But I do know that along with eating less meat and dairy, and planting more trees, leaving the car at home for short trips is one easy swap for individuals looking to take meaningful action on climate change (while we wait for the policy reports, discussions and debates to lead somewhere at central government level).
Although I'm not such a numbers person when it comes to carbon emissions (so hard to conceptualise!) I do understand that 48 percent of Aotearoa's energy-related greenhouse gas emissions come from transport. There's also a (pre-Covid) statistic from EECA stating that 90 percent of New Zealanders would be driving to work alone – equating to a baffling 5.5 million empty car seats on our roads each day.
If Queenstown's emerging public transport system – shout out to ORBus which is back to running a reliable and timely service (in my part of town and in my recent experience, anyway) – doesn't work for you yet, here are six tips from an experienced carpool enthusiast/evangelist that might help us fill up a few of those empty seats on our roads.
Don't call it a carpool
"Carpool" might have a bit of an American soccer-mom note to it for some people, so keep it Kiwi. Be understated and call it what it is: a lift. "Hey, do you want a lift this morning?" "Are you heading to Frankton? Can I grab a lift?" For most of my life, I actually referred to it as a "ride" but now living among so many Irish here in Queenstown, I realise there's another meaning for this piece of slang. Thanks to the novelist Sally Rooney for spelling this out to me. My advice is to stick with "lift" to avoid complications.
Pick the right crew
Make sure you invite people who are the kind you want to see first thing in the morning. They could be work colleagues – who come with the added bonus of allowing you to get work whinges off your chest before walking in the door at home – but don't have to be. I remember two colleagues of mine who carpooled from Fernhill were a match made in heaven, one of them saying "it's just so nice to start the day with someone who's that positive about the world". Invite people you'd like to get to know better or who might add another dimension to your morning and evening routines. And if you're new to town, check out Qtown Carpool on Facebook which is managed by an admin and can help you link up with people going your way for one-off trips or the routine commute.
Be up front about your preferences…
I have a traffic phobia, I'm not going to lie. I would rather do almost anything than sit in traffic – I think it's the feeling of being trapped in one place (a hangover from trying to get out of Christchurch city after the 2011 earthquake, I think? Or maybe just growing up in Auckland?) but also bearing witness to all that carbon being pointlessly pumped into the environment. Because of this, I like having the flexibility to leave at weird times to avoid it or stop somewhere for a beer until it clears.
…but also go with the flow of whoever is driving
If someone in your crew wants to stop at a particular spot for a coffee on the way, go with it. Getting out of routines or putting a slight variation on your habits is really good for mental health, especially in winter. Even seeing your usual haunts at different times of day can freshen an outlook on life and going along with someone else's routines has the same effect. One of my regular carpools often stopped at the supermarket on the way home, and this was always a great opportunity to steal her ideas for dinner and diversify my snack choices. If it wasn't for my carpool, I might never have discovered those delicious little peanut butter-filled pretzels from the bulk bins.
Communicate early, communicate well
Again, this may depend on your crew and their flexibility but most people will want to know what's happening in advance. Don't wait til you've tumbled out of bed, stumbled to the kitchen and poured yourself a cup of ambition before letting the group know that you need a lift. Sort it out the night before! A group chat is really handy here and works well if you establish some conventions around how you coordinate trips i.e. "Leaving work at 5.15pm today and going past the supie on the way home" or "Going to the gym this morning before work if anyone wants to join?"
Be reliable
If you've set a time to leave, make sure you're ready to go. Mornings can be stressful in some households so respect people's time and get your shit together. Same goes for the end of the day. There's nothing worse than hanging around at work waiting for someone, knowing that the traffic is thickening with every minute
And lastly, don't forget to tell people about how cool your carpool is. That's how we establish active or low-emissions modes of transportation as "the way we travel" here in Tāhuna-Queenstown.


---